Please read "Building the HPS" first to learn the reason we embarked on this once-in-a-lifetime journey.


---
The following chapters can be selected:

Gillette, Wyoming Devils_Tower BMW Rally at Peonia Steve and Heather The Opal Mine The Izaak Walton Inn The Steam-operated Lumber Mill

The Evergreen Aviation Museum Mount St. Helens Leavenworth, Washington Crazy Horse Monument Stavkirke Little Norway
---
07/10/2008
We started out rather late in the day, at 2:15 because we watched our new Jacuzzi-style tub being installed in the downstairs bathroom. The tub is rather huge and made of cast-iron, so it was very heavy for Mark, the contractor and Don, our son-in-law, to put in place. Hopefully, we'll have many days to enjoy it after our vacation.

The weather was nice and crisp but we faced a constant head-wind which changed to blow from the side, just to keep things interesting. The mileage dropped drastically, enough to make me wish for a much larger gas tank. Maybe later. The destination was Don and Catherine's camp in Potter County, Pennsylvania, which, at 300+ miles, is close enough to call a good test ride. As it turns out we packed too much stuff and we were hopelessly over-weight. We shed some of that weight and asked Catherine to bring it home with her. Chris and Sarah were there, so Mary was very happy. I took them both for a ride in the sidecar, which they both enjoyed. The rig is performing fine, although the additional weight is definitely noticeable. My arms ached after finishing today.


07/11/2008
We decided to stay an extra day and continue the family visit. Tomorrow morning we'll be continuing our journey via Route 80, with South Dakota being our next major milestone, to attend a BMW rally there on the 15th, followed by the BMWMOA (BMW Motorcycle Owners of America) National Rally in Gillette, Wyoming.


07/12/2008
We left the cabin at around 10, drove 13 miles for breakfast and drove to Springfield, Ohio, 350 miles away, where we stayed at a Hampton Inn.


07/13/2008
We drove to Competition Accessories, a multi-brand motorcycle dealer, whose catalog I've been enjoying for years. We then drove to Mattoon, Illinois, covering 275 miles. It was a very clear day but with a constant wind. It reminded me of North Dakota, but without the clouds. My hands and arms were quite tired. We ran into many admirers and all wished us a safe journey. We haven't seen a toll road since Ohio.


07/14/2008
We visited Lincoln's cabin, which unfortunately, was nothing special. We have seen old farm buildings many times before.


After seeing a roadside sign for
Mid America Motorworks'
museum in Effingham, IL, we both wanted to see it. We were not disappointed! The success of this business is a prime example of how many riches can be had by being successful. They cater to Volkswagen and Corvette owners rebuilding their vehicles. The catalog of parts available for each is about 5-6 inches thick and contains every imaginable part one might need for the restoration or customization. The facilities

are expansive and spotless. The museum contains many unique and several one-of-a-kind vehicles. One is the very last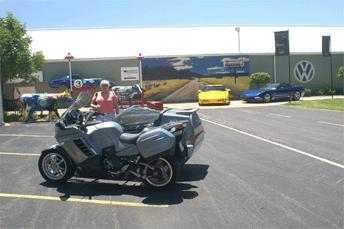 Mid America Motorworks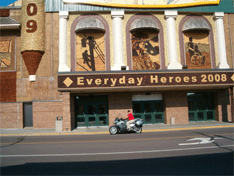 The front of the immense Corn Palace.
iteration of the C4 model of Corvette built in the factory, which was signed by every person on the assembly line. This example was given to the owner of this business with the stipulation that it be never driven or leave the museum.


We picked up some posters for a friend, Woody, who is a Corvette owner and enthusiast. Hopefully, they will survive the trip.


After a long search, we arrived at Extreme Toys Kawasaki and Moto Guzzi dealer in St. Louis. The last was a big disappointment because they are not a stocking dealer. The traffic to and fro was horrible, in rush hour and it took forever to find our way out of town due to construction of interstate 64. After a hot ride we arrived at the Hampton Inn in Columbia, Missouri.


We are spending another hot day today under virtually cloudless skies. We managed to travel to Mitchell, South Dakota, home of a huge Cabelas store and the
Corn Palace
, a stately large building, whose insides and outsides are decorated with corn husk, corn cobs and all things corn. Admission is free and the walls are lined with pictures of the Palace, as it was decorated for each year dating back to the 1800s.


We are staying in a Best Western, without WIFI.

07/15/2008
No sightseeing trips today, just hard driving under an extremely hot sun. Mary's arm and my left ankle suffered sunburns. After arriving in Council Bluffs, Iowa we found the next Hampton Inn full and had to settle for a clean Days Inn. We were kept awake by a tremendous thunderstorm which lasted for most of the night. By the way, we missed the BMW rally in South Dakota.

07/17/2008
We made it to Gillette, Wyoming after driving for 408 miles. The rally covers a huge area, some of which are inside, giving us a chance to get out of the heat. We answered many admirers' questions and met a nice couple from Salt Lake City, Gary and Mary Lou on a K1200GT. Wyoming, for the most part is devoid of trees and greenery, making camping kind of miserable in the 90+ degree heat. There seems to be an ever-present 20+ mile wind which helps with the heat but it sucks the moisture out of you. The terrain is also very flat, making driving kind of boring. The roads, up to this point, have been very relaxing, as far as traffic. Most of the drivers drive at the speed limit and are courteous enough to give way to us.


The first day we experienced a very nasty thunderstorm. It was early evening, as we observed the blackest clouds we've ever seen, roll in toward us. It started with a lightning show, whose thunder could be heard ever closer to the lightning strikes. The sound reverberated all around us. The wind picked up in intensity to the point where I was sure that the tent was going to be blown away, never to be seen again. Shades of another camping trip with the Woods on Skyline Drive came waltzing into my mind's eye, as I tied the tent to the motorcycle with ropes recently bought in town. Despite all my efforts, I saw the tent's side facing the motorcycle bend so far that it touched Mary's body inside the tent. Miraculously it righted itself after each wind surge, much to my relief. An announcement came over the loudspeakers to alert us to move inside the buildings because winds in excess of 60 mph with golf-ball-sized hail were heading in our direction. Not to sound overly dramatic, it was a scary experience and we were lucky that the brunt of the storm passed us by. The storm lasted through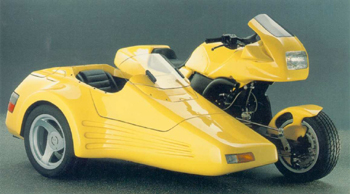 most of the night, so, needless to say, we didn't get a good night's rest.

The next day was brilliantly sunny. One of our neighbors, a couple from California on a R1200RT pulling a Bunkbed-type trailer, packed up and headed for a motel in town. More about them later.

The rally was well attended and people were orderly. There were a dozen or so sidecars and, next to ours, the most exotic was an older rig called a GG Duetto, with center-hub steering, hooked to a K100RS. Painted yellow and sitting very close to the ground, it looked sharp. Unfortunately I didn't have a camera to take a picture of it. (I learned after we got home and read the article in the MOA magazine, written by its owner that this rig won the Best of Rally award.)

Next to the MOA site was a small town park dedicated to all types of mining equipment, which dwarfed even the biggest tractor trailer on the road. Here are some pictures:

| | | |
| --- | --- | --- |
| | | |
| I don't know what it is but I sure hope it has power steering! | | Look at the size of that tire! |
| | | |
| | | |
Mary has been on my case to replace my aged and faded Aerostitch jacket, so she thought she'd help me along by letting me buy yet another
jacket. Luckily we were able to have it shipped home.

Mary didn't bring a sleeping bag for herself. She thought she'd be fine with a couple of lightweight bag liners but the very first night she was cold
and had to sleep in her raingear. We looked at all the sleeping bags for sale at the rally and at Walmart, but she didn't like any of them. They were
either too bulky or too expensive. Despite the 90+ degree days, the nights were chilly in the 50s.


Today we visited Devils Tower, America's first National Monument. We stopped at a little restaurant/gift shop within first sight of Devils Tower.
The owners had recently purchased the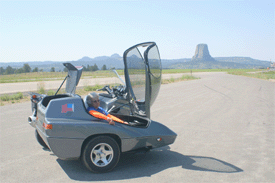 place and were delighted to see us with our sidecar. We ate a piece of good pie and chatted with them
some more.

At the park's entrance, as I showed the ranger our Golden Age Pass, I heard a strange noise but couldn't identify it. We continued the multi-mile
drive up the top and into the parking lot. A couple driving a car had been chasing us the whole way to give my lens-cap I dropped at the entrance.


The other major complaint about our new rig is its mileage relative to the size of its tank. According to the bike's computer we are averaging
between 25 and 26 mpg - depending on speed, terrain and force and direction of wind, so if we ran the tank dry, we could only go for 135-140

miles. In this part of the country that is nothing, so we have been staying close to the major roads, where gas stations are plentiful. The speed

limit on the major interstates is 75 and at that speed the rig seems to be very thirsty. Luckily, the traffic is very sparse, so driving at a more

comfortable 65-70 you're not running the risk of being trampled.


07/20/2008
Today is the last day of the rally, so after saying goodbye to Gary and Mary Lou, we headed west on 90, then south on 25 and arrived in Casper,
Wyoming a 170 miles later. It was great to take a shower at the Hampton Inn after the dust and heat of the rally.


07/20/2008
We drove to a couple of National Historic Landmarks in Wyoming:
The Oregon Trail Ruts and Register Cliff
. The first were ruts in the sandstone
left by the wagon trains of the around the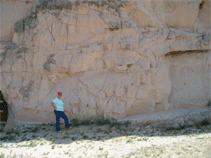 19th century. Looking landscape begs the question: How did these people survive this 4-5 month
journey? Compared to them we're just a couple of candy-asses. The second site was a multi-hundred-foot long sandstone cliff. We were walking
along the bottom of this cliff, about 50-60 feet from the top. The walls were full of "signatures", names and dates carved into the rock. Some
were old, some newer, all were captivating.

The next stop was Fort Laramie, whose many buildings were made out of concrete, for the most part, while the older ones, from adobe, had long
vanished. Several hundred soldiers were housed here and their main reason for being was to interface with the Indian tribes and keep peace.
After the telegraph went through the area in 1861 and the railroad in 1865, the fort was closed.


While getting gas, a freight train came by with 116 cars, being pulled by 2 engines and pushed by one.


Tonight we slept in the Sands Hotel. Not the one in Las Vegas. It was okay. I gave myself a scare by trying to see how many miles we covered
that day. I was trying to peek at the trip odometer of the bike but it wouldn't turn on. Shades of panic swept over me remembering the troubles
we had in Kentucky while the rig was being put together. I was panicking for a few minutes before I discovered that my fob was in the motel room.
Whew!


07/22/2008
We set out to find the Sierra Trading Post outlet store in Cheyenne. After some troubles due to detours, since they were having a parade for their Frontier Days celebration, we finally found it. It is a huge store and we weren't disappointed. They have a huge selection and it was easy to spend a couple hundred bucks and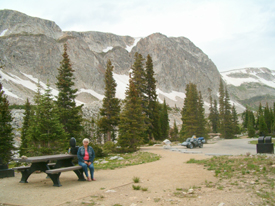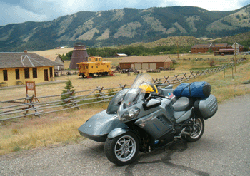 had the items shipped home. We also found a sleeping bag Mary liked and a bicycle jacket that had my name on it.
We chanced upon a nice museum, the
Nici Self Historical Museum
in Centennial, Wyoming. Many things were exhibited outdoors but unfortunately it was closed.
I was looking at the map last night and saw an interesting route: Up over 12,000 feet-plus-elevation mountains to a settlement named Saratoga. So that's what we did and it turned out to be a wonderful drive. The mountain range is called the Snowy Range and its peaks were snow- and ice-covered. There was a picnic area, so we had one. Even though it was a Tuesday, there were a surprising number of fellow picnickers. The weather was much cooler than in Cheyenne and the scenery was unforgettable.

We arrived at Saratoga, Wyoming and found a motel named Riviera (to go with the Sands) for the night. The elevation is 6,950 feet and we're feeling it every time we go up or down the two flights of stairs. A horrific rain storm rolled in shortly after we checked in, lasted for about 20 minutes, then cleared up quickly, so we could walk across the street to Stumpy's Eatery (no kidding!) and eat our dinner. Rocky Mountain Oysters WERE on the menu but we didn't have any.

Total mileage for the trip so far is 2,858 miles.

07/23/2008
Today was the most scenic drive to date. We left Saratoga, Wyoming and headed south. We took two-lane roads up and down mountains and the closer we got to Colorado, the higher the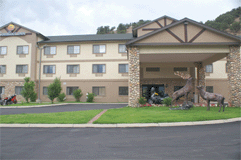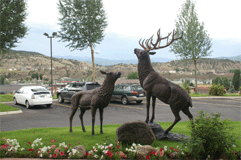 mountains and the more scenic the drive became. Some of the turns had a warning speed of 25 MPH and, of course, there were no Armco guardrails, like we're used to in the East. Many of today's vistas have included snow-capped mountains. I guess we're finally in the Rockies.
There were many areas where a high percentage of the evergreen trees have died. There is a destructive beetle making its way down from Canada that's been destroying these trees.

We arrived in Steamboat Springs, a beautiful little town and a well known ski resort town. It is located in a valley and the surrounding mountainsides are peppered with gorgeous homes and ski lodges. It is obviously a big-money town. They have a Walmart, so we had to check it out. We needed a few items anyway. As we were parking, a guy on a loud-but-nice-sounding Ducati stopped by, saying he had to check out the rig. I said to him, what the hell is that noise? He said: "I don't hear anything!" He was on his lunch hour. We continued on to Eagle, Colorado, where we stayed at a Comfort Inn for a mere $140 a night. Nice hotel, nice location, a few miles from Vail, Colorado, another world-famous ski resort. As we pulled up to the front and started to dismount, three kids and their parents emerged excitedly, eager to check out the rig. It's these and many other kinds of encounters that make me think the high cost was worth it.
07/24/2008
Today's drive took us west on Route 70, a four-line highway. Traffic was light but fast and I still feel the best on these kinds of road at a steady 65, occasional 70. Mostly because going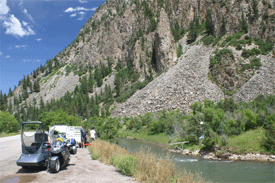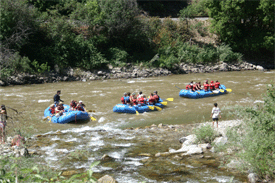 faster than that really diminishes the mileage, which I cannot afford time-wise. We need to stop too often for gas already. Part of the drive on Route 70 goes through a place named Glenwood Springs. This section of the road was named the most scenic on this Interstate. It was completed in 1975 and, so far, this was the most scenic on our trip. The road is in a valley created by the Colorado River, with cliffs on both sides. There are sections where the west-bound and east-bound lanes are on top of each other and can only be seen when rounding a curve. There are rest stops along the way. We stopped at one (Grizzly Creek) and observed many people in rafts floating down the fast-moving river, having the time of their lives. After leaving 70, we traveled south on 82, then 133, both of which were two-laners and scenic and much cooler than 70. Then we started climbing. I ended up in fourth gear, right up to the summit at over 9,700 feet. The scenery both going and coming down was literally breathtaking. At one point there was an opportunity to rest, so I pulled over. There was a pickup truck with a trailer unloading people and kayaking equipment. Two of the people put their gear on and boarded their canoes, got wet immediately by submerging into the water upside down, then shortly paddled out of sight. Two other kids had walked down to the water and said that it was freezing. Then I talked with a woman who was just walking up from the river and she said that there were hot springs that emptied into the water right where we were standing. Apparently,some of the locals come down to this spot to bathe in the nude! How European!
Then, out of nowhere, there were huge structures around a corner, evidence of heavy strip-mining. It is the last sight I expected to see as part of this scenery. This was quickly left behind, replaced by more pleasant sights and, before too long, we arrived in Paonia, the site of the BMW Rally. It is held in the city's park, with lots of shady trees but also lots and lots of people. I parked the rig and almost immediately was surrounded by people, asking questions, thanking us for bringing it to the rally, etc. I am very proud of and thankful for Mary, who is willing and knowledgeable enough, to answer all questions about the sidecar, whenn I don't feel like it or am not around.

| | | |
| --- | --- | --- |
| | | |
| | There were motorcycles everywhere. | The couple from Texas. |

The rally has all the amenities one could expect, including WIFI (I am writing this in our tent!), free coffee and water and even bug spray. Who parks next to us today but the couple from the Gillette rally? Come to find out they are heading to a family reunion in Amsterdam, New York. Mary told them about the Finger Lakes Rally we normally attend, so we might see them there, as well.

Mary got a sandwich from one of the vendors, who used to live in Levittown, PA, where we lived for over 20 years! His brother still lives in the Princeton, New Jersey area.

We talked with a man in his mid- to late-seventies from Texas traveling with his wife in a very small Velorex sidecar hooked to a BMW R100T. My hat is off to them both. She was born in Germany and they have a place close to Bavaria, where he keeps a motorcycle for when they visit. They were also at the Gillette rally.
After packing up on this last day of the rally, Mary and I congratulated the Rally Master for a wonderful rally. He was genuinely happy to hear our
compliments. We had breakfast in town, gassed up and set off toward Colorado Springs, to Steve and Heather Gilbert's ranch.


We headed south to 92 and took that through some beautiful scenery of canyons, valleys, high mesas and breathtaking passes. At one point we
were riding on flat ground for at least an hour, when Mary checked the GPS for altitude. We were both shocked that we were traveling along at
8,800 feet. Eventually we found our way to Route 50 snaking its way by a reservoir and before we knew it we were in Gunnison, Colorado and the
traffic was becoming pretty heavy. It was Sunday, the end of a weekend and people were making their way home from the "high-country", heading
toward Colorado Springs. Some were towing boats, others ATVs.

We pulled over and called Steve. He and Heather were making their way home from a week-long trip to New York and Rhode Island. Steve is
Mary's nephew from her first marriage and Heather owns a company which makes office furniture.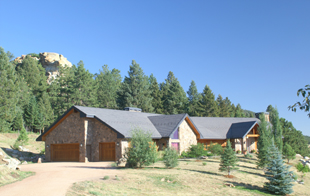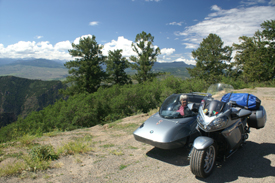 Eventually we contacted them and an invitation was extended to their home. Traffic continued to be heavy right through Colorado Springs on
Route 25. It wasn't long before we reached our exit and continued another 5-6 miles to their ranch. It is a beautiful settlement with a huge main
house

and separate two-floor guest house and several ancillary buildings for horses and equipment. The main house is supported by a steel beam that is

the largest non-commercial beam in Colorado, brought to the site by a helicopter. Heather helped design the house with some of her friends, along

with the architect. They did a very exceptional job because the house - inside and out - belongs in magazines. The elevation is 7,435 feet above

sea level.


Several people are in their employ, most of them to take care of the horses and the ground, while Lupe and her daughter, Bianca, maintains the
house. Tyler, their cook and waiter greeted us

with a glass of wine and later served our dinner at the back of the house, next to the series of cascading waterfalls, designed by Heather. This is

the second time I met Heather and the first time I really had a chance to get to know her. It is easy to see why she's a successful businesswoman.

They have eight dogs, all rescued from the pound and they have the run of the house. Heather just bought herself a Porsche Carrera S, while their

"regular" car is a Mercedes S550. Steve only drives one of his two pickup trucks.

Heather needs to fly to Detroit for a couple of days, so we'll be with Steve.

07/28/2008
Steve showed us around the property today. They just bought 100-something acres behind their home, so nobody could build anything behind them.
The additional acreage is basically a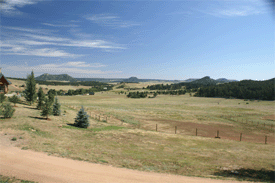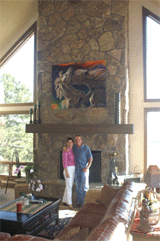 side and top of a mountain. He drove us to the top today in a four-wheel-drive Polaris. It is quite a ways up
and after a short walk we were treated to a vista that is breathtaking. You can
see the roof of the house below, along with another 25-30 miles of scenery. It was sprinkling, so I didn't take the camera, but I should have. Maybe another time. The sun shines 340-
something days a year, making

it easy to like but it is extremely arid. They have an automatic sprinkler system but the

areas watered by it are only marginally greener than the rest. The winters are extremely harsh with much snow. It is normal to be snowed in for
days, as most of the ranches in this area have a driveway multi-hundred feet long. This part of Colorado is full of crickets and magpies.


I drove the Benz to town today. It is a very nice car, noticeably heavier than ours, but also much bigger. Mary could sit cross-legged in the back seat.


Steve was lamenting about the price of hay he has to buy for his horses. There is no hay on his ranch and not much is available in the immediate
area. What there is commands a higher and higher price each time he needs to buy it. The area he lives in is very arid and doesn't support
greenery.

07/29/2008
Steve's truck is ready at the body shop in Castlerock, so I got to drive the Benz again, this time at the legal 75 mph. It's been almost three weeks
since I've driven a car, but it seemed to me to be quieter, than ours. It just glides along quietly and effortlessly and we still averaged 26.2 mpg.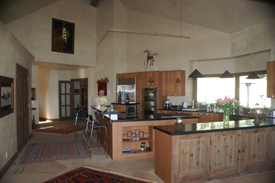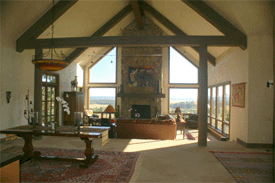 We hung out with Steve the rest of the day and accompanied him to the store to pick up some feed, some 45 minutes away. We got to see some
scenery but mostly evidence of the boom that exists in the state of Colorado, with regard to housing. Many huge homes littered the landscape and
some were truly mansion-sized. As for the scenery, it was mostly the same: Rolling hills covered with vegetation, whose color was mostly that of
the creosote bushes that are ever-present in Colorado and neighboring states. The color of the evergreen pine trees is different than what we're
used to; it is much darker in shade.

At 4 o'clock Lynn came to give us our massages. She is a rather large lady with incredibly strong fingers and when she was done with her magic, we
both felt great. I don't know how or if we'll ever be able to repay Steve and Heather for their kindness and hospitality. Heather was delivered at
around 8 by her driver. We gave her a few minutes before we went over for dinner and called it an early night.
07/30/2008


07/31/2008
It was hard to leave Steve and Heather's ranch and all the accouterments they spoiled us with. Heather was off to work in the Carrera and after
watching Steve work one of his horses, we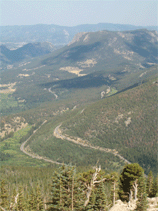 were off ourselves. It was a pleasure to watch a master handling the horse with expert hands. We
headed north through Denver, through very heavy traffic. I wanted to check out a Moto Guzzi dealer in town and finally found a very nice
dealership,
Erico Motorsports
, with several samples of the Italian marque. They also sell Ducatis, Triumphs and Aprilias. We headed for Estes
Park, a very touristy and busy little town but the park named Estes Park was quite beautiful. We ate the sandwiches Tyler made for us and enjoyed
the scenery. Rocky Mountain National Park was our next experience, which is a must-see place. After a long ride we arrived at Craig, Colorado, a
town I've added to my I-definitely-wouldn't-want-to-come-back-here list. The motel was run by a couple of Mexicans and while the price was reasonable, the
can of Fabreze was used extensively.

08/01/2008
Today we tried to find the petrogliphs my brother-in-law, Ty told us about. He and his wife, Rhona were out here years ago. We found the little settlement of Maybelle, then
we took Route 318 for what seemed forever. The terrain was the same for miles and miles and miles, rolling hills with creosote bushes everywhere,
giving the landscape that avocado-green look. I was down to a half-tank of gas by the time we came to Route 10N. It was only 20-30 miles more
before we came to the petrogliphs. I pulled over and studied the map a little, when a man in a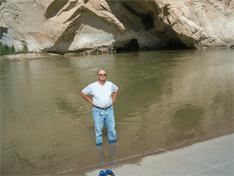 pickup truck (everybody seems to drive one here)
asked if we were in trouble. He said there was a gas station 7-8 miles down the road on 128. We decided to fill up. A no-brainer. We saw the
sign, so we turned onto a dirt road, with no sign of a gas station, or anything else. After about a mile or so we arrived at the end of the county-
maintained road and to the left were a single-pump gas station, country store and RV campground.

The woman who ran the place with her husband had a weathered look about her but with a nice smile. She told us about the valley, where these
petrogliphs can be found. She said to see the good ones, you should hike about ¾ of a mile and then enjoy the little stream that flows through
there. As they had no rain during the month of July, she doubted there would be a problem with mud. We enjoyed her air-conditioned comfort for
a while longer, then continued back to Route 10N. It turned out to be a hard dirt road with lots of gravel in

places, so in short order I chickened out and turned around. As I was pushing the rig to turn around, a guy pulling a large trailer with a pickup truck

stopped to talk. He seemed to know about center hub steering and Kawasaki Concours, etc., so we had a nice chat. He confirmed my decision not to

go by pointing out all the dings and chips in his paint.

Today we drove to the Dinosaur National Monument. It was extremely hot and it's the closest I came to heat exhaustion ever. It was an
unpleasant feeling and it took much liquid and wearing my "wet suit" to bring my temperature down to normal. Eventually we headed south toward
Grand Junction, our next destination. We encountered the nicest and steepest of switchbacks in Colorado to date and second gear was used
extensively for both the climb and descent. We are staying in another nice Hampton Inn with great air conditioning. It's Torrey, Utah tomorrow.
We had a great night's rest! What a difference a clean, cool room makes. After stocking up on water, we headed west on Route 70. Traffic was
heavy initially but thinned out to mid-week levels shortly afterwards. Hot and boring ride with warning signs about no services for the next 100 or
110 miles. Since we stop very often anyway, this didn't affect us at all. After taking the exit for Route 24, we were in for another long and mostly
boring ride. Oh, did I mention wind? Major head-wind at first, the kind that feels like a giant invisible hand holding back the rig, then shifting to
the right, wanting to blow me right off the seat. Thoughts of finding a truck rental place big enough for the rig keep creeping into my mind.
Luckily, these don't last long and, before too long, nice scenery appearing on the horizon replaces these negative thoughts. We stop at one spot to
take a few pictures and to drink liquids. I pour some water on my shirt and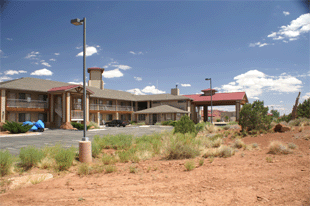 we continue. A passing motorcyclist's thumbs-up sign brightens the
spirit a little. The cooler is working overtime these days to keep the drinks cooler than lukewarm and I can't imagine this trip without it. Thanks,
Goldsmiths! We plod on. I decide that we're never touring the Southwest again on a motorcycle in the summer. I'll probably change my mind.

All of a sudden we're in terrain resembling a giant stone quarry. The color of the rocks is grey and there are deep crevasses seemingly made by
huge claws on the sides. The skies look like it will storm any minute. Judging by the intensity of the wind, we are on the outskirt of the storm.
Mary and I decide that we will ride out the storm, as there is no place to pull over to put the top on the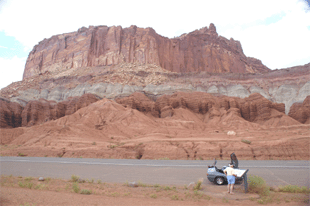 sidecar. The rain starts a few drips at a
time and I feel refreshed. Of course it gets worse but we soldier on and still feel pretty good. I take the opportunity to pull into a parking lot for
petrogliphs and put the top on. The rain lasts for a few more minutes and then we're approaching Torrey. We arch our eyebrows in surprise when
we notice a motel for sale but there are 3 or 4 more, one with a restaurant and some gas stations. We miss seeing our motel. I pull into a gas
station to gas up and Mary investigates the location of the motel. Guess what? It's the one that is for sale. We drive up to the front of the motel
but the doors to the lobby are closed. There is a sign to check in at the convenience store/gas station next to the road. Long story short, the
motel's been for sale since last December. A very nice woman is in charge, reporting to the holding

company, while a new owner is found. The motel turns out to be a very nice and clean place to stay; I just wish they had a pool. We are tired

enough that we don't feel like eating, so we just eat the stuff we've collected on the road.

By the way, the sun hasn't done much good for my face. I haven't been using anything on it but the occasional prescription cream. Exposure to the

sun is unavoidable. Occasionally I ride in a short-sleeved shirt, so my arms have become very dark. The top of my hands spend the most time in the

sun, so they are the darkest. Interestingly, though, in a strange, freakish way, when I straighten out my fingers to look at the top of my hands, in

comparison, my fingers look white, since they are wrapped around the handgrips of the handlebars. I just shake this off and make myself believe

that it just adds even more character to my appearance.


Mary named the rig The Grey Ghost. I kinda like it. I named Mary The White-haired Wonder. She didn't like it.

08/03/2008
Today was the first time we stayed in one place for more than a night since Heather and Steve treated us to those lovely days. We looked forward
to the motel room and weren't disappointed. After the continental breakfast we lounged around a little, I cleaned the bike and Mary caught up on
the laundry. It was another scorching day, so once it got really warm, we saddled up and took a ride into Capitol Reef National Park. It clouded
over soon afterwards, so it actually became quite pleasant with the lower temperatures.

We took many pictures, waded in Fremont River (which is a stream, at best), visited Fruita, a little settlement, which never had more than 10
families living in it. We watched a family of mule deer graze peacefully within 25-30 feet of the remnant buildings of Fruita. One of these
buildings, a tool shed, contained a tractor unlike I've seen before, a Power Horse. I took a picture to show Harold, who is the only tractor
aficionado I know.

On the way back we had dinner at the Rimrock Inn and Restaurant, a mile or so from our motel. The food was pricey, but good. A glass of Chardonnay from Idaho helped us fall asleep.


Total mileage so far is 4,410 miles.

08/04/2008
Today we traveled north. Once we left the mountains and hills of red and pink rocks, the terrain became much flatter but the fields were full of
livestock-sized rocks. They were black, and from a distance, could be mistaken for a cow lying on the ground. It is impossible to cultivate this land
and it can't be good for much. This terrain continued for an hour or so and then all the rocks disappeared and we were driving in a valley with
rather tall mountains on either side of us. SR 24 turned out to be a delightful road, with plenty of scenery, and not much traffic. We took it to
the end, where it empties into SR 50.

Driving toward Salt Lake City the traffic became unrelenting for almost an hour and a half. Luckily, in addition to four lanes, there was an
additional HOV lane and that's where I spent all my time. It was like a safe haven, like a little cocoon, in which I felt safe from those on the right
of me. We got a chuckle passing a white Ford Bronco, with a license plate NOWAYOJ. The temperature was hovering around 100 degrees but I
didn't want to dawdle, because it was close to 5 o'clock, so, pedal to the metal, 10 miles over the speed limit and finally, Salt Lake City was behind
us. The mountain range, Wasatch, to the right of us was spectacular. Traffic thinned out very nicely and driving, once again, was much more than a
chore.

We made it to Pocatello, Idaho, a distance of 354 miles. I chose that particular city because I remember reading it on the side of a tractor trailer
years ago and wondered what kind of place it might be. Now I know: Pretty nice.

This morning we set out to get a little closer to the much-anticipated destination of Glacier National Park in Montana. We're heading North on
Route 15, a widely separated four-laner, with a speed limit of 75. The weather is - for a change - nice and cool, in the fifties. The scenery is
mostly burnt brown with patches of green accomplished by hours of water irrigation. I used to think that the biggest offenders of wasting water
were, in no particular order, golf courses, California and Florida businesses with timers dispensing water even in the rain and California and Florida
residents watering lawns they only enjoy by looking out of the windows of their air-conditioned house they rarely leave. Well, okay, I still think
that.

We're starting to see farms, instead of ranches, with farm houses, grazing horses, much like the East Coast. I am starting to feel at home, but,
alas, it's premature. All of a sudden we're in the mountains again, going up and down gentle sweepers. Then, as quickly as they came, the mountains
disappear and are replaced by a completely flat terrain, with large mountains waaaaaaaaaaay in the distance. The kind of mountains you drive
toward for an hour and they don't appear any closer. These are very common in the Southwest. Then when you do get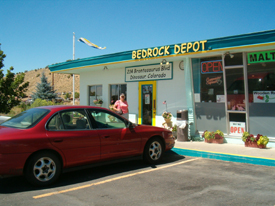 close enough, you can't find
where the road is going to go. "Are we going to climb that mountain?" you ask, just in time for the road to take a sudden turn and now you're
traveling in a valley between two mountains and pretty soon the mountains are behind you.


The landscape here has taken on many different looks, sometimes in a matter of just a few miles. Two days ago we were riding by fields full of
rocks, stones, and boulders of black, white, or a dark pink. There are so many, you can not even use these acres to graze stock. In just a few miles
the land is green and lush because of the ever-present irrigation. Riding through Idaho today the mountains were always in front of us. We never
seem to get any closer even after 200 miles.

We had the oil changed today at Action Motorsports in Idaho Falls, then we hit the road. The landscape here is much different even from
yesterday. We are in the high plains, wide valleys, full of grazing stock, crops of all kinds and here and there a clump of trees with houses nestled
among them. We stopped for lunch in a place called Spencer. To call this a one horse town would be a compliment. The lunch was good as usual, but
the remarkable thing was the gift shop, gas station and opal mining restaurant, the Bedrock Depot. I had a great time shopping for opal that was mined right there and
then made into lovely jewelry by, of all people, the cook, who made our lunch.


Today's mileage is only 186 but I don't feel guilty. We stayed in Dillon, Montana.


08/06/2008
The Grey Ghost is performing flawlessly. We had been achieving 27.0 MPG, with 27.1 being the all-time high, when descending the mountain pass
into Grand Junction, Colorado. For a couple of days, it's been 27 but yesterday we ran into some strong headwinds and the mileage dropped to 26.8
and I worked hard all day today to get it back up to 26.9. A couple of days ago I changed my windshield and used the taller, aftermarket shield. I
brought the stock short one along to use in really hot condition but it just didn't work. I can still look over the tall one and it is much quieter. It
was certainly appreciated this morning, when we started our trip of the day. The temperature was in the 50s and riding was actually cool. It was a
sensation we haven't experienced in weeks and it felt great. I picked a route for today that would bypass Route 15 for a change. They were all
two-lane roads, for a slower pace. The scenery along SR 278 was gorgeous and traffic was non-existent. We had a great time and enjoyed every
minute of it. The temperature never got above the comfortable level. All was great until the gas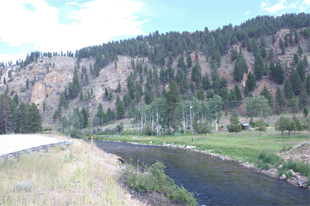 gauge kept dropping quickly. There are six bars
to indicate a full tank, three a half-tank. I was on the last bar and the GPS didn't show a gas station within reach. We drove by a building with a
bunch o

f pickup trucks parked in front of it. I turned around and parked in front. There were a couple of workers inside, who told me that there is a gas

station in the next town, about four and a half miles down the road. Whew! The name of the town was Wisdom. The Grey Ghost took four and a

half gallons of gas, so there was about a gallon left. We stopped to have breakfast/lunch, then continued on SR 43.



I picked a road to traverse the Bitterroot Range, a road that is closed in the winter but after about 25 miles it turned into a narrow gravel road,

so, disgustedly, I turned around and back-tracked to SR 1, to continue to Anaconda. This area is littered with copper mines. We drove by one

incredibly large mountain of waste from the strip mining operation. I can't even imagine how they managed to pile it so high. Eventually we found

our way to Route 15 again and headed to Missoula. The temperature climbed to above 90 and speeds increased as well, so the fun-factor diminished

to below the "ain't life wonderful" level. Traffic got worse the closer we got to Missoula and it was nearing 5 o'clock. Mary had made a reservation

for us in Kalispell, otherwise I would have settled for a bed in Missoula. Our godson, Jake, had just finished a play at Proctor's theater in

Schenectady, which was put on by the Missoula Players, originating from this town. All of us had entertained thoughts of sending Jake to Missoula

to sharpen his craft, so it would have been nice to check out the place for him. But, fate intervened, as always and we had to press on.

A short distance from Missoula, we found SR 200 and headed north toward Kalispell. It was still hot but traffic had thinned out. I want to share
a couple of my observation with you:
Surprisingly, I found that once we got past the East Coast, most of the people on the roads obeyed the speed limits and, secondly, it dawned on me
that it's been days, since I've seen a car from New Jersey! This is good news because back home we see them constantly. Seeing them used to
upset me, but then I got to thinking, if I lived in New Jersey, I wouldn't want to stay home either!

Pardon me for digressing. So we're heading north on SR 200, when after cresting a mountain-top we are afforded such a beautiful vista, that we
have to pull into a rest stop to sort of breathe it in. As we're drinking our fluids, taking pictures and enjoying the view, a twenty-something year-
old Ford Bronco pulls up into the parking lot. A young man disembarks and pays a compliment to our rig. He says he's been following us since we left
Missoula. He's traveling home, to Eureka. We ask him about our plan to traverse the eastern side of Flathead Lake (We've already seen the
western side with the Goldsmiths). He highly recommends it, mentioning the many cherry stands on that road. We part company and continue on to
Polson, where we take SR 35 around this huge lake.

Just outside of Polson is a rather strange museum, with some very unusual objects sitting outside. We stop and take pictures of them but opt not
to go inside for lack of time. Here are a few pictures of the items displayed outside. One can only imagine what must be INSIDE!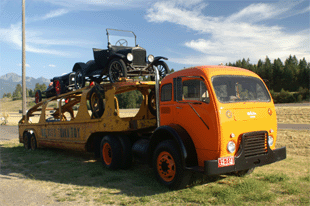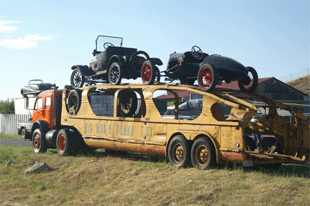 Not too far ahead there is a blue sign up ahead, approaching rather quickly. I'm thinking it's a rest stop, already thinking, do we need to or not. I
slow down a little. Finally I can read it: "CHAIN UP AREA". What? Then the terrain starts to point up to the sky and keeps climbing for at least
a mile. The Grey Ghost is protesting by slowly going slower and slower. I have to shift to keep my respect with the others on the road. At last
we're over the hump and we're descending for another mile before the road levels off. Then I see another blue sign: "CHAIN REMOVAL AREA".
Oh, it's for the wintertime, when tractor trailers need snow chains to traverse these mountains. This is where they would pull off the road and
perform the related activities. I am glad it's hot out right now.

Let me digress a little more: Installing the communication system we bought at the Charleston, WV BMW Rally 4-5 years ago was genius! We both
really enjoy using it and it makes the experiences of the day more memorable by sharing it with each other in words as well as pictures. We point
things out to each other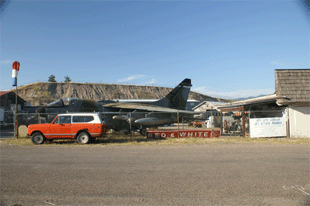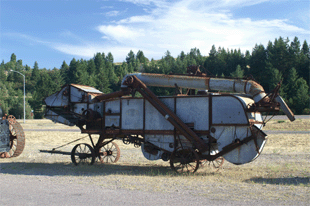 that might otherwise be missed.


We traveled 351 miles today to Polson and I am feeling every one of them right now.

Today was an easy day. After packing the sidecar and socializing with a Harley couple from Minnesota we had breakfast/lunch in town. The
restaurant was on SR 2, which is the main drag and looking out the window we couldn't believe the number of cars that were constantly visible.
Heavy traffic in both directions. After the meal we traveled south to find the cherry vendors. Mary bought me both kinds of cherries, red and
yellow and they are both delicious.

We found the smallest Walmart we've ever been to in Kalispell. We were taking our gear off when a manly-looking woman drove by in a van and
complimented our rig. Mary went in to buy some water and I waited outside. I was lost in my thoughts, when a deep, raspy voice brought me back
to reality. "Where'ya from?" she asked. It was the same woman from earlier and we talked for another five minutes before she finally left.

Then we set out for the Izaak Walton Inn, in Essex, Montana (population 40), where we have reservation for the next three days. The drive was
exhilaratingly breathtaking. The road was SR 2, going up the Eastern side of the park. It is a normal state road and, as such, it is traveled by
commercial traffic and the speed limit is 70 MPH. It is a shame, really, because so much scenery is never noticed at that speed.


| | | |
| --- | --- | --- |
| | | |
| The front of the Izaak Walton Inn | Relaxing in Room 3 | This is the view a train traveler would see. |

The Inn was built in 1939 to house workers initially to build, then, later, to maintain the tracks over the passes and to clear the snow from the
tracks in the winter. Apparently, this was enough work to keep a small army of men busy, for the inn is three stories high, has a

restaurant, a bar and several playrooms in the basement. We are in room number 3, on the first floor. There are two beds; the walls are covered

in wooden tongue-and-groove planks. It is quite quaint and there are no phones, TVs or air-conditioning. It gets quite cool at night and there is a

ceiling fan in the room. The average snow fall in the winter is 20 FEET, with the record snow fall in 1972 of 526 inches, or 44 FEET! The Going to

the Sun Road didn't open this year until the 4th of July, due to excessive snow fall! The Inn was named after a British angler when its management

realized that it could open its arms to tourism in the summers, when less railroad worker occupied it. Many of this and the other lodges' employees

are young college-aged young men and women from abroad. All of the waiters and waitresses in The Izaak Walton Inn were from Europe.

The Inn is right next to a railroad yard. As we look out our window, we can see all the tracks, including the occasional train. If there is somebody outside waving to the train, the engineer will blow the whistle. I hope the trains don't run at night.

08/08/2008
The trains do run at night. Maybe I'll get used to the noise.

Today we went for a tour of the park in a "Jammer". This is the nickname of the vehicle always associated with Glacier National Park. Originally
they were manufactured by the White company in the mid-thirties. They were painted red and had a removable canvas top. Many of them fell by
the wayside over the years, until someone realized that these have become part of Americana. They bought all that were left and refurbished
them. Since the chassis was made out of wood, most were beyond repair. A brave and expensive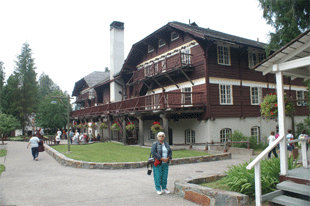 decision was made to do a ground-up restoration
and with the help of Ford and many others, the restoration was completed some years later. As of now, they are really well taken care of and are a
pleasure to ride in. They all

use propane for fuel, so they don't soil the environment. By the way, they are called Jammers because the original transmission was not a

synchronized transmission, so the driver had to "double-clutch" for each shift. When this wasn't done precisely, the transmission balked by

grinding its gears. It is then that the driver jammed the shift lever to man-handle the transmission and thence became the Jammer.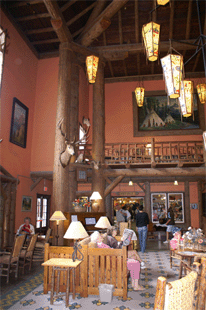 Our driver, Jim, picked us up at the front of the Inn and immediately began dispensing his wealth of knowledge on us. He was fun and funny and
made our all-day trip enjoyable, despite his heavy Bostonian accent. The trip itself is beyond description and must be experienced in person to
truly appreciate it. We took many, many pictures both with the cameras and with our minds. I guess what impressed me most is the immensity of
the landscape. It makes you very humble to be among these giant mountains and Mather Nature at her best. I would recommend taking one of
these trips for many reasons: The view is infinitely better than from a car; the description given by the guides have taken years of reading on
their part and would be impossible to amass on your own; these people are the same caliber as the rangers within the park: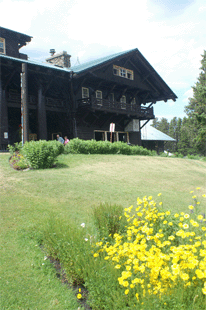 they mostly do it because they love it, which makes them passionate and eager to answer questions, volunteer information
at the gentlest of prodding. Suffice to say, do it and you won't be sorry.


Along the way we visited many sites, including the two other Inns, both of which were featured on The Discovery HD Theater's America's Great Lodges and if you haven't seen that show, shame on you! One was the Lake McDonald Lodge and the other, the Glacier Park Lodge.

I have a conundrum for tomorrow: Do we go back to the West Glacier and take more pictures of the Inn there (my batteries died today) and
replenish the depleted stock of cherries, or spend most of the day driving up to the Canadian portion of this park, or take a helicopter ride
(neither Mary nor I had been in a helicopter) and take pictures from the air. I guess more people should be stuck with only these pleasant options,
huh? I'll let you know what happened.

We met a grandmother staying at the same place, traveling with her four granddaughters. They came to the Inn by train and will leave the same
way. The Izaak Walton Inn is what's called a "flag stop", so when there are passengers to be picked up, someone puts out a flag and the train stops,
otherwise it keeps going. The Inn is the only flag-stop in the country.

The Olympics started today and we have no television!

08/09/2008
We got an excellent night's sleep and felt great crawling out from under the down comforters of our bed. We had breakfast at the Inn and were
cleaning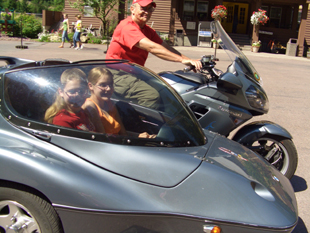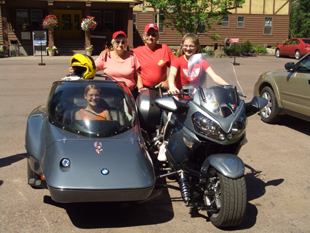 the bugs off the bike, when an enthusiastic group of people approached us. They were very animated and were talking excitedly as they
were approaching us. They all had big smiles on their faces. It turns out that they saw us in Kalispell two days before and were sorry because they
couldn't take a good enough picture of us. Fate brought us together and we officially greeted our very first fan club members. They had two girls
with them, so I asked if they wanted to go for a ride. They both eagerly accepted, so off we went. One of the girls just loved New York State and
hoped to one day go there for a visit. We exchanged e-mail addresses and invited them for a visit.



We got the rig cleaned, so off to Glacier Park we went. We were there with the jammer yesterday but both of my camera's batteries were

exhausted and I couldn't take pictures of the interior of the Glacier Park Lodge.

The cheapest room in this wonderful place was $200 a night. The lobby is absolutely grand. It is three stories high and the structure is supported

by 800-year-old tree trunks, at least 3 feet in diameter. The bark was left on and they still look as fresh as the day they were cut down. I sat in

one

of the many comfortable chairs in one end of the lobby and quickly counted 31 of these columns. I wonder how many were cut down before the

final selection was made. The lobby is rectangular in shape and there are open corridors all the way around, open to the lobby. The rooms open to

the outside from these corridors, so that all rooms in the hotel have an outside view. The hotel probably has 300-400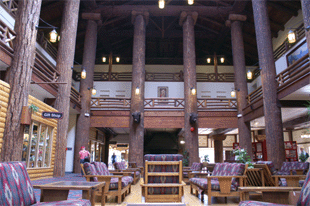 rooms, has a golf course, an
outside pool and majestic view of the snow-covered mountains. The lodge is on a Blackfoot Indian Reservation and there was a sign declaring that
there will be no alcohol served in the hotel to observe some Indian holiday.



A few words about driving on the reservation: The livestock is roaming free, so if you happen to damage or kill one of them, the Indians get to

decide the worth of the animal. This could get to be very expensive, so you best watch out. The other interesting story/fact we learned is that

the Indians believe that taking a sauna cleanses their soul. They do this with their clothes on and believe that the evil and bad spirits are then

transferred to their clothes. They then take these clothes and hang them on trees to let the wind blow the bad spirits away. We saw some of

these clothes on tress on the Indian reservation.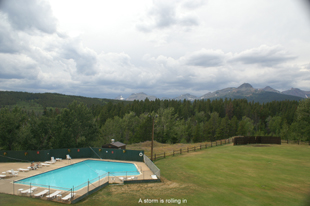 We had an espresso, while I called Steve Danberry and watched a rainstorm come in from the mountains. It was an awesome sight to see the
lightning and the rain falling in the distance, all the while it is getting darker and darker. I got soaked as I ran to the sidecar to put the top on but
it felt refreshing and everything smelled anew and full of oxygen. We came home and ran into the grandmother with the four granddaughters. It
ended with me taking the four girls for a ride in the sidecar. All were delighted and the grandmother wanted to give me some money but I told
them the ride was a reward for their good behavior. They all thanked me profusely and it made me feel good. Then as Mary and I were eating
dinner, the grandmother walks by and puts a ten-dollar bill under the breadbasket and walks away. After we were done eating I asked the person
at the front desk to apply the ten dollars to the grand-mother's hotel bill. Her bill had already been paid! Mary got up early the next morning and
found them waiting for the train and explained to her that the money wasn't necessary and gave her the money and our e-mail address, so she could
tell us about the rest of her trip. We were all happy until Mary walked out to the motorcycle to start packing and found the same ten-dollar bill
under the gas-cap!

At dinner Elena from Russia was our waitress again. Ask Mary to do an imitation of her for you.


08/10/2008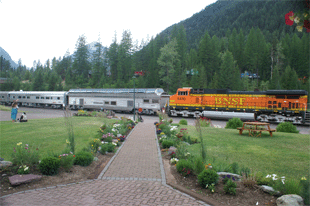 Today we are heading for Corvalis, Oregon. Waking up to a cool, overcast morning, it was cool enough that I donned my "serious" motorcycle clothes,
for the warmth. Mary asked to have the top left on the sidecar. We answered all the questions a bunch of local Harley-types had to ask, took a
picture of the group and their bikes, had a leisurely breakfast and watched a special train pull in front of the Inn, bringing a bunch of Burlington
Northern Santa Fe (BNSF) executives for their annual barbecue at the Inn. The Izaak Walton Inn is owned by BSNF. It was close to noon

by the time we got under way. We had to back-track a little toward Kalispell via SR 2. Since today is Sunday, the traffic was pretty heavy, with

everybody heading home from vacation. There were lots of trailers being pulled all too slowly up steep grades. The clouds remained different

shades of dark grey for most of the day, with a few occasional sprinkles. The wind picked up also, making driving less than pleasurable. We finally

arrived in Coeur

d'Alene, Idaho at around 6:30.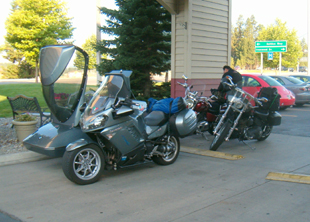 We're staying in a Day's Inn. The desk clerk told us to park the rig under the awning in the front, just in case it rained. Very nice! As we were
pushing the bike a group of riders pulled in, so the next twenty minutes were spent answering questions.

Miles driven today was 258. Total mileage for the trip is now 5,714.

08/11/2008
When we got up this morning the temperature was in the mid-forties, so we started with the top on. It was an exhilarating ride for the first hour
or so, until I finally stopped and put a long-sleeved shirt on. The skies were clear, so with a song in our hearts, we pressed on. We were traveling
the historic Lewis & Clark Trail, Routes 95 and 12. Up and down hills we rode, with wheat fields lining the road, often on both sides. It's harvest
time, so the combines were working full time. According to the news, the farmers are expecting a bumper crop this year.

Shortly after leaving Coeur d'Alene, we were traveling South on 95, which, at this juncture, is a four-lane road, I saw a road sign I had never seen before. It was posted at every crossover point and it simply said OK with an arrow bent at a 180 degrees, meaning it's okay to make a u-turn.

The good cherries were eaten and Mary's nose was a little out of joint because I didn't want to stop to get some more yesterday at Kalispell,
Montana. We stopped for our daily meal (we've been averaging only one meal after the continental breakfasts) in Moscow, Idaho in a nice little
place downtown called the Breakfast Club. I could see the rig from our table and very few people walked by it without looking at it and then looking
back one more time. I ordered a Bavarian omelet with German sausage, onions, mushrooms and Swiss cheese with home fries and toast. It was
excellent and there was so much of it, I couldn't finish it. Driving out of town I saw a sign for cherries, so I quickly pulled in to try to appease
Mary. She was carrying two bags but she wasn't smiling. No yellow cherries and the red ones they had were puny and twice the pric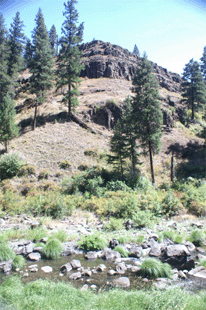 e. She did buy
some nice peaches, though.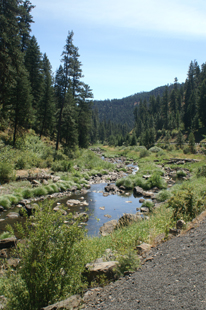 We went through a couple of miles of nasty gravel in a construction zone. The paint job now has even more nicks in it. Luckily, there was only one-
way traffic. I am always concerned about a vehicle coming toward us kicking up some gravel into the radiator of the bike.

Driving through the Nez Perce Reservation I pulled into a gas station. It was mobbed with vehicles of all description, including a sidecar. No, wait
that was me! Four different people came to find out about the sidecar. The reason for the excessive number of vehicles was the price of gas.
Regular was $3.84, the cheapest of the trip.

It was still very pleasant when we came to a series of scenic pullovers, overlooking the town of Lewiston, Idaho and Clarkson, Washington. Looking
down at the towns, they seemed at least 10 miles away. If you looked hard and long enough, you could make out moving vehicles. It was a
compelling sight and we enjoyed it for a long time. A woman with her daughter came over to see the sidecar close up. Turns out she was originally
from New Hampshire and complained about not having the fall colors in the West. Then we started to descend into the valley toward these two
towns. The road snaked to the left, then to the right, all the while descending rapidly. We whizzed by several runaway truck ramps on both sides
of the road (first time we've seen them on the left side), passed a couple of tractor trailers, whose brakes were smoking heavily. Mary was a little
apprehensive, so I slowed a little but the adrenaline was flowing pretty good. As soon as we reached the town of Lewiston, the temperature
increased by at least 15 degrees, so much so that I had to pull into a gas station to shed some clothes.

There was a BMW motorcycle dealer in Clarkson but it was closed. Too bad because they also had a three-wheeler called the Can Am that Mary
really likes.

We were about five miles from Walla Walla, Washington, when I noticed a motorcycle coming up fast behind me. He caught up to me but didn't
pass and by the time we arrived in town, he had looked at us from all angles. We finally pulled into a Comfort Inn and he followed me. He was an
excited local on a Concourse and wanted to know all the details of the sidecar.

The mileage for today was 211 miles.

08/12/2008
After a restful night at a Comfort Inn, where we parked The Grey Ghost, resting under its covers, right in front of our room's window, we headed
South on Route 11, heading for Pendleton, Oregon. The scenery at first was the same as getting to Walla Walla: Wheat fields forever. Then the
Butte Mountain Forest State Scenic Drive changed the scenery to curvy roads surrounded by evergreen trees, with the occasional stream running
alongside the road. We stopped to take a series of wonderful pictures.

Mary got a kick out of a sign we saw repeatedly on today's four-lane roads. It informed drivers that it was unlawful to pass a snowplow on the right
side. She made a list of her most favorite road signs seen on this trip:
•

Gravel

•

Runaway Truck Ramp - No Fines for Using (on both sides of the road)

•

Road Is Closed When Lights Are Flashing. Go back To the Town You Just Left
At Pendleton we took Route 395, going through the Umatilla National Forest, a long and lonesome road with no gas stations (or towns, for that
matter). We were running pretty low on gas when we finally arrived in Mount Vernon, where we gassed up and had a meal at a family restaurant.
Mary was delighted to have found one of Kati's Christmas presents there. I asked our waitress, Toni, for advice on what road to take. One thing
led to another and we told her of our plans to visit the steam-operated saw-mill in Corvallis, Oregon. She couldn't believe when we said that and
very excitedly told us that the mill is owned by her great-aunt! I think the world shrank a little more today. She gave us a note to give to her
great-aunt and we'll see what happens when we get there.

We took Route 36 west through the Ochoco Mountains and the Ochoco National Forest both of which were very scenic, and curvy, almost devoid of
traffic. We arrived in Prineville and made a gas stop. We spent a good fifteen minutes talking with a couple about the rig. They have a BMW
K1200LT at home in Seattle.

I had to alter our traveling plans due to insufficient amount of time. Originally we planned to go to Klamath Falls, then to Crater Lake but that plan
was way too aggressive. So we headed for Bend, Oregon and checked into the Best Western. We weren't halfway unpacked when a group of bikers
descended on us and it took twenty minutes before all questions were answered. One of the guys attended this year's world-famous Sturgis rally in
South Dakota.

The mileage for the day was 276.

08/13/2008
A question for someone to "Google": The large pine trees in Glacier National Park are called lodge pole pines. It is these same species of trees
that support the structure of the Glacier Park Lodge building. The question is: Did they acquire their name after they were used for this purpose
or were they always called that?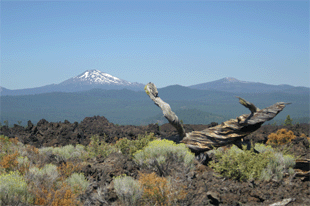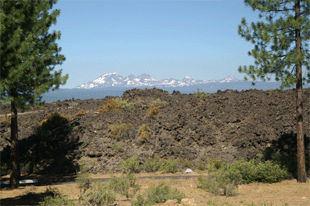 I meant to talk about this for many days now but I kept forgetting, so here goes:
If you know about this, good for you, you can skip this paragraph. Our jammer in Glacier National Park driver told us about the aspen. Each tree is
part of a "pod", a single entity. Each tree is taken care of by the pod, so if trees at the top of the mountain are not getting enough moisture, the
root systems of the trees in the valley are altered to transfer nourishment to those at the top. This way all members of the pod flourish. There
is an aspen pod in Colorado, which is the largest living organism in the world.

Mary discovered that we have an extra day before we have to be in Corvallis, so we headed south for Crater Lake National Park on Route 97. It
was a very pleasant drive, with traffic being pretty sparse, with many more cars heading north. The occasional passing lane provided ample
opportunities for those in a hurry. Shortly after entering the Dechutes National Forest I noticed a sign for the Newberry National Volcanic
Monument and decided to investigate. Apparently the whole area was a sight of volcanic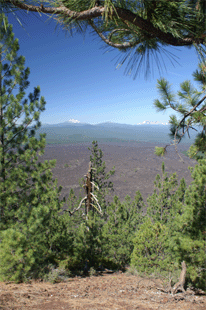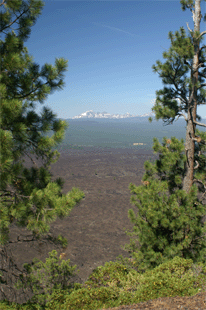 eruption less than 7,000 years ago. There are several mountains
surrounding this sight with triangular peaks, typical of volcanoes. They are also quite high, as they have snow-covered peaks. There is a field over
600 acres, which is covered with lava rocks. From a distance it looks like a huge pile of elephant dung. From closer they don't look like rocks at all.
They are very light and porous and very difficult to walk on. Luckily, they built a blacktopped ribbon of walkways for us fragile humans. We
listened to the ranger for a while, then drove up to the top of a butte, from which the panorama was wonderful. I took several postcard-worthy
pictures and enjoyed a little jaunt around the perimeter of the volcano's caldera.
Continuing south on 97 we stopped for gas in a little town and a woman came out to pump gas. Then I remembered that the same thing happened in
Bend, the day before. I asked her and she told me that it was a state law and that New Jersey is the only other state in the country, where they
pump gas for you. Next to the gas station was a drive-up espresso place. These businesses seem to be everywhere nowadays (there is even one in
St. Johnsville, NY) and this one is open all year around, despite the large amounts of snow this area receives. We drank a cooling latte/frappucino-
something that was very refreshing.

We turned on Route 138 and headed west toward Crater Lake National Park. The road was straight as an arrow and you could see it disappear over
a mountain probably twenty miles in the distance. When we eventually topped that rise, the road continued straight for another ten long miles.
Finally the entrance to the park appeared and after yet another free admittance with our Gold Age Passport card and another nine miles, we
arrived at the lake. A short, uphill walk in pumice powder to the rim provided a wondrous sight looking down on the lake. The lake is mostly round
and we could see it in its entirety, including the single island off to one side. The lake was formed by a volcanic eruption of a mountain, which
created a huge hole at the top of that mountain. Over time, springs filled up the hole, creating North America's deepest lake at around 1,900 feet.
We drove around the perimeter a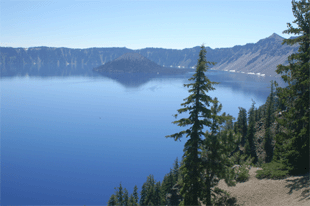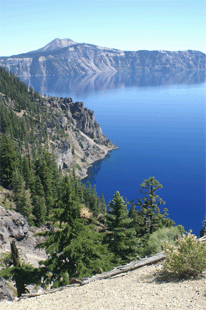 little and took some more pictures but then had to make time for Corvallis. We'd like to go back and spend more
time and also to visit Klamath Falls, which we didn't see at all.

I wanted to continue on 138 West toward Route 5. This led us through the Umpqua National Forest, part of the Cascade Range. This drive topped
the list of my favorite roads. It was very scenic; the speed limit was 55, with plenty of 30 mph curves and hardly any traffic at all. For the most
part, the road was lined with trees, creating plenty of shade and at times we were met with a gentle blast of air that was cold enough to have come
from an open freezer door. I was driving in a short-sleeved shirt and felt great. Diamond Lake, along Route 138 seems like a very nice resort area.


We stopped at a gas station and noticed a sign telling customers that if the station was closed, pick up the phone on the wall, call for help and
someone will be sent from the resort. Some service!
While gassing up, we noticed butterflies everywhere. The attendant told us it was a yearly occurrence, apparently they were migrating. They
looked like Monarchs, so they were on the way to Mexico. Many of them never made it because we killed many of them driving through the many
swarms we encountered for the next half hour, or so. I had to raise the windshield to its highest position, to try to keep my face shield clear.
After they were gone, we stopped at the stream we've been following for most of Route 138 and cleaned the bike up a little.

All too soon we were on Route 5, heading north toward Corvallis. This is an interstate, from California to Washington, so it's full of truck traffic
and everybody is

moving faster than the speed limit. It was time for more gas and since we were hungry as well, we stopped at Peggy's Restaurant and had a good

meal. Getting back on 5 was hard but we found that traffic had eased quite a bit, allowing me the luxury of looking at the scenery. Soon we were

approaching Eugene, found Route 99 and headed toward Corvallis. It was a long but very memorable day and we were tired when we arrived at the

Salbasgeon Suites after 9 PM. The last sight I wanted to see were the figures of two approaching guys,

eagerly checking out the motorcycle and us. I am starting to acquire an inkling of appreciation of how celebrities must feel! They turned out to be

nice people and I spent the next twenty minutes … Well, you know the routine by now. Our reservation was lost, despite Sonny's efforts, but we

were soon in our room and ten minutes after my shower I was asleep.

The mileage for the day was 301.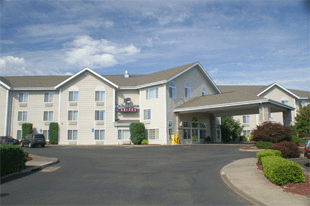 08/14/2008
I had never heard of the Salbasgeon Suites until last night. It is a very nice place, with a restaurant for our free breakfast. The room has a
refrigerator and couch. We decided to treat ourselves to a restful day; we used the pool and hot tub today and finished washing the bike of the
yellow excrement. Tonight we will further treat ourselves by having Veal Oscar in the restaurant downstairs.

The current temperature is 97 degrees Fahrenheit, or, for our European audience, 37 Celsius.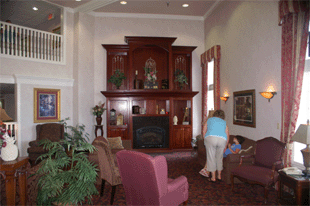 The mileage driven today is 0 miles.
We were leaving the Salbasgeon with a heavy heart. It was a really nice place and we thoroughly enjoyed our stay there. By the way we learned
the origin of the name:
According to the legend a man was basking in the sun under a fir tree next to the Umpqua River. As he was watching the water, he saw a fish jump
out of the water, the likes of which he had never seen. It had the head of a SALmon, the body of a striped BASs and the tail of a sturGEON. He
called this fish a SALBASGEON. As he later related what he had seen to others, he realized that this fish embodied all the resources of his
beloved Oregon. When he later built an inn, he named it Salbasgeon, in honor of the fish and vowed to provide a unique experience, using the best
resources available.

It promised to be another hot day, as I pulled the bike under the motel's awning. We quickly packed, answered questions from three different
people and were on our way. We headed south on 99W for about 15 miles, then took a road toward the west and a few miles later we were entering
the Hull-Oakes Lumber Yard. All eyes of the workers were upon us as we pulled in slowly, looking for the office. The road ends here among the
many old-looking, odd-shaped buildings. There is lumber everywhere, some are still on trucks, having just been delivered, some have already been
shaped to different lengths and sizes.

We are here because two people recommended it to us: Harold Estes and Tom Hooper. We quickly found the office and walking up to it we noticed
a sign taped to the door. Tours are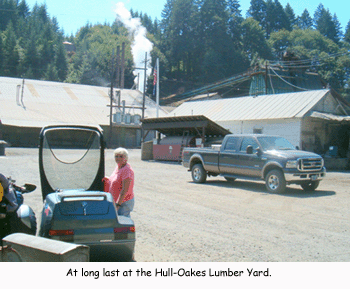 given on Tuesdays and Thursdays only. Today was Friday. We walked in and explained why we were here and
gave the woman the note from Toni, the grand-niece of the owner. She didn't seem too impressed and explained to us that the woman divorced her
husband after fifty years of marriage. "I still have a chance!" I muttered under my breath but Mary quickly retorted with a "No, you don't."

The phone rang and after the woman hung up, she said that Don, the foreman called and when he saw how far we had come, he will give us a tour.
He had an errand to do but was back in 15 minutes and gave us a three-hour tour! We both enjoyed it immensely as Don explained how he started
there in 1963 and how much things stayed the same since.

This saw mill is one of the oldest steam-operated facilities in the country, having been recently included on the National Register of Historic
Places. The family-owned

business has been in operation for about sixty years, employing about sixty people throughout those years. They are a "niche" company, which has

no website, no sales force and cuts all its lumber to order. Brokers from all over the world, acting on behalf of architects, place their orders for

lumber. These orders are then filled and shipped. People from the lumber company, including our tour guide, Don, buy raw lumber from all over. T

hey deal

exclusively in Douglas fir. If you look at the tree rings of a Douglas fir, you'll see two different shades always alternating. One shade

represents the tree growth in the spring, the other in the fall. It is a fast-growing tree that is both strong and flexible. The first operation a

tree trunk goes through is the bark stripping machine. This has to be done because in case any wood is sold to a paper company, they will not buy it

with the bark. The stripped-off bark is sold as mulch and ends up on the East Coast. Nobody in the West Coast wants it because it has slivers.

Doesn't say much for us East Coasters, does it?

The entire operation is done using turn-of-the-century technology. There isn't a single computer used in the entire process, rather, it is all done by
feel and past experience. As such, trained and experienced employees are very valuable and, literally, irreplaceable. They are well taken care of
financially, have job security and their health insurance is paid for entirely by the company. Since all their equipment is old, parts are very hard to
find. Don and others attend lumber company auctions to buy old machinery for parts.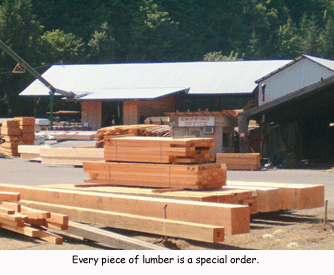 The heart of the plant is a steam engine of 1906 vintage. Parts for it are equally difficult to find, as are qualified people to maintain it. It runs
continuously for the eight-hour daily shift, after which maintenance is performed, if necessary. It has twin cylinders producing about 500
horsepower. By-product sawdust is burned to produce the steam for the engine. The building housing the furnace is cooled by water spray, despite
which fires occur once or twice a year. A sprinkler system addresses this problem successfully.

The naked tree trunk is trimmed with a band saw, whose circumference is over 50 feet. The saw's teeth are sharpened after about 3 hours of use
and can be sharpened repeatedly and

can be replaced for about $1,500. During the day while a blade is in use, another two are being sharpened. The sharpener is automatic, once it

starts.

Trimming the naked trees was the most fascinating operation to me. It consists of two people, a stationary band saw and a cradle containing the
trunk. The cradle has built-in hydraulic arms that can rotate the trunk in any position the operator chooses. He sits on a chair that's attached to
the cradle. The cradle is moved toward the saw blade and keeps moving for the whole length of the log, cutting a strip off the log. The cradle
then moves in the opposite direction, while the cradle operator communicates with the band saw operator sitting opposite from him. Using hand
signals they tell each other how much to cut off, so the cradle operator moves the cradle, and, thereby the tree trunk that much closer to the
band saw. Remember, this piece of lumber is a special order, a copy of which is with each operator, so they know the dimensions of the finished
product. By the way, Mary and I were literally three feet from this log being flipped around the cradle. It was neat, but the noise was
deafening!

So, the cradle moves to one side, then back and when one side is finished, it is turned 90 degrees in the cradle and the process is repeated, until all
four sides are finished. The slabs that are cut off vary in size, but they will all become boards, cut to specific sizes down the assembly line. Later
in the process they will be stamped with a grade. This is also interesting. The person who stamps the logs works for an organization responsible
for stamping the grade mark on all lumber in all lumber mills. This way the grading process is standard for the whole industry.



| | | |
| --- | --- | --- |
| | | |
| The world's smallest harbor. | The winged beggar. | Mary is always trying to make friends. I don't approve of these! |
There are two buildings containing planers, noisy machines responsible for shaping lumber to exacting measurements. These generate most of the
saw dust.
The Hull-Oakes Lumber Company has its own tree farm where they replant Douglas fir. The seeds are planted close together and grow that
way for a year. After that they are uprooted and planted farther apart for another year. By then they are about a foot high and are ready to be
planted outside, 400 seedlings per acre. Out of every four seedlings, one is for a deer, one is for a rabbit and two for the planter. After about 50
years the trees can be harvested and the cycle begins again.

We said our goodbyes and felt empowered with all this new-found knowledge, sure to be forgotten in a few days. At Tom Hooper's sister's
recommendation we found Murphy's bar and waved as we drove by. Even though it was Friday, the day the bikers gathered there, it was too early
in the afternoon to have any of them there. Maybe next time.

We drove west on Route 20, the last section of the original Oregon Trail, the same Route 20 close to our home. I started out wearing my summer
jacket and no gloves and was, for the most part, comfortable driving. The road turned into an idyllic two-laner, with occasional passing zones, with
large green (not evergreen) trees shading the road from both sides. Occasionally, the treetops for the two sides touched in the middle, creating a
green tunnel, offering both shade and coolness. The temperature in one little town was 97 degrees. We had just finished climbing this mountain,
whose summit was marked with its elevation: 379 feet. Three HUNDRED, not thousand. Gee, we must be getting close to the ocean. Sure enough,
soon the sun disappeared and I started feeling as though I were in a catacomb. My body was rebelling by an occasional shiver. Thankfully we
arrived at the end of Route 20 and were dumped into Route 101, the famous Pacific Coast Highway or the PCH. We couldn't see the ocean for the
fog and didn't dare to look too long for it for the traffic. It was two lanes of slow-moving traffic, resembling the New Jersey shore traffic I used
to hate when we

lived in that area. We found a parking space on the street in Newport, Oregon and put some

warmer clothes and the top on the sidecar and searched for a place to eat. The Horn Blower was recommended by a local admiring the sidecar.

She was right, the food was very good and our window overlooked a harbor, touted to be the World's Smallest Harbor. We watched some harbor

seals frolic in the water and took some pictures of a seagull begging for food. The temperature was in the low 50s.

I decided I didn't want to put up with the traffic much longer, even though we found and passed the reason for the excessive traffic: a stinkin'
casino attracting people by the droves. We found Route 18 and headed east, eventually winding up in McMinnville, Oregon, where we stayed at a
very nice Red Lion Inn.

The miniscule, paltry mileage driven today was 161 miles.
We were all packed up today and I was outside with three of our bags, ready to check out of the hotel, when I had an epiphany: There is a museum
in town, we learned yesterday, that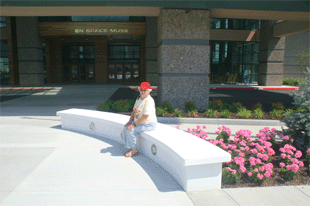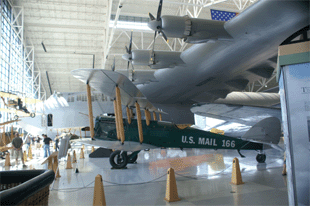 has, among many others, the Spruce Goose. This was the billionaire Howard Hughes' aeronautical creation,
made entirely from wood, except for the eight engines. So, why not stay an extra day and see the museum. A telephone call and two minutes later
it came to be, we're staying. What a country! I love America! Life is good!

The name of the museum is the
Evergreen Aviation Museum
and it is only a couple of miles from our hotel. It consists of three huge buildings one
side of the road and their corporate headquarters and an airfield are on the other side.

The museum was built and is owned and operated by Captain Michael King Smith. He was a much-decorated pilot in the Korean war, after which he
went to work for a crop-dusting company. A few years later he bought the company and never looked back. He is 87 now and has turned the reigns
over to his son, but still knows every employee by their first name. Aviation is only one of his passions.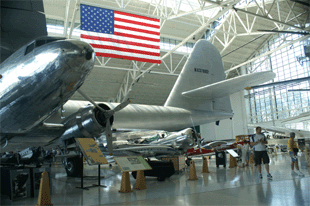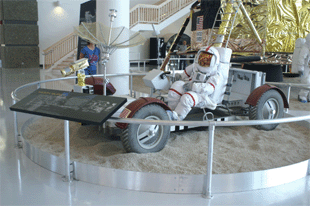 The famous Spruce Goose is in one of the buildings, among many other noteworthy examples of aviation and space travel. I am thinking this is a
must-stop for Harold and his brother, Phil.

After the museum we set out to find a Walmart. We let the GPS guide us on a nice, albeit a rather warm ride. The temperature was close to 100
again today. The GPS chimes in: "Turn left, then board the ferry." The ferry? Yup, the ferry. There it was in front of us, in a little river. Why
didn't they build a bridge? Well, we didn't board the ferry but turned around and headed for the motel.

Most of the paltry 58 miles today were spent trying to find a Walmart.

08/17/2008
For the first time in weeks, this morning was overcast and a little chilly, in other words, nice riding conditions. Our first destination was Mount
Hood. Traffic was the usual weekend-type, steady but not crippling. We rode Routes 18, 99W and skirted underneath Portland, then found 26 and
started climbing. Conditions were still great and we enjoyed the scenery. We drove through Sandy, then Government Cap, before we took Route
35 to Mount Hood, the town. I took a little excursion on a side road to get a picture of Mount Hood, the we turned around and went into a little
country store, where we ate, had an espresso and bought a few neat things and talked them into shipping it home for us. We were sitting at a table
inside, eating our sandwiches and reading the local paper, when an elderly gentleman with a heavy British accent asked us if that was our sidecar
outside. It turns out, he owned a rig many years ago, a Sunbeam with an inline twin and shaft drive and had more fun with it than any other vehicle
he's owned since. It was nice to watch his face, as he was reliving those good times in front of us. A very nice experience.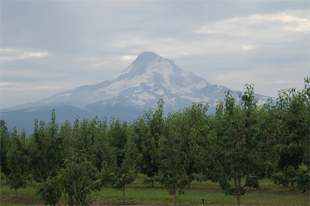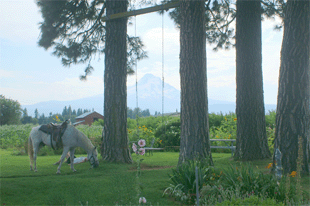 A few miles down the road, at an orchard, we bought some wonderful cherries and apricots the size of peaches, whose taste was out of this world.
Route 35 dumped into Interstate 84, which follows the Columbia River. We headed west, with more that a 100 miles to go on this terrible road.
The Columbia River is a famous landmark and it looks pretty neat as you're trying to peak at it driving along at 65, but it generates tremendous
amounts of wind, with which we had to contend for those 100 miles. We were being pushed around pretty good and the traffic was very heavy, with
everybody trying to get home from the weekend. I needed a rest, so we pulled off the road at an exit and found a way to get closer to the river.

We prevailed and all too soon found ourselves on another Interstate, 5 this time, heading north toward Seattle. We had another hour to go to our destination, the Guesthouse Inn in Tumwater, Washington, just below Olympia, the capitol.


Along the roads we covered today were huge nurseries, growing vegetables, flowers; orchards of peaches, cherries, apricots and apples. This area
is extremely fertile and the soil rich-looking. A few days ago, when we saw nothing but wheat fields, we were less than impressed by the look of
the soil. Oftentimes it had a look of white sand from the Jersey shore. Mary read in a brochure that one of the areas we passed today is
responsible for supplying 90% of the Easter lilies to the whole country. I find it hard to even imagine.

The mileage covered today was 278 miles.

08/18/2008
We must be close to Seattle. It is raining. So, I turn over and go back to sleep. Eventually we both get restless and, despite the threatening rain,
we set out for the neighborhood Walmart. Again. It was a short drive on Route 5 to the store. We were on a mission of mercy: We had to get
those little pads to wipe off the old toenail polish. The champion shoppers that we both have been called, we left over a hundred bucks there
before we left. I suggested we have a European supper: A little cheese, a few crackers, some tomatoes, and green peppers. But we don't have a
knife. We'll buy one. I need a new camping knife, anyway. This way I can stop using the one I took away from Chris, our son, when he was 12. Mary
is asked to give proof of age before she is allowed to purchase the knife! We arrive at home and I try to take the knife out of its packaging.
That's pretty much not possible without a knife or scissors. I remember the white plastic knife I used to mangle the breakfast waffle. I pick it
out of the trash and within seconds my new knife is free and I am ready to tackle those tomatoes!
Today was an excellent day. It looked like rain but it held off for most of the day. The first trip was to a place called
Wolfhaven
. It was a
privately-owned wolf sanctuary, where you could observe wolves in their habitat. I was looking forward to taking some good pictures for Maria.
Unfortunately, today they were closed. Maria will have to come back to see this place herself.

So, we headed south to Mount St. Helens National Volcanic Monument. It was the dreaded Route 5 for 50-60 miles of usual windy driving
conditions. Mary wanted the top left on (in fact, it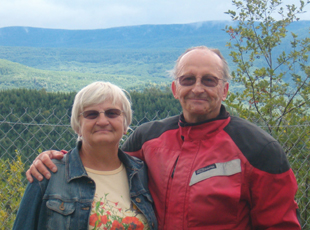 was on all day) and I had my Aerostitch (Stitch, for short) jacket, for the warmth. I even
turned on the heated handgrips for a while to keep my hands warm. There was a front coming in from the Pacific Ocean and, according to the
weather forecast, it was going to hit later today. The wind was colder than it's been and after a short while, I had enough and pulled into a rest
stop. I was just getting out of my jacket, when a guy riding a loud Harley pulled right next to me. The audacity! He didn't even get his full-face
helmet off and he was talking.

I had my back to him, so I assumed he was talking to Mary. Soon she felt sorry for him and answered him back. He wanted to know if that was a
Concourse 14. I'm thinking to myself: "It must be, that's what it says on the side." Then he says; "We don't have these in Canada, eh." Oh, my God,
a Canadian. Now I felt bad for trying to ignore him, so I put on my "nice" face, after dusting it off. He asked if he could take pictures of the bike
for his dealer back home in B.C. I said: "Of course, eh." We all laughed. He had ridden the Sportster from home and was complaining about the
lack of windshield in these windy conditions. We both got some coffee, talked some more and parted as riding brothers.

We finally got off Route 5 and headed east on 504, toward Mount St. Helens. It was a nice ride, at a leisurely pace. The road sort of reminded us
of roads in the Adirondacks and again we felt at home. The entrance of to the park was upon us in short order and my Golden Age Pass let us in
again for free. For those of you who don't know what this is, let me tell you. It is possibly the only reason I've found worth growing older. Once
you turn 62 years old, you can buy one of these cards for ten dollars. From then on, for as long as you live and can visit

National Parks, it will admit you, and everyone else in the vehicle for FREE. It is absolutely the best deal the government has ever given me for my

tax dollars. So, if you are eligible and don't have one, get one!

| | | |
| --- | --- | --- |
| | | |
| At the Visitor Center | Silver Lake behind the Visitor Center | The top of Mt. St. Helens is shrouded in clouds. |
The road ended at the
Johnston Observatory
49 miles later. It was a delightful, curvy road with not much traffic. It looked like it was going to
storm any minute for most of the way but we managed stay rain-free. It was still cold, so we checked on each other's welfare more often than
usual and we even sang our song to each other. There were many stops along the way and each one offered a different vista from the last one.
There were many educational plaques along the way and we didn't miss reading many. Mary has to read each one, while I rather look at the scenery
and take pictures. I guess that's another reason why we make a good couple.

At one of these stops the sidecar was admired again by a group of boomers, who were from Kentucky. We told them that the sidecar also comes

from there, so I had to show them Murray, KY on the map.

At the visitor center, while I waited for Mary to come out, I observed a young couple taking pictures of each other, so I asked them if I could take
their picture with their camera. As they posed for me, I held the camera up and noticed they were hugging each other tightly. So I said to the
guy: "Watch the hands, bub." He said that it was okay, they were married. In fact they were on their honeymoon. I congratulated them and told
them that it's been forty years for us and about the trip and the sidecar, so I felt good, for having mingled and interfaced with the public.

Behind the visitor center was a mile-long nature walk in and around Silver Lake, most of which was overgrown with plants. It was a relaxing
meander and we managed to find some marionberries on the vine and had a little dessert.

As one is driving on the road, signs are posted as to what year that particular section was replanted and in some cases, the year the trees will be
eligible for harvesting. These areas go on for miles and miles and the important fact one needs to remember is that these seedlings were planted
ONE AT A TIME.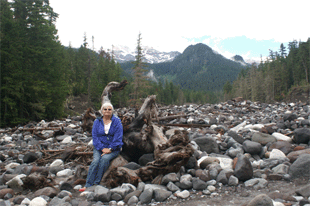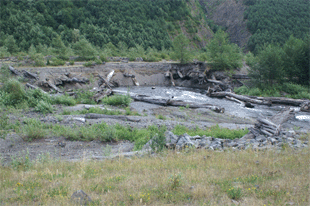 The next rest stop was a nice one, complete with gift shop (yippee!), rest rooms and a very educational exhibit, sponsored by Weyerhouser,
America's largest lumber and paper company. Their losses due to the 1980 eruption were astronomical, in terms of lumber, equipment, railroad
tracks, railroad cars, etc. Almost immediately after the earthquake, efforts were underway to recover as much of the lumber as was possible.
Millions of logs were recovered and used.

We've all seen TV programs and movies of the eruption of Mount St. Helens. It was an awesome display of the devastation Mother Nature is
capable of producing. It looked terrible while we were watching it happen but to see it in person, even 28 years afterwards, really drives home the
immensity of the power that blew so much of that mountaintop off. The trees in the immediate area were instantly burned, leaving only their
stumps sticking up from the ground. The explosion and the exposure to weather have since turned that wood white and its surface shiny, almost
like driftwood. Entire sides of mountains have this look. From a distance they look like grave stones in a cemetery and I sort of had the same
feeling driving through this area I have when I am in a cemetery, thinking of all the lives that were lost in this disaster. Most of these, of course,
were of animals but they were lives nevertheless. The name "monument" seems more befitting of this area, than "park".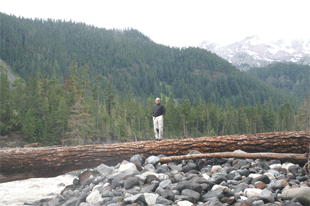 The results of the reforestation efforts are extremely encouraging and should prove to even the most skeptical that "life goes on". Some areas
look as though the disaster never happened. These, of course are some tens of miles from the volcano. The area around the volcano became visible
as we

stopped at the last "view point" of the drive. As we walked up to the rim, Mount St. Helens was suddenly in front of us. I left my heavy jacket on

because it was very cold and the wind was brutal. It was the strongest wind I have ever experienced. Looking around, the entire caldera looks like

a moonscape. The soil is all white and is littered with tree stumps and logs in all stages of decomposition. At one of the picture spots I took a

picture of water rushing down a little waterfall and there were many logs sticking out of the soil, where the water had washed the soil away,

meaning, there are still many, many logs under the volcanic ash.

There is another picture showing the lava field with Mount Rainier in the background and the Tieton River meandering through the lava field. In
just 28 years the water carved itself a canyon of some 20-30 feet.

After spending another 15-20 minutes at the top, we headed back down, in unusual quietness, each of us lost in our thoughts, reflecting on what
we've just seen. It was a beautiful and memorable experience we're not likely to forget for the rest of our lives. It was a difficult ride due to the
weather being less than friendly, even though it didn't rain.

On the way home we stopped for dinner. We thought we'd honor a friend, Craig Kellum, by dining at Spiffy's. For those, who don't know, the word
"spiffy" was his favorite.

Digressions:
Mary has been continuing a family tradition of collecting rocks throughout this trip. We started many years ago and the ones from this trip are

more like pebbles, than rocks, since we're weight-restricted by our vehicle of choice.


On the other hand, decades ago I started collecting match

books. Since smoking lost most of its popularity, so far I have only one book for the entire trip.
A few days ago I asked all of you to get an answer to a question about lodge pole pines. Only one person replied with the answer, my friend and
buddy, Maria. I am disappointed but here is the answer: The name of lodgepole (one word) pine was given to these trees because the Indians used
them as support for their tepees and for tying two together at one end and forming a triangle at the top. Covering the two poles with cloth served
as a carrying platform that could be dragged by one person, holding the poles at the top.

Mileage driven today was 206 miles.

08/20/2008
Today was another wonderful day, filled with wonderful scenery, sprinkles and pretty heavy rain. We visited Mount Rainier National Park. Despite
the inclement weather from time-to-time, it now ranks among my top three favorites. The elevation at the summit of Tieton Pass is less than
5,000 feet but the vistas offered up to your viewing are breathtaking. The many waterfalls all had plenty of water flowing and looked majestic.
The Tieton River was flowing at a very rapid pace and its water had a milky look to it, caused by the morain, a fine silt resulting from the pressure
exerted upon rocks by the glaciers. At one spot we pulled over and climbed down into the riverbed and actually walked across a bridge made from a
large log split in two with a wooden railing attached. I am very proud of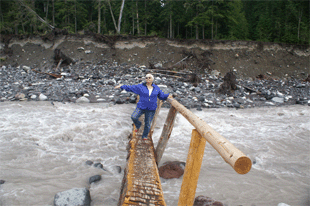 both of us because looking down to the raging waters below tended to make
you a little dizzy. Catherine would never be able to accomplish this task. What a pity. But then there are many things in which she excels. We
took time to sit down and enjoy the snowfields upstream and listened to large rocks tumbling under the surface of the water bumping into others,
making an echoing, deep thud.

The drive during the rainy periods was kind of miserable, as the rain was also accompanied by heavy fog. The good thing was that traffic was very sparse. The interesting fact was that despite the weather, every trailhead had at least one car parked in it. And in the middle of the week. As the rain was coming down, the visibility was poor and my mood wasn't much better than that. Then I started noticing these wildflowers growing along the edges of the road. Some were white, resembling Queen Ann's Laces but the others were bright orange in color and shined through the fog, like beacons. This spectacle went on for some miles, on both sides of the road and it lifted my spirit, just when it needed to be.

The size of some of trees in this at least mature, if not ancient, forest was impressive. Most of them were Douglas firs. Some sections of the road were lined with these types of trees on both sides, with a sliver of sky showing in the middle, with more trees ahead. The smell of pine was everywhere.

A car coming toward us flashed his headlights. I looked down and I was under the speed limit, so I just kept going. Another car flashed his lights. I thanked him and waited for the police radar ahead, Nothing. A couple more cars with flashing lights passed. Then I rounded a corner and saw the reason: A two-car accident, with one on its top and its passengers being extracted on stretchers by EMS personnel. I wished them good luck silently and motored on, albeit at a slightly slower and more cautious pace. The two cars that had passed me a few miles ago, followed suit. I imagine we all had something to think about.

After leaving the park, we continued on to Yakima, Washington, where we stayed at a Clarion Inn. They had a very nice restaurant, so we treated ourselves to a nice pork dinner and a glass of Washington Riesling. Both were excellent.

Mileage driven today was 170 miles.
I had a tough night last night. My restlessness would not let me sleep, despite taking several pills, until after 2:30 this morning. The sad part is that when I am in this condition, sleep isn't the only thing I can't do. I wouldn't care about being restless, if I could work on the journal or something equally constructive. So, this morning I didn't want to get out of bed. It was around 9:45 when I asked Mary to find out the check-out time. It is noon, so I don't have to hurry, I can write some, have another cup of coffee. Next thing I know it's 11:30 and we barely had enough time to pack everything and vacate the room by noon.

We headed north on Route 97 and Interstates 82 and 90, heading for Leavenworth, Washington, a town the
DeRochers
told us about. According to them, it is a must-see place.

The driving on either of the two interstates is horrible. The winds are tremendous and in many places I cannot do the speed limit of 70 for the head-wind. These winds are not steady, either, making driving even more challenging. Sometimes they come from the left, sometimes from the right, sometimes head-on but never from behind. I used three-quarters of a tank-full in only 50 miles. When we arrived at the junction of Route 2, I donned my raingear because it sure looked like rain ahead. The interstates were out in the open, while Route 2 wound its way among trees. It was a much more pleasant trip and it never did rain. By the time we pulled into one of the many fruit stands along this road, I was ready to take off the raingear. We bought some peaches and nectarines that were over-ripe and cheap and absolutely delicious.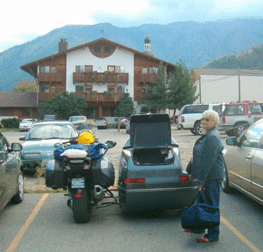 We arrived in Leavenworth without incident. It is the Bavarian capitol of Washington. Many of the businesses are decorated much like those in Bavaria, with flowers in window boxes decorating every window. We want to eat at a German restaurant. We mistakenly pull into a motel parking lot and feel a young couple's eyes following us. We pull out and into the bank's lot next door and the eyes are still following. So I stop and let them look. Mary buys some gold presidential dollars and gets us some spending money. (After we get home we notice that for the first time I know of the saying "In God We Trust" is left off! I often hate the 21st century!)



Someone recommended a restaurant: the King Ludwig. We saw his castle,

Neuschwanstein

, in the real Bavaria. Mary ordered

lecsó

(a Hungarian dish) and I ordered

gulyás

(another Hungarian dish). Both our selections turned out to be excellent, so we were happy. It was quite late now and neither of us wanted to travel anymore, so it's the Village Inn for the night. It is a very nice place I'd recommend to others.
We were unpacking when a man approached with a lot of questions and a few neat stories. Turns out, he's from South Africa immigrating to Canada, visiting the US. He decided that deteriorating conditions, rising crime rate in South Africa was more than he wanted to endure. He had a
Concours
14 while in South Africa, where they have no speed limits. Once he emptied his tank in 75 miles. He also had a Speedo Healer installed on his bike but for a different reason: To override the top speed governor imposed by the government. He also replaced his stock windshield with a taller one. He had tried aftermarket mufflers but recommends I keep mine stock for maximum torque. We talked for a good half hour. He stopped riding when he hit a pigeon at over a 130 MPH, shattering his windshield.


After unpacking I went down to the bike one more time to get the mileage, when another man descended on me. He wasn't a rider and just wanted to congratulate us on a wonderful looking rig. When I told him our "mission", he was really impressed and blamed his wife for not going along with some of his ideas for a vacation. He wants to board a freighter and sail to the Far East. I wished him good luck, citing that it took me decades before Mary would agree to ride in a sidecar.


Total mileage for today was 50 miles. Shame on us!

After much cajoling, shaming and demanding since the beginning of this trip the following is Mary's paragraph:

I do not think we have anything to be ashamed of, we are on vacation. I am having a wonderful time. Just to experience the forces of nature at Mount St. Helens was a reminder of how ever-changing life is. The remains of the devastation showing us the violence and the power of this eruption, being covered over with new growth. These were my thoughts on the cool ride to our room that night. The next day we go to yet another mountain, the big one, Rainier. It is still cool, notice I do not say cold, and rainy. This mountain is huge and wild. The river we cross on foot is running so fast and hard you can hear boulders smacking against each other as the water moves them. I neglected to say we crossed the river by way of a foot bridge made of one single 50-foot log. Another cool ride to yet another motel. This was the second full day with the top on. This brings us to here, to this quaint little hamlet, Leavenworth. It seems to be from another time, stores close at 7 PM, people of all different ages having a good time together. A town center with a bandstand and German folk dancers, all of this for no charge. When the dancers finished their routine they invited the audience to join them and for the most part they did. Like I said, from another time. Most everyone headed over to a local live theater to see the play Kiss Me Kate. I came back to our room for a warm shower and a good night kiss.

08/22/2008
After a wonderful breakfast we're heading north toward the northern part of the Cascades. Taking Route 2, then 97 North. This area is chock-full of fruit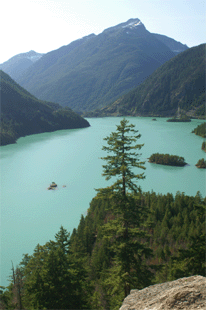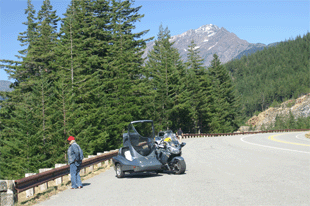 orchards, going for miles and miles, on both sides of the road. There are apple, apricot, peach and pear trees by the thousands. The apple trees' branches are propped up by wooden poles to help support the weight of the fruit. Fruit stands line the road every few minutes. Mary remarked that she could live here and that maybe we could buy an orchard. So, I said yes, and see how much money we could save by not having to buy the fruit. (At the last fruit stand they were selling a boxful of about 10 over-ripe apricots for three dollars.) The very next orchard was full of dead trees, so I said that would be us after a couple of years of owning the orchard. Before we got on Route 153 in Pateros, we gassed up and had a little picnic lunch by the Columbia River. We have been following this beautiful river for many miles now. Its personality was much different than last time we saw it, driving toward Portland. The water was much closer to us and there was no wind at all. The orchards were replaced by ranches almost as soon as we turned unto Route 20, as we headed toward the North Cascades National Park. The closer to the end of this park, the nicer the scenery became. Traffic was sparse and the "view points" plentiful. If you didn't deduce already, view points are places along the way you can pull off the road and enjoy a particularly nice vista. I think my favorite scenery on this drive was Diablo Lake with Ross Dam and Colonial Glacier. There are 57 glaciers in this park! The view of Diablo Lake is almost identical to that of Lake Tahoe: You're looking down on the lake in one direction and turning 90 degrees affords a wonderful view of the glaciers. The lake contains "glacial flour", finely ground rock powder produced by the movement of the glacier. The flour is suspended in the water and when sun shines on it reflects a deep green color. Depending on the mineral contents of the flour, this color is a deep azure green color or a bright blue. Lake Tahoe is a beautiful lake but it has nothing on Diablo Lake. After leaving this beautiful sight, we followed the Skagit River for many miles, where the road and the river share the deep valley, with steep mountain sides, oftentimes peppered with waterfalls hundreds of feet high.
I forgot to talk about glaciers when we were in Glacier National Park, so I'll do it now. In our travels we've seen many snow-covered mountains. Not all of those were glaciers. What defines a glacier is that the snow/ice mass has to be moving. If it isn't, then it is just a snowfield. As the snow/ice (ice on the bottom, snow on top) mass moves, it destroys everything in its path. It picks up rocks along its travel and grinds those rocks against other rocks, making glacier flour (in Canada it's called moraine).

I also neglected to describe this nice experience: We were walking back to the rig at the
Walmart
parking lot in Tumwater, Washington, when I saw a barely-teen-aged girl with her mom, trying to manage pushing two carts back to the store. I asked her kiddingly if she would take mine as well, to which she agreed with the nicest smile. It is all too often I have negative feelings about today's youth, I really needed this. She really made me feel good inside.

We pulled into a gas station to fill up, when a man on a mid-seventies, original Honda Gold Wing pulled next to me. This was a "naked" bike, meaning no fairing, or windshield. He said hello and told me his buddy ran out of gas. He was able to buy a gas can, so I didn't have to intervene. He was from Ontario, a Canadian Province north of New York State, so he was a long way from home also.

We arrived in Bellingham, Washington and it was getting late. We found a hotel but it was booked. We called seven or eight others and they, too were full. We were less than 50 miles from Canada, so I had Mary call a motel in British Columbia, about 21 miles from Vancouver, where we reserved a room. Going through the border took about 20 minutes and we were asked

for our passports. It was almost 10:30 by the time we were in our room and the Holiday Inn in Langley, BC is a nice place. It should be, for $135 a night. We had two pillows each, one soft, one firm, so marked on the pillow cases.

Today's mileage was 345 miles, the most in quite a while. The total for the trip is 7,911 miles.

08/23/2008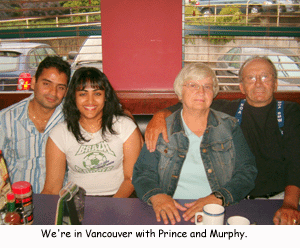 We needed a rest day and did just that.

Prince Davies and I worked together in Schenectady, when I did some consulting work after retirement. I remember he was from the southern part of India, where they have nice beaches by the Indian Ocean and lots of warmth. Ironically, he currently resides in the vicinity of Vancouver, BC., where it rains most of the time. Maria had given me his phone number before leaving on this trip, so now it was time to call him.

08/24/2008
He had married, in the meantime, 15 months ago Murphy, a beautiful, young, outgoing and very Westernized young lady. We agreed to meet for a cup of coffee, after which they invited us to their apartment, where we watched their wedding album. Then it was time for lunch, so we went to a Greek restaurant. Then they wanted to show Vancouver to us. Unfortunately, it's been raining since early morning, so we didn't really get a chance to leave the car. Consequently, we didn't see much but enough to ascertain that Vancouver is a beautiful city, modern and large

city with an impressive skyline with many high-rise buildings. We agreed that we'll have to come back again when they can properly show us Vancouver. I might mention at this point that, like so many other Indian weddings, theirs was an arranged marriage and they didn't even know each other before the engagement ceremonies. They make a perfect couple and couldn't be happier and we couldn't be happier for them. By the way, Murphy got her name by taking the first few letters of her mother's name and the last few of her father's. Years later she kiddingly accused her mother of naming her after their radio, whose brand name was Murphy.

By the time we got back from the sightseeing trip, it was still raining and it was late, so we decided to stay in the same hotel for another night.

08/25/2008
We awakened to an overcast but sometimes sunny morning. This was good news, as the weather channel was predicting rain all day. We quickly got underway, heading east on Route 3. The plan was to stay in Canada, keep going east until
Waterton
Lakes National Park, which is in Canada, north of Glacier National Park. We haven't seen this park yet. Then we'll have a decision to make: Do we stay in Canada or drop south and ride through the Badlands of South Dakota.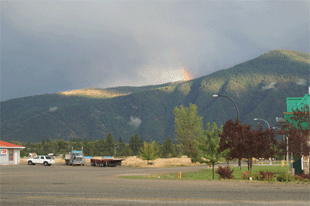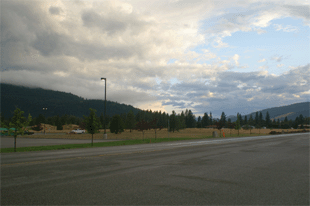 The riding was nice enough today, although I can't explain the quite heavy traffic going in the opposite direction. We have crested 5 or 6 passes today, none of particular interest or beauty. Then it started to rain, a few sprinkles, then quite heavy for a mile or two, then it cleared up again. One little town towered over the others today, as far as scenic beauty. It has a neat name too:
Osoyoo
. We caught a glimpse of it and the large lake in its vicinity from high above and far away, as we made our way down to its level. Once we were out of town, we quickly started to climb again, until we were above 4,000 feet of elevation. Then we got another glimpse of it before we left it for good.

After another hour or so some vary dark clouds loomed on the horizon. We happened to be in a little town, so we stopped to eat. As we were looking out the window, the clouds were getting closer and lightning could be seen periodically. We skipped dessert and got underway again. It started to really rain now and the skies were nothing but black ahead. Traffic drastically thinned out and we hardly saw a car in either direction. The road was long and straight and the raindrops were hitting the face shield with authority. It almost sounded like hail but it wasn't. I saw a black mass off the road. As we got closer, I saw it was a minivan upside down in the ditch. A car was on my tail. Mary said we should stop. I pulled over and let the car pass, turned around and with heart beating faster, I accelerated back to the van. It was harder to see it from the other side of the

road but I found it. I pulled off the side as much as I could and walked toward the van. I saw the tracks it had made, as it went off the road. The back window was completely out and so was the driver's side window. I bent down to look inside and happily saw that it was empty. As I walked back to the bike, I saw that three other vehicles had also stopped, so I asked a woman clutching a phone to call police to make sure they knew. We continued in the rain all the way to Grand Forks, British Columbia, where we got a room in a Ramada Inn. For the first time on this trip, we used the heater in the room for about an hour until we were warmed up.

Let me enlighten the non-riding members of this audience about the pros and cons of riding a motorcycle - two or three-wheeled - in the rain. First, there are no pros. It is, at best, uncomfortable and at worst, life-threatening, with miserable being the norm. It is not necessarily more dangerous than riding in the dry, so long as you slow down to minimize the effects of hydroplaning. When the temperature is high enough, rain can be a welcomed change from the heat. When the temperature dips into the 50s, as it did today, by the second hour of riding, you will start to feel cold, starting with the extremities. My gloves were soaked by this time and the heated grips did little to keep the fingers limber. After a while your fingers become very rigid around the grips and an emergency braking procedure would take a lot longer to execute. Bottom line is that this is not a safe way to ride.

Total mileage driven today was 281 miles.

08/26/2008
Under sunny but cool skies we packed the bike and headed east again. At one of the gas stops a woman rider came in on an old Silver Wing. She was by herself from Saskatchewan. She admired the rig and talked about how hard it is to find a suitable riding partner and then she was off. In the same town we found white cherries in a roadside fruit stand, so we were both very happy again. A while later we saw a sign for Kimberly, BC, Bavaria in the Canadian Rockies. Pictures of Leavenworth, Washington danced in my head, as we headed for it, despite a thirty-something kilometer detour. To say that I was disappointed would be a severe understatement. It turned out to be a small block of shops, including three different restaurants. After we saw all the sights in 10 minutes, we ate in the Mozart restaurant, which was right next to the yodeling woodcarver's place. He, by the way, was on the Gary Moore Show, displaying his talents. For dinner I had a bowl of Hungarian Goulash (yes, it is a soup!), which was very tasty and Mary had something that resembled her favorite dish from the Windmill Diner at home.
It was getting late, so we got a room in a place that looked decent from the outside. Unfortunately, the inside, suffice to say, wasn't nice at all.

Total mileage driven today was 220 miles.

08/27/2008
We awakened to very overcast skies. Neither of us spent a good night, Mary woke up with a headache and I just didn't feel refreshed. We both woke up several times during the night and kept looking out at the Grey Ghost. Mary had a nightmare about it being stolen and having to look for the airport to go home. We sort of simultaneously made a promise not to sleep in a place like that again. God, are we spoiled! The temperature was in the 40s, the coldest on the trip. Luckily, resting on the bottom of the trunk of the sidecar rested my electric jacket. A few days ago I never thought I'd get to use it. I put it under the 'Stitch and Velcro-
ed
the thermostat to the top of the tank for easy access. I've apprised you earlier of our plan to head east on Route 3 until
Waterton
Lakes National Park, then reevaluate things. On several channels we watched last night, as well as this morning, warnings were broadcast of high winds in several of the passes in and around Glacier National Park all day today. Some of the gusts were predicted to be in excess of 80 MPH. Based on these scary forecasts, we jointly decided to head south as soon as possible. We drove east for about three hours, traversing the mountain-time zone line, in less-than-ideal conditions in windy, cold and rainy skies. I can easily accept any one of these one at a time, but when I am faced with all three, adding fatigue of hands and mind, I can succumb to Mother Nature.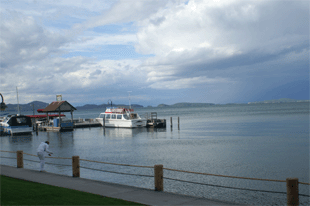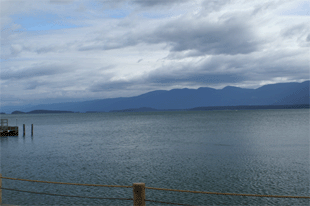 So, when Route 93 took a southern turn, we followed it. Coincidentally, this was the very same route we took with the Goldsmiths about 9 years ago. Pretty soon we crossed the border (10 minutes) and headed for Kalispell. The rain stopped after about an hour after entering the good ole USA and our spirits soared as we saw the occasional blue patches in the sky.


Unfortunately, the wind prevailed, in fact, it worsened. The view back and on our left side was such that it fortified our decision to head south: The sky and the clouds were totally black, so much so that the top of the mountains and the bottoms of the clouds were no longer discernable and it made me elated to be heading away from it. Those mountains, by the way, are the Rocky Mountains. When we finally reached the outskirts of Polson, I had had enough, so we sought refuge in the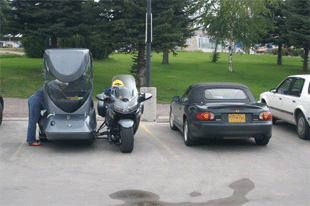 Best Western hotel in town. This place turned out to be the
Kwa
Taq
Nuk
Resort and Casino and our room has a little patio with two chairs and a wonderful view of Flathead Lake. There is also a microwave, a large refrigerator and, for the first time in a hotel, a LCD television of about 36 inches. I am confident we will get a good night's rest tonight.

One observation we made today was that the weather today was infinitely nastier today than yesterday, yet we saw ten times more motorcycles out in the rain, than yesterday.

Total mileage driven today was 176 miles.

08/28/2008
We woke up to a brilliant but cool morning but by the time we got ready to go, the clouds arrived and it looked a little like rain. We answered a couple of lookers' questions and got underway. It didn't rain all day long but the wind was again terrible. I finally asked Mary to turn off the communication system because the microphone picked up a lot of wind noise. Running this way was much quieter but I missed not talking with her.

I noticed a motorcycle parked off the road on our side. I slowed a little and when we got closer he was signaling for us to stop. At the same time there was a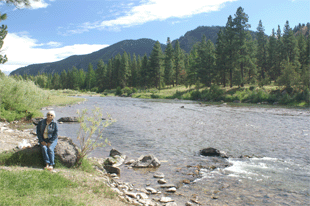 Harley coming the other way and when he saw the situation, he also pulled over and turned around to pull in behind us. The guy in trouble was also riding a Harley and his belt had broken. He and his wife were on their way back to Kansas, where they have a cattle ranch. They had been touring up in Canada as well. Neither of our two phones got a good enough signal to call for help for him, so we wrote his information down and told him we would call for him when we got to the next town. The closest dealer was in Missoula, a town we had just left about 60 miles ago but luckily the other guy, who pulled over was heading to Missoula and said he would stop at that dealer and give them the information. We said goodbye but felt bad that we couldn't do more for them. Mary called their towing service at the next town and was promised help in a half an hour. I felt a little better about their fate and said a little prayer for them.

I managed to glimpse baby bald eagles in their nests on top of power or telephone poles a couple of times during the trip. By the time I pointed them out to Mary, she missed seeing them. Today she saw the nest first and pointed it out to me.


Montana has a state-wide program a version of which we've seen in other states. A white cross is placed along the highway to mark the location of a fatality. Some of these have been decorated with plastic flowers and wreaths. I find it to be a strange custom; I think that's what cemeteries are for.

We drove on Routes 93, 200, 141, 12, 287 and 90 and ended up just outside Bozeman, Montana.

Total mileage driven today was 276 miles.

08/29/2008
Happy birthday, Mary!!! I sang her as soon as I woke up this morning. We had a lovely breakfast at the Holiday Inn we slept in. The waitress had been to all the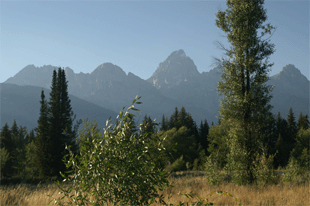 states but Alaska (Army brat) and lived in a 36 foot trailer. Nice lady.

When we looked at the map last night, Mary found a town named Sappington. Sappington was her mother's maiden name, so we thought it would be

neat to go there. We back-tracked a little by going west on Route 90 at 80 miles an hour (no wind), then headed south on 287. We arrived at the spot where Sappington should have been but there was no town. We finally gave up and traveled on and the next town turned out to be Harrison, the last name of Mary's sister, Elsie's husband, Don.

We were heading to the Grand Tetons and we were going to camp for the weekend. We found a
Walmart
and bought some cheese, crackers and water. The trip led us through some beautiful scenery through Montana, then in Idaho on Route 20. We finally found the missing Idaho potato fields. Miles and miles of '
em
being constantly irrigated by the turning wheels and hoses.

On our way to the park we gassed up in Wilson, Wyoming and headed for Jackson, the entrance of the park, according to the GPS. Following road signs instead of the GPS, we took the wrong road and ended up at the wrong entrance. The faithful Gold Age passport admitted us again for free. Then the adventure began. The road we were to follow is best described as a driveway, as far as its width. I didn't care at first because I expected all of us to be driving INTO the park. Then I met a car coming the other way,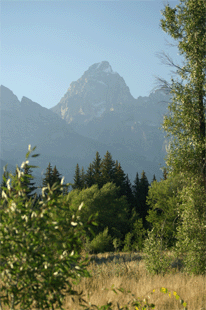 followed by another, another… You get the picture. The speed limit was 25 and Mary was panicking from getting too close to the edge on her side. Then the road turned into a gravel road and stayed that way for several miles. I couldn't turn around, so we kept going. Finally the road widened and eventually we arrived at a visitor center. This is where we found out that all the campgrounds were far in the distance and most of them were full. A familiar, numbered highway was just around the corner, so we took it and left the park behind. I think we saw most of the sights and took some pictures of the peaks, for which the mountain is named.

We planned to stay in the town of Dubois, so we traveled on Route 26. We were climbing yet another pass and it was starting to get late in the day and chilly. I donned the '
Stich
and traveled on. Then we ran into construction with miles of gravel, so traveling was very slow. Suddenly we were upon a gas station and a lodge. The gas station was closed but the pumps were open to credit card users (a neat idea other states should institute), so we took advantage. Then I had Mary ask if they had rooms available at the lodge. The rate was $189 a night, so we consulted the GPS for other alternatives. As Mary was trying to make a call with the cell phone, several people were staring, some commented on the sidecar and a couple engaged me in a conversation. They were from Texas and both were riders. They asked a lot of questions before Mary successfully reserved us a room in Dubois and a lot more afterwards. They were staying at the lodge for a week.

It was getting dark now and the bugs were out in full force. We collected many hundreds on the helmet and windshield before we arrived at our home for the night. Deer are a constant worry, especially at night. The Super 8 turned out to be a very clean motel and we got a good night's sleep. We made believe we were camping and ate a lot of cheese and crackers.

Total mileage driven today was 340 miles.

08/30/2008
After having many discussions about how to go home, each ending with a different result, we finally have a plan. We decided and I mean WE, to take the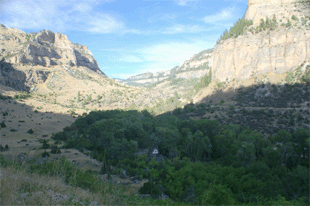 northern route, visiting the Badlands in South Dakota, as well as the statue of Chief Crazy Horse. I really disliked the idea of going home the same way we came. So, we are now heading toward Buffalo, Wyoming for today. We went through Thermopolis, the home of the world's largest hot springs and took some pictures of the strange formations left by the water bubbling out of the ground. It was a miniature Yellowstone. We met a fellow rider on a Suzuki dual-purpose coming home from a weekend of camping. He told us of the beauty of the upcoming state forest and 9,000+ foot pass, so we rode on. The ride was a nice one and we enjoyed the break from the heat of the lower elevations. The suicidal bugs and moths were attacking us in full force. Most were hard-shelled and I could hear them hitting the helmet and visor at a rate of more than one a second. The whole rig looks like someone threw up all over it. Disgusting!

I bought a thumb drive earlier today to off-load Mary's pictures from her camera to the laptop. She is running out of room on a one-gig card.

Tonight we're staying in a Best Western, eating cheese and crackers and downloading pictures. I snickered as I sent out our usual e-mail of this leg of our trip and entitled it "We Are in Buffalo", knowing that people will think we were in Buffalo, New York.

Total mileage driven today was 250 miles, 9,585 miles for the trip.
We found a Laundromat this morning, so Mary did the wash. Afterwards we had an excellent breakfast buffet, but it was 12:30 by the time we got on the road. We traveled east on Route 90 through Gillette. We saw another roll-over accident by the side of the road. It was similar to the first one: Both happened on a straight piece of road, both single-car involvements. It had just happened minutes earlier but there were people on the scene already rushing toward the overturned vehicle. This time, traveling at 75 on a divided highway, there was no chance to stop. A minute later there were three police cars and an ambulance coming toward us.

One of the recommended rides for the MOA Nationals was a ride through the Black Hills, so we planned to do that by taking Route 16 across the Black Hills National Forest. Well, as rides go, it was just okay. It doesn't even come close in beauty of scenery or challenging curves to any of the passes we've traversed on this trip. The most interesting part was seeing the devastation a forest fire caused a few years ago. In talking with the ranger at the Visitor's Center we found out that they perform controlled burns in this area, which eliminates a lot of the fuel for an uncontrolled fire, making them easier to fight. Forest fires are terrible disasters but are necessary for proper re-growth. A particular species of pine tree's cones will not open to let the seeds out until the heat of a fire.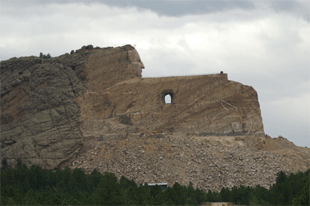 We also wanted to see the sight of the carving of Crazy Horse. It is also in the Black Hills, a sacred area for the Lakota Indians. I expected this experience to be similar to Mount Rushmore, which left me absolutely uninspired, when we saw it with the Goldsmiths. I just wanted to take a picture of it with my big lens and expected to be on the way to the hotel in 5 minutes. I was wrong.

It cost five bucks to enter the gates. A short drive later we were parked in front of a large building. I could see the mountain from there, so I retrieved my camera from the bowels of the trunk, put my large lens on and using the tripod, took some pictures of the face of Chief Crazy Horse. I packed the camera away and we entered the building. It is a huge building whose walls are covered with tongue-and-groove slats, varnished with a golden glow color. The building is filled with the most complete and authentic Indian artifacts I have ever seen anywhere. But let's take a step back.

This facility and the statue of Chief Crazy Horse are about two men:
Korczak
Ziolkowski
and Chief Standing Bear.

Korczak
was a very famous and well known sculptor, who was instrumental in the carvings of the presidents' heads on Mount Rushmore. His fame was recognized by a
Lacota
chief, Chief Standing Bear, who had wanted a monument on their sacred grounds to show white men that red men have heroes, too. He commissioned
Korczak
to carve a statue of Chief Crazy Horse and in 1948 the first blast was performed on the mountain. Work has been performed continuously ever since. First by
Korczak
alone. To call this work monumental would not do it justice. Read on and be inspired:


First he built wooden steps leading from the base to the top, consisting of over 700 steps. He had to climb these every day, carrying equipment, such as hoses, wires, explosives, drills, etc. At the time there were no roads or electricity at the facility. In time he bought a 40-year-old Buda air pump (made in Hungary) and carried the hose to the top for the pneumatic drill. Every morning he would crank the old Buda to start it, then climb the steps carrying his supplies. Sometimes he would hear the Buda stop before he reached the top. He would then put everything he was carrying down, climb down, start the Buda, and climb back up. One day he did this nine times! By the way, he was 40 years old when he started this project.

He married his wife Ruth and had ten children, who were all needed to help with his work. This huge project is being funded solely from private donations, as
Korczak
refused to accept money for the government. Eight of his family members are still working at this site. Millions of tons of rock had been blasted away already, with many more in the waiting. In one of the many buildings there is a pile of rocks blasted away from the mountain. For a donation you can take some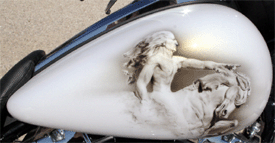 home with you. Guess how many we have in the bottom of the trunk.

"
Never forget your dreams!
" was one of
Korczak's
sayings, something I believe myself.
We were looking at the items of the exhibit, when we heard jingle bells. In walked two Indians, wearing full native symbolic garb. The bells were tied around their ankles. There were eventually three, two brothers and a grandfather and they came to perform their traditional dance and song. The grandmother was in the audience. She was from the Iroquois tribe in Syracuse, New York. The older brother, a college student, did most of the talking and he, very eloquently, described their traditions, stressing the fact that most of the knowledge came from the grandfather and how happy he and his brother were to have this knowledge. He described each item of clothing, from the porcupine quills and eagle feathers in their head-dress, to the breast-plate and moccasins. Indians always wore moccasins: The first pair is made for a child before it is even born and the last after he dies. This presentation was a special occasion, as the grandfather honored them by dancing with

them for the first time this summer. Their dance resembled the movements of the prairie chicken. The two boys sang, a style of singing I don't care for, so, naturally, Mary bought the CD. At least we have that, since we have no pictures.

I left with a tremendous amount of respect for this Polish immigrant,
Korczak
, who kept his promise, despite monumental obstacles. No pun intended.

If you want to learn more about this, and I think you should, visit
http://www.crazyhorsememorial.org
and if you are ever within a day's drive of this place, visit it and set a full day and night aside for it. They have a laser show at night, projecting images on the side of the mountain.

After leaving the building in the dark, we ran into some motorcyclists in the parking lot. A man and his woman from Idaho ran into a single guy from Tennessee and had shared the road for a while, on their way to Hot Springs. They had all kinds of questions for us.

Driving in the dark over strange roads makes Mary a little anxious. I, too am a little leery of wildlife. Even though the Grey Ghost has excellent high beams, they can't be used all the time and low beams just don't light up enough of the road ahead. Many times during the day, while driving, you see a pair of black tire marks on the road diagonally heading toward one side of the road or the other, clearly leaving the surface of the road. You can see

the ruts in the dirt, where the vehicle went off the road. Seeing these always makes me think and back off the throttle just a little.

We made it to the Comfort Inn in Rapid City, South Dakota safe and sound and we will be here all day and night tomorrow.

Total mileage driven today was 220 miles.

09/01/2008
Today is a rest day, and it was a nasty, cold, rainy and windy day, so total mileage driven today was 0 miles.
Before leaving Rapid City, under bright and sunny skies we set out to find a chapel we read about in a magazine in the hotel room. It is called
Stavkirke
or
Chapel in the Hills
and it is a replica of one outside of Oslo, Norway, Thanks to the GPS w found it easily and spent a couple of hours there, looking at and taking pictures of the chapel and the surroundings. The caretakers were very knowledgeable and informed people of Norwegian heritage and we had a great time. It is a very peaceful place despite the fact that suburbia managed to completely surround the few acres on which this church sits.

We enjoyed the little museum which was full of memorabilia from Norway. As you can see in the pictures, I became totally infatuated with Lena, one of the caretakers of the museum, while Mary was obviously more partial to Ole. She always liked older men!


| | | |
| --- | --- | --- |
| | | |
| Mary in front of Stavkirke. | Mary cozying up to Ole. | Lena was one cold Scandanavian. |
| | | |
| The wood-carvings were exquisitely intricate. | All the items inside were authentic. | The shingles were also made out of wood. |
We reluctantly left the chapel and departed Rapid City, heading south to Hot Springs. Mary wanted to see an archeological site, called
The Mammoth Site
. In the late seventies a developer bought a piece of land and wanted to excavate it for a housing development. Shortly after work began, the operator of a bulldozer uncovered something he thought required examination. The work was stopped and after a short time it was determined that this was a graveyard of Columbian Mammoths, which were the biggest of all mammoths.

Millions of years ago the ground caved in creating a big hole. Springs from below filled it with water. Mammoths and many other animals used it as a watering hole. Many of them died because they fell in and couldn't climb out. Eventually the water dried up and the hole turned into a mud pit. The mammoths apparently enjoyed the mud and kept coming and kept
dieing
. The mud dried, encasing the bodies in a protective cover.

Needless to say, the housing project never happened and the land is now owned by a private concern. Most of the sinkhole is under roof and the excavation can be viewed in air-conditioned comfort. Uncovering these bones is painstaking and back-breaking work. They have only uncovered down to about 20 feet, but have drilled down to the

65 foot level and found that there are mammoth remains at that depth as well. They will be busy for quite a few decades. Mary thoroughly enjoyed herself, while I managed to keep myself occupied.

Next we headed for the Badlands National Park. This, too, was a pleasant surprise. It is a spell-binding sight that is beyond my inadequate abilities to describe. We took many pictures and thoroughly
eanjoyed
ourselves walking on the rocks. There is a scenic road through the park that starts at one exit off Route 90, near Wall Drug Store and ends at another exit of Route 90. We traveled about 20 miles east on Route 90 to Kadoka, South Dakota (
kinda
melodic,
aint
' it?) and stayed at a motel.




Some pictures from the Badlands National Park. We both wish we had more time to spend here. The shadows created by the moving sun changed the look of the landscape every minute.


Total mileage covered today was 226.

09/03/2008
We got a good night's rest and got on the road promptly. I have mixed feelings about the rest of this trip: I am happy we decided to head home, but I really dislike traveling on four-lane roads, especially Route 90. So far the winds have stayed with us, making traveling a little difficult, but traffic has been, for the most part, non-existent. At one of the gas-stops we found Colorado peaches for sale, so we'll have fruit for the rest of the trip. We finally saw some windmills. On all the windy areas we have traveled through on this trip, we've witnessed less than a dozen of them. Once we entered Minnesota, we started seeing them regularly and so far Mary has counted 39. I really don't understand why there aren't more of them. They are quiet, don't bother the birds at all and I think they look a damn site better and less threatening, than nuclear power plants. We finally left the Mountain Time zone behind, so we're only an hour behind. We arrived safely in Albert Lea, Minnesota, a town named after a Civil War general.

The town just celebrated its 150th anniversary. We are a few miles from Rochester. Rochester, Minnesota, not New York.

Total mileage covered today was 402; 10,494 miles for the trip.

09/04/2008
Today we ran into the remnants of Hurricane Gustav. It was overcast when we awakened and it just got worse from then on. Before today's ride was over, we were buffeted by winds and pelted by rain for hours. Naturally, the closer we got to Chicago, the worse the traffic became. Also sadly, when we motored by
The House on the Rock
, the weather was bad enough that neither of us felt like diverting from the main road. Harold recommended that we see this attraction; we'll put it on the "bucket list". The Wisconsin Dells, a site I picked out to see, had the same fate. Suffice to say, it was a miserable day, so by 5 we were in a Comfort Inn warm and toasty.

I neglected to tell you about this before: As we drive we collect a lot of bugs. Every time we stop, we, rather the rig, is bombarded by wasps. They are all over every part of the rig that has remnants of the dead bugs. They appear to have a feast eating their own kind. They are persistent and aggressive in their mission to harvest as many of these mangled bodies as possible and sometimes they present a problem, when we're packing the rig to leave. Once I saw a wasp eating the wing of a live butterfly. It took me four tries to flick the wasp off, after which I set the butterfly free. Oh, I know, but I'm just trying to get into heaven.

Total mileage covered today was 268.
It had stopped raining during the night but it was still overcast and chilly this morning. We managed to get all our wet things dried out in the hotel room last bight, so we were ready to face the elements again. We looked at the GPS and discovered that visiting
The House on the Rock
or the National Motorcycle Museum was not out of the question. So, that's what we decided to do. Even though we were backtracking a little, I was happy to be riding again when it wasn't raining.

Wisconsin is one of the few states that names their county roads with a letter, rather than a name. When they ran out of letters, they doubled them up and started at the beginning again (e.g. AA, BB, etc.). The GPS handles them fine.

So, we're traveling toward
The House on the Rock
and we're almost there, when we see a sign for
Little Norway
. A quick check with Mary gets the okay, so we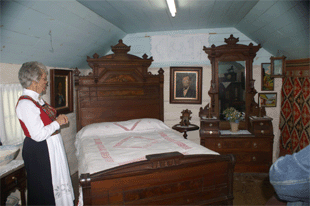 pull off the road. Here's the story, as told to us by our private tour guide:

A Norwegian immigrant bought 40 acres at $1.25 per acre and established a farm in 1854. He built a couple of buildings, using old-world technology. Soon he married and fathered four girls. They all remained on the farm, which produced just enough to sustain the family. They only had four cows in the barn for milk products. The house they all lived in still stands, as does the barn. When the parents died, the girls sold all their belongings and moved away, putting the farm up for sale. It didn't sell for a few years. Then the current owners' predecessors happened to be hunting in the area and they chanced upon the farm for sale. These predecessors happened also to be of Norwegian heritage and when they learned that the previous owner was also Norwegian and had built these buildings, a deal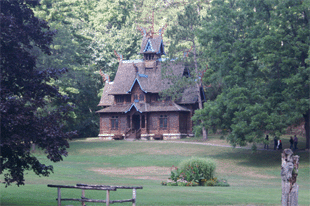 was quickly struck. As the property now stands, it is called Little Norway and it contains the largest collection of things Norwegian in the US.


Norway had a pavilion built for the World's Fair of 1893 in Chicago. After the fair was over the building was bought by the Wrigley family and moved to their estate to be used as a gaming building for entertaining guests. The new owner of the farm in Wisconsin was an insurance executive, who became the representative of the Wrigley family. They became friends and that is how he learned of the pavilion. He fell in love with it and was able to eventually talk Mr. Wrigley into selling it to him. The price was one dollar with two stipulations: The new owner had to pay for moving it and it had to be shown to the public. The building was taken apart, with each piece numbered and reassembled at the new home. (At what cost, I wonder!) It is a very unique building, which houses many, many antiques. The entire property is still owned by the owner's descendents, who even visit the place occasionally.


I came away in wonderment for several things: How a family of six could survive in a building so small for all those years, in the middle of nowhere, under such harsh conditions. How one man could amass so many treasures from the love of a country? How so many of these antiquities survived the decades of time and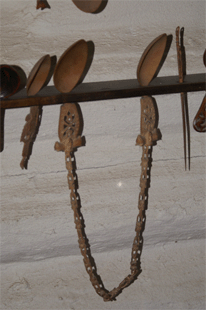 relatives in-tact?

One of the many artifacts in the house was an article carved out of a single piece of wood: Two spoons connected by a short chain. This article was used during the wedding ceremony. According to custom, who ever used their spoon first was to be the boss in the marriage, so the chain and spoons were placed around the necks of the bride and groom and you can imagine the rest. By the way, the chain was not long enough to allow both people to reach their mouth at the same time.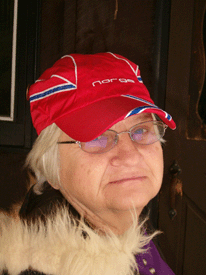 At the gift shop I found a cap I really liked. Its colors were of the flag of Norway (red and white) and it has
Norge
written on the front. It means Norway in Italian and is pronounced Nor-
guh
. It is also the model name of my Moto
Guzzi
motorcycle at home. For those who care: The motorcycle

is called

Norge

to commemorate an event that took place in the 1930s, when a then-new model of Moto

Guzzi

, using brand new technology of shaft drive, rather than chain, was tested by its designer by driving it up past the Arctic Circle, into Norway.

After this nice experience we headed for the
National Motorcycle Museum
in Anamosa, Iowa. We were driving on two-lane roads, for the most part and enjoyed the scenery. One of the many benefits of traveling by motorcycle is the different smells you get to enjoy. You don't experience these in a car. When you drive by a McDonald's, you smell the grease the French fries
are
browned in. You smell the horse manure, when you drive by farms. You smell the flowers in a garden, etc. All nice experiences. Until today, that is. We discovered that Iowa isn't famous for corn alone. They also have pig farms. We know that because we smelled them. Every stinking one, lasting for several miles. We couldn't drive fast enough through this area.


We arrived in Anamosa and found it to be a cute little town. We saw the museum, which is right downtown, so we set out to find a motel. That wasn't a problem: There was only one to choose from. They only had two rooms left, both smoking, so we had no choice.

As we pulled into the parking lot of the motel, there were several motorcycles there already and a couple of them had sidecars. As we unpacked, a man came out and started talking to us about our sidecar. One of the two sidecars was his (a 1994 R100RT with a Californian sidecar) and he told us that tomorrow there will be a sidecar rally at the motorcycle museum's parking lot. How's that for coincidence?

By the way, we never did visit
The House on the Rocks
.

Total mileage covered today was 268.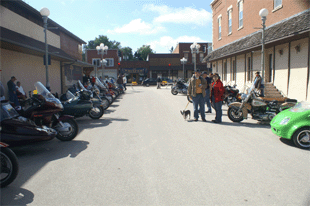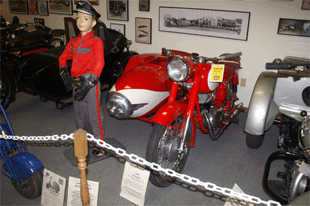 We drove over to the museum only to find a surprising number of sidecars there. Many questions were asked by many people and answered patiently (for the most part) by both of us. After a while I took a bunch of pictures and the two of us visited the museum, where I took a bunch more pictures. The museum was very nice, the most complete of any I've seen.

I was a little disappointed because they didn't have a BSA 250, like the one Ty had all those years ago and they also didn't have an AJS on display, which is what my father rode all over the Alps. They did, however, have a Pannonia rig, made in Hungary, a motorcycle I have seen on the streets of Budapest.

Here are some of the sidecars whose owners showed up for the rally: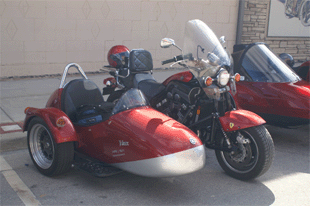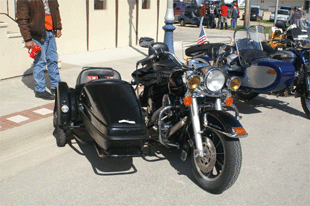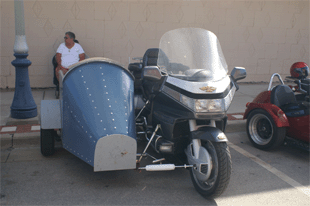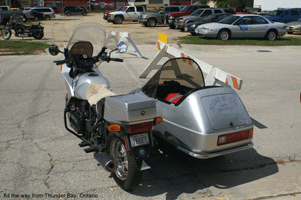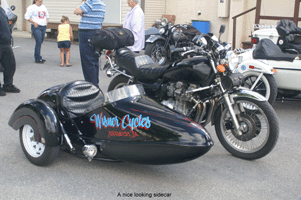 We got something to eat down the street, browsed a couple of antique shops and then it was time for giving out the awards. I won the long distance award (so, now I have two), which came with a plaque and a tee shirt and we also won a coffee cup. We packed up and left the rally and headed south toward Route 80. Beautiful rolling hills and two-lane roads followed us to our destination. Once there, we turned east and headed toward Chicago. This part of Route 80 proved to be a nice ride. The traffic was heavy at first but thinned out nicely and the speed limit dropped to 65, so I was happy. The road surface was unusually smooth and I was ready to take on Chicago, a little more than 200 miles away. Unfortunately, my rear end (mine, not the bike's) had enough after 140 miles, so we stopped in Morris, Illinois for the night
.

When we got home I found a
clip
on YouTube on the rally we attended.

Tomorrow we will get by Chicago and be well on our way to Cleveland, to visit Mary's sister, Elsie.

Total miles covered were 199.


It had rained overnight, but when we woke up, the sun was shining brightly, so we started the day with a song in our heart. Heading east on Route 80 under ideal conditions was a pleasure. As I told you yesterday, we were going to Cleveland to visit Elsie.

My deep affection for the GPS is well known and documented and known among those we frequent my company. It is one of the greatest inventions of our time and I enjoy using it all the time for navigating to strange places. Another use I want to apprise you of is something I've been doing since my first GPS. Oftentimes during watching a program on TV about a place I would like to visit, I will find it with the GPS and include it among my "favorites" for use later. It is this method through which I had found the Auburn Cord and
Duesenberg
Museum in Auburn, Indiana. Since visiting this place would only slightly deviate from our route, we decided to go.

It turned out to be a wise decision because there is a very extensive collection of cars in the museum. The building that housed these cars was the original corporate headquarters of the company, which, I think, adds to the aura of the museum. In addition to the wonderful cars there are hundreds of pictures and original documents. Several of the clay models used to design the cars can be seen, including the tools used to shape the designs. There are a dozen or so engines on display. All in all, it was a wonderful day of stepping back in time, imagining yourself being affluent enough to own one of these cars. Or being rich enough to have a frame-up restoration of one of these cars, then donate it to the museum after its completion.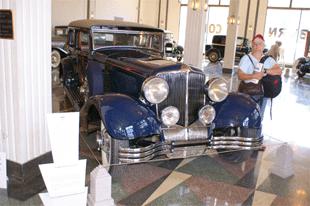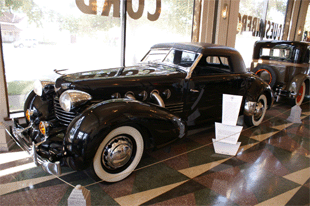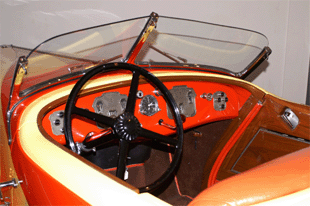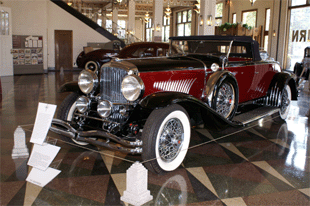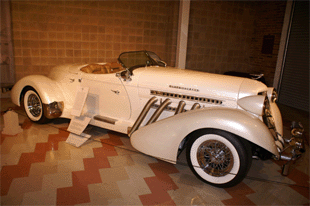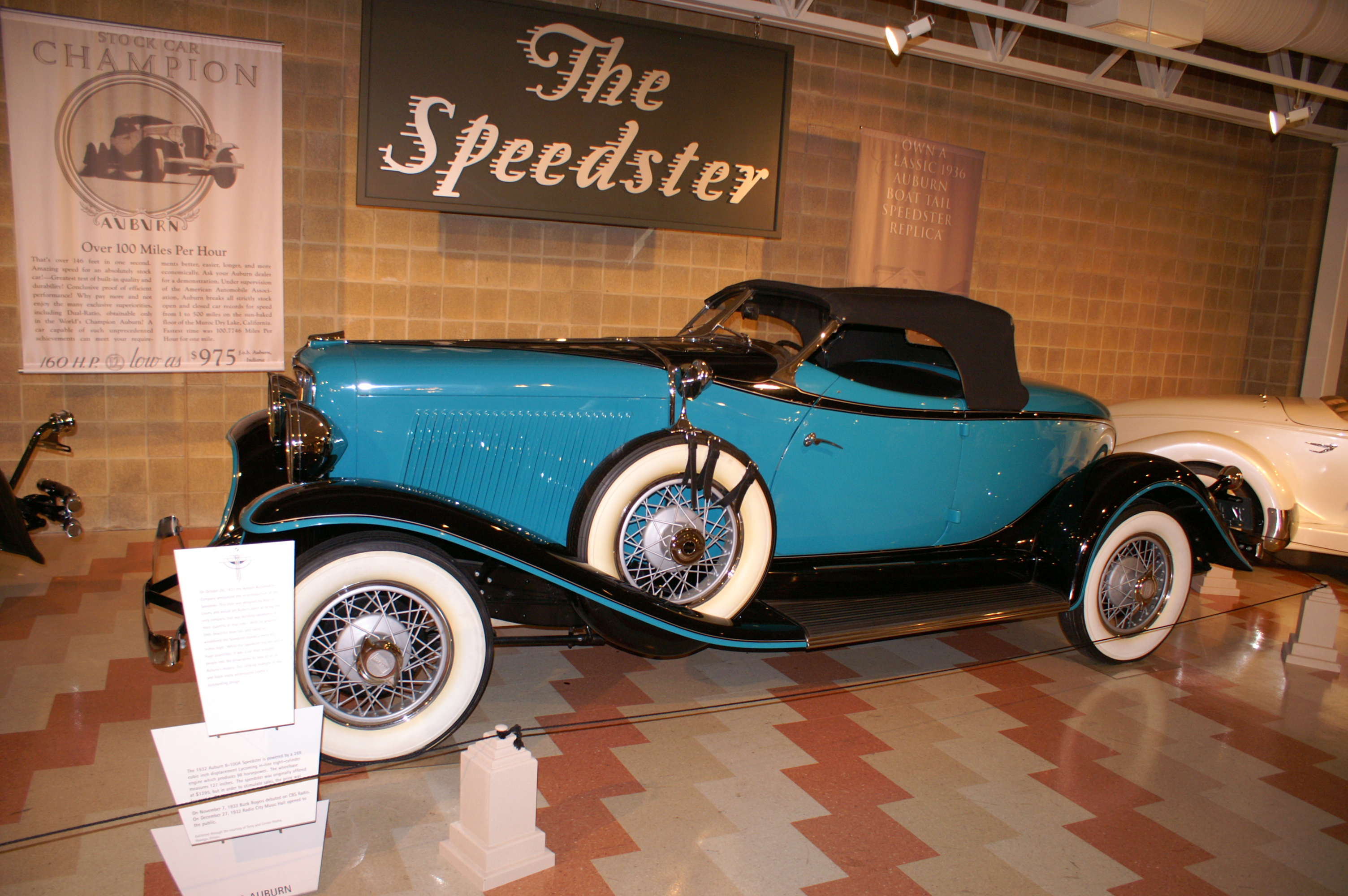 We found a motel and relaxed tonight.

Sites visited: Mount St. Helens, Devils Tower National Monument, Mount Hood, Mirror Lake, North Cascades National Park, Glacier National Park, and Mount Rainier.


Total mileage covered today was 206.
Today we arrived back to "civilization". We are in Willoughby, Ohio, on the east side of Cleveland. The ride to Cleveland was very nice, under ideal conditions: Two-lane roads, low speeds, mid-seventy temperature. The ride through Cleveland on Routes 2 and 90 was terrible: Eight-lane roads, solid traffic.

The GPS led us right to her section of the apartment complex, a great relief, since we've only been there once before. She looks pretty good and sends her love to the rest of the family. We went out to dinner, after which I stayed at a motel and Mary stayed with Elsie to catch up and be sisters for the night.

Total mileage covered today was 226.

09/09/2008
We left Elsie with a heavy heart. She is okay, I guess, but I'm guessing she spends a lot of time by herself, which is not good. I was going to try to get the oil changed again. The book says 10,000 miles between changes but I think that's way too long, especially for mineral-based oil. The next oil change will be for synthetic oil. I looked in the phone book in the hotel and found two possibilities, one locally and the other in Ashtabula. We found out from a couple of Harley-types that the local business had gone out of business, so we headed for Ashtabula. The people at the dealership were very accommodating and fit me in right away. While they were performing the work we had a nice chat about our trip, sidecars and motorcycling in general. A customer came in and asked me if that was my sidecar, so we started a nice conversation. He has 11 motorcycles; one was a BMW, a 1971 R60/5, just like mine. He wanted to know how the center hub steering worked, so we went outside and I showed him. He seemed satisfied, shook my hand and didn't let go. He said a prayer out loud, while holding my hand, asking God to watch over us during our journey home. He was very honest and earnest and it made me feel good. Then he was off.

We decided to visit Roger just outside of Pittsburgh, PA and share in his happiness of seeing his new motorcycle. The trip was an easy one, with the GPS guiding us all the way. The motorcycle is very nice and large and it seems to fit him physically.

Tomorrow I want to take a ride over to Speaker's Cycle, a Moto
Guzzi
dealer in Steubenville, Ohio. Maybe Roger can accompany us. This dealer has brought demonstrator bikes to a couple of Moto
Guzzi
rallies I attended last year. I want to see if I can take out a California cruiser-type bike out for a test ride.

Total mileage covered today was 132.
This morning we took a ride with Roger, our son, on his newly acquired cruiser-type motorcycle to Steubenville, Ohio, to the Moto
Guzzi
dealer. I had the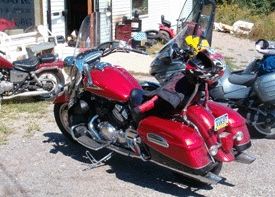 address in the GPS, so we found it quickly. I really had a much different picture of this place in my mind. I had visited their website before and expected a pretty big building. Instead we found a building which was big enough for about ten motorcycles handlebar-to-handlebar. Some of them had been outside recently and were covered with dust. The parking lot was gravel and there was "stuff" littering the grounds. Frank, the owner's father, was inside. I had met him at the two Moto
Guzzi
rallies I attended last year. I showed him the rig and he took some pictures. Then he gave me the bad news. He didn't have a demonstrator California model, nor will he have one for the October rally we plan to attend in West Virginia.



We had lunch next door, then said our goodbyes to Roger and headed toward home.

We were only 9-10 hours from home and I was ready to go the distance but the longer we drove the less I felt like
exerting that kind of energy, so just outside of Erie, Pennsylvania we pulled into a Hampton Inn for the last time and got a good night's rest. They had their usual free cheese and cracker and wine night, so we didn't have to go out to eat.
Total mileage covered today was 132.
09/11/2008
The next morning was bright and cool and we formulated plans to take Route 20 instead of the New York State Thruway. We chose this route because I was hoping to find some grapes for sale on the way home. I have always been very fond of the Concord grapes. The route we chose to get to Route 20 avoided going through Buffalo and turned out to be quite scenic, driving by little towns and many farms. We soon reached Route 20 and worked our way east. We found a very nice family restaurant to dine in and after talking about the rest of the trip we decided to make a little better time by taking the Thruway. A short three hours later we arrived at home. We were greeted by a hill of packages, containing shipped purchases from different points along our trip and a mountain of mail, mostly catalogs, from all points of the country.

The bathroom has still not been completed and I don't want to talk about it.


We are both happy to be home. Both Mary and I thank you for your support during this trip, prayers, thoughts and phone calls. We were on the road for eight weeks and one day and we thank you for reading the accounts of our experiences.

P.S. Final thoughts:
I had doubts at the start about my abilities to complete this trip. I am sure, so did others. I am happy to have proven us wrong.
The Mid-West might be boring but the people are nice and genuine
States visited: Pennsylvania, Ohio, Indiana, Kansas, Nebraska, Iowa, Michigan, Illinois, Utah, Montana, Washington, Oregon, Idaho, South Dakota, West Virginia, Missouri, Wyoming, Colorado, and Minnesota.


We lost two things on this trip: My sheepskin seat cover blew off the seat when I had to pull off the road to don raingear during a rainstorm early in the trip and my goatskin gloves purchased during the trip were left on the tank, while I pulled away.
The lack of alternate energy sources, such as windmills, is disappointing. There were only four states I remember seeing them: Pennsylvania, Ohio, Minnesota, and Illinois. With all the constant wind in the western states, I just don't understand it.




The total mileage for the trip was 12,342 miles, or 19,900 kilometers.

After arriving at home I weighed the contents of the sidecar on the bathroom scale. It added up to over 680 pounds, including our own two dainty bodies. That's not exactly traveling light. Later I also got the rig weighed: a shockingly heavy 1,160 pounds!


I will miss our daily routine of singing to each other. See song at the bottom.


We carried a large tent, two sleeping bags, two bag liners, two small pillows, two large inflatable air mattresses (including two pumps), two folding chairs, a stove and a coffee pot with us the whole way and used them for a total of six nights only.
The great majority of Harley riders are so full of themselves and the image they try so hard to project that they can't see past their handlebars. No other motorcycle marques exist for them.
Here's a surprise: My people skills still need work!
Many years ago my parents, Mary and I vacationed in Sarasota, Florida. I drove a Porsche sports car, categorized as a two-plus-two, more for insurance purposes, than anything else. I think that this was a Herculean effort on my mother's and Mary's part to endure the seventeen-and-a-half-hour drive, avereging 68 MPH, without air-conditioning and without complaints. However, twelve-thousand two hundred and forty-three miles in a sidecar, enduring temeratures from the low-forties to the high-nineties trumps that and my hat off to Mary for enduring the trip and me!
An oft-asked question along the trip was "What was your favorite part of the trip?" My answer to that is the fact that we got to do it together. I know it sounds corny but I really mean it.

I don't miss answering the many stupid questions from people and the standard answers:



Wow, you're all the way from New York! Did you drive all the way here?

No, we had it shipped here! Of course we drove it here!

Des it have air-conditioning or a heater?

No, it's not an automobile.

Does it get too hot in there?

No, the top comes off.

Where is the top stored?

Behind the seat.

Does it have a reverse gear?

Yup and there she sits (pointing to Mary).

Can you take a nap in there?

I often do.

Can you push the top open at 65 MPH?

Why would anybody want to do that?

Can you disconnect the sidecar and ride the bike solo?

Only if you don't want to turn.
This was the song we sang to each other at least once a day:
You are my sunshine, my only sunshine
You make me happy when skies are grey
You'll never know, dear, how much I love you
Please don't take my sunshine away!