Hello, All,
I am sitting on the edge of my bed in a nice hotel in Red Oak, Iowa. We got here a few hours ago after driving from just inside the eastern border of Illinois this morning. We started in the rain and drove in it for a few hours. I don't enjoy driving in the rain but I realize that it is part of motorcycling.
We have yet to drive an entire day without rain. After three days of rain the bike started to rebel. I lost the speedometer, which also knocked out the Speedohealer, the electronic device that compensates for the difference in the circumferences of the original tire/wheel and the one that is on there now. The loss of the speedometer results in obvious problems for me, since I am the leader of this small caravan. Luckily it didn't last long and it started to work again. Since the Speedohealer was recycled when the speedometer was recycled, it didn't show the accurate speed. It has been interesting! I made an adjustment tonight, so we'll see how it acts tomorrow!
Driving through western Ohio, all of Indiana we were witness to the damage caused by the recent rains. Much damage was done to the crops and many people were asked to abandon their homes. In one of the hotels we stayed next to whole group of these poor people.
In the meantime Mary was kept very busy trying to keep the sidecar as dry as possible. We came thru some torrential rain and the sidecar had much water in the bottom.
Our spirits are high thru all this and we're looking forward to the next few days.
Wish you were here!
Hello, All,
Before I delve into the new adventures, let me clip an addendum to yesterday's rantings:

I forgot to mention our visit to the Warther's Museum in Dover, Ohio. I had been there before, so I knew the rest if the crew would enjoy it. Warther was a Swiss master carver, who never sold any of his hundreds of carvings. He made knives to put food on the table, which the company still makes. Here's one of his carvings: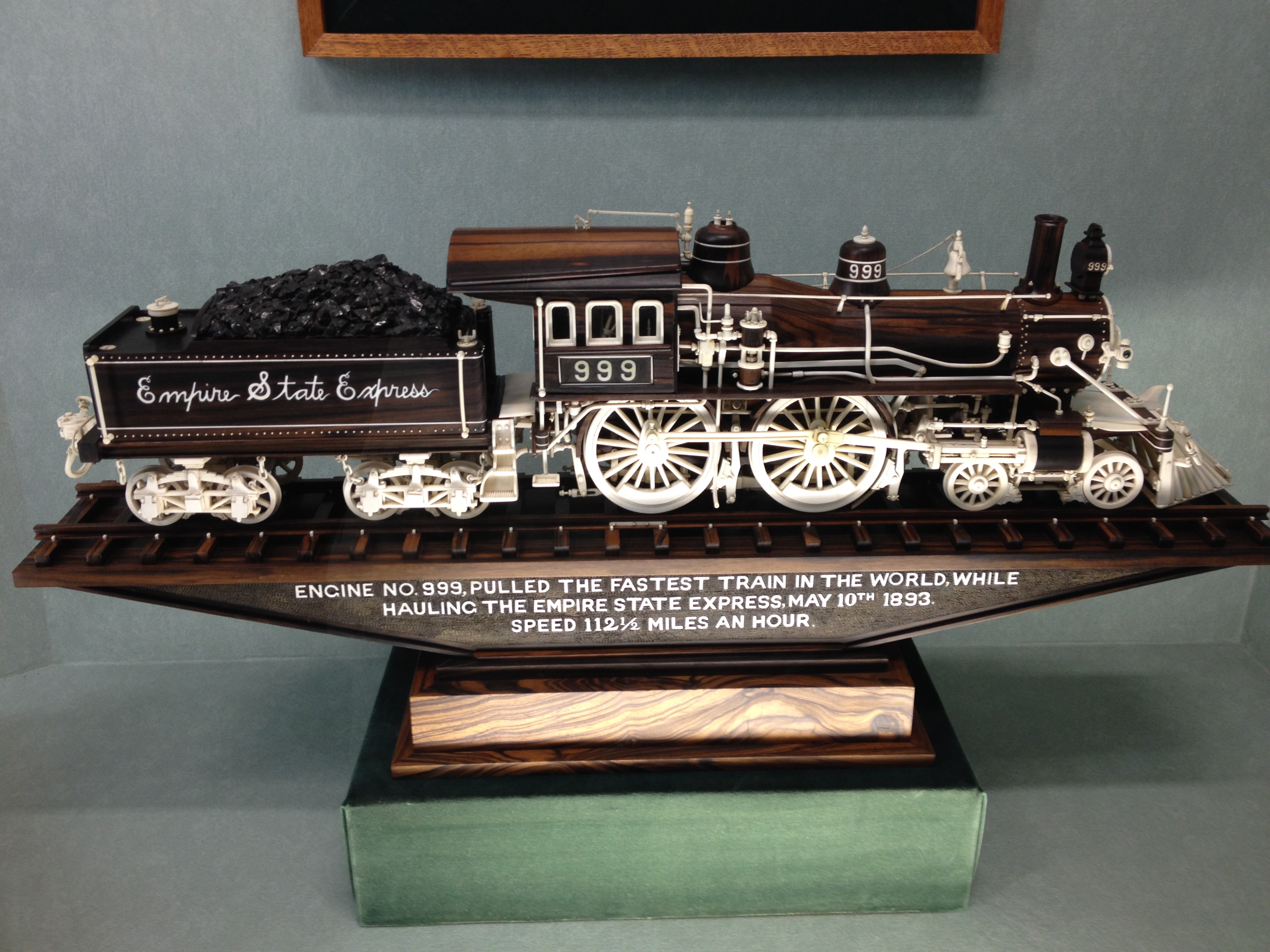 I believe I lamented about the unsafe brake lights on my rig. I noticed Charlie braking late, so I wanted to fix the problem as soon as I could. I had this problem before on another trip and the problem then was the switch which has a little return spring whose end I managed to dislodge. I was stressing over this, afraid that I was going to lose it and be in even bigger trouble. I sense that some of you have already tuned by now so I will stop. Long story short, the right brake light of the sidecar was out, so I wanted to replace it. To do that I needed some tools I didn't have with me. Off to Lowe's. It was not raining, so let's unpack most of the trunk to gain access to the bulb. Bought three different wrenches and kept two.

While I was doing all this my three travel-mates kept me company. A few people came to talk about the sidecar and Mary answered all their questions. A guy came and kept asking more and more questions. He suggested we stop at a motorcycle place and even gave us directions. I quickly buttoned up the sidecar and off we went. We arrived at a rather large dealership, which sold and serviced everything but Kawasakis. I told the service manager our plight and he assured me that one of his technicians would be free soon to look at our problem. A large weight was lifted off my shoulders. As we looked around the vast showroom I found a set if aluminum ramps I think would work to replace the waterlogged wooden one Davin and Chris made me.

The service manager came to tell me that the problem was fixed and there was no charge for the task. They found the dangling spring and had put it back in its place. I thanked him profusely and we were in our way again. Thank you, mystery man at Lowe's!

As I already described much of the land we traveled through was very much waterlogged. We saw several signs warning people of "high water" but none had affected our travels. We did come to a sign that alerted us of the closing of the road ahead. Only local traffic was to proceed. I made the right turn and pulled over to talk things over with Charlie. Neither of us had a solution and there was no one around, so Charlie flagged down the next car. Its driver turned out to be a nurse heading home from work. She got out pencil and paper and attempted to draw our proposed route but gave up halfway, saying that she had nothing else to do anyway, so she told us she would show us the way. And she did and would not take any money for those twenty minutes of her life. Nice lady!

With that behind us we are all caught up. We stayed at a very nice hotel which had a restaurant. The food was great and I had the best cheesecake for dessert! The Seedohealer is still off by ten MPH, but I am getting used to it! The skies are very overcast but no black spots yet, so I am wearing my rainpants, just in case.

We see a bridge from a distance which looks very rusty and a sign warns us that there is toll. The bridge turns out to be very narrow but there is no traffic. Once we're across a little shack greets us. I pull up and shut off the engine, as the toll taker is busy talking with someone on the other side. Behind the shack is a large sign welcoming us to Nebraska. We had just crossed the Missouri River which, at this point, is not very wide at all. The charge for motorcycles is a dollar. The man finishes his conversation and walks to us. Looks at the sidecars, asks a bunch of questions about them, then wants to know where we are going. He warns us that we're heading into a bad storm with thunder and lightning and winds up to 45 MPH. Well, he was right. It wasn't long before we could see the angry black skies in front of us and the wind was blowing from the right, at times wanting to blow me off the bike. I thought of stopping and waiting it out but there was really no place I saw in which I wanted spend any time. The scenery consisted mostly of flat fields, then a small clump of trees, then more fields. Traffic was very sparse and moving right along. I am guessing these people are used to this kind of weather.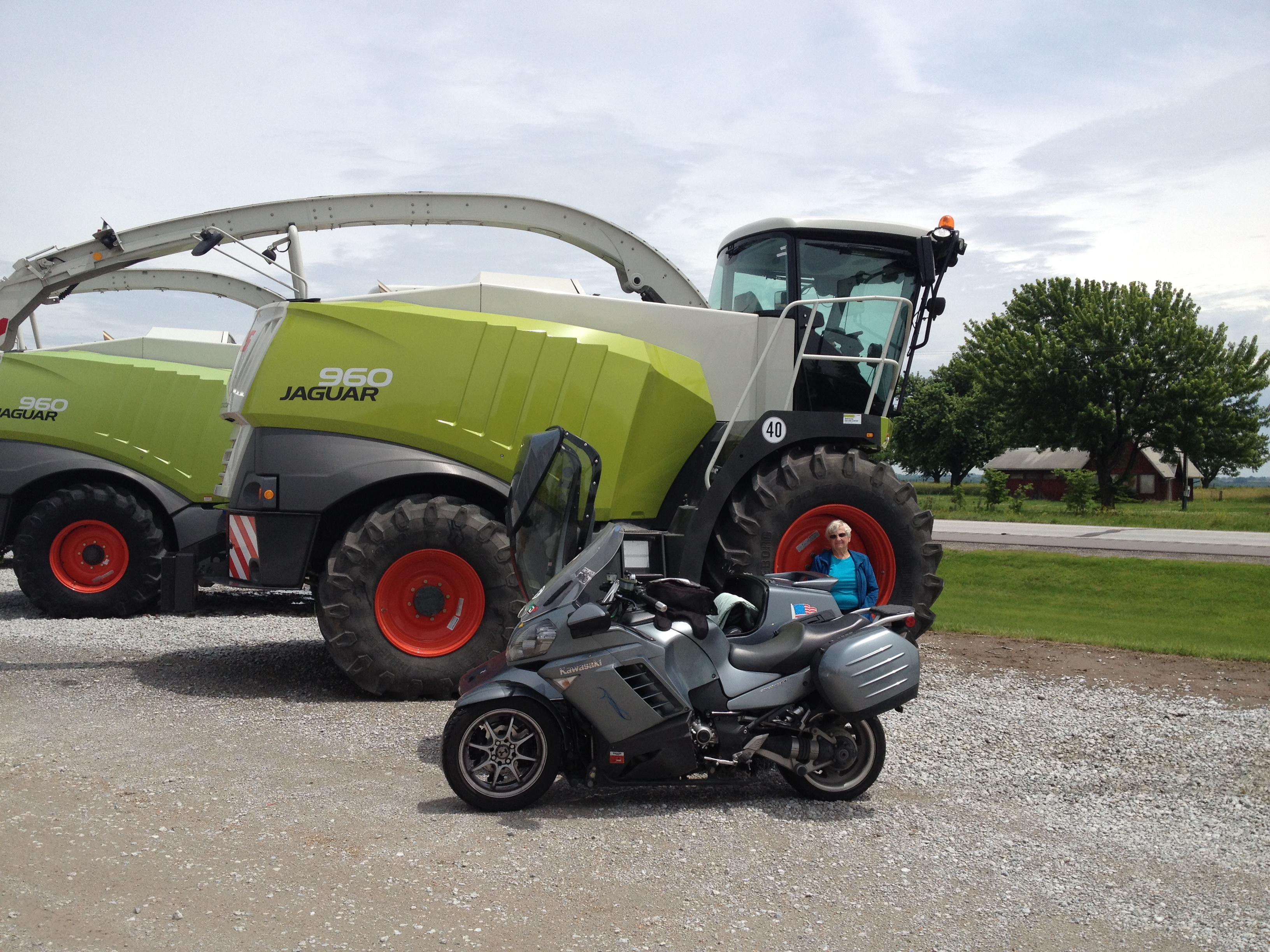 A sign appeared alerting us that Lincoln, Nebraska was 38 miles ahead. I had never been there but the name had a familiar sound, so I said to myself, wouldn't it be neat to go there. Well, as the saying goes, be careful what you wish for, we ended up right in the thick of it. Raining pretty hard and heavy traffic, longing to see yet another sign for Route 34, we drove on. The road was going to be closed ahead, so I pulled into an IHOP to talk things over and have some coffee. Long story short, we spent the next two hours in Lincoln, Nebraska, getting lost, asking for directions, and eventually finding our way out, all in the rain. I don't ever want to go back to that town.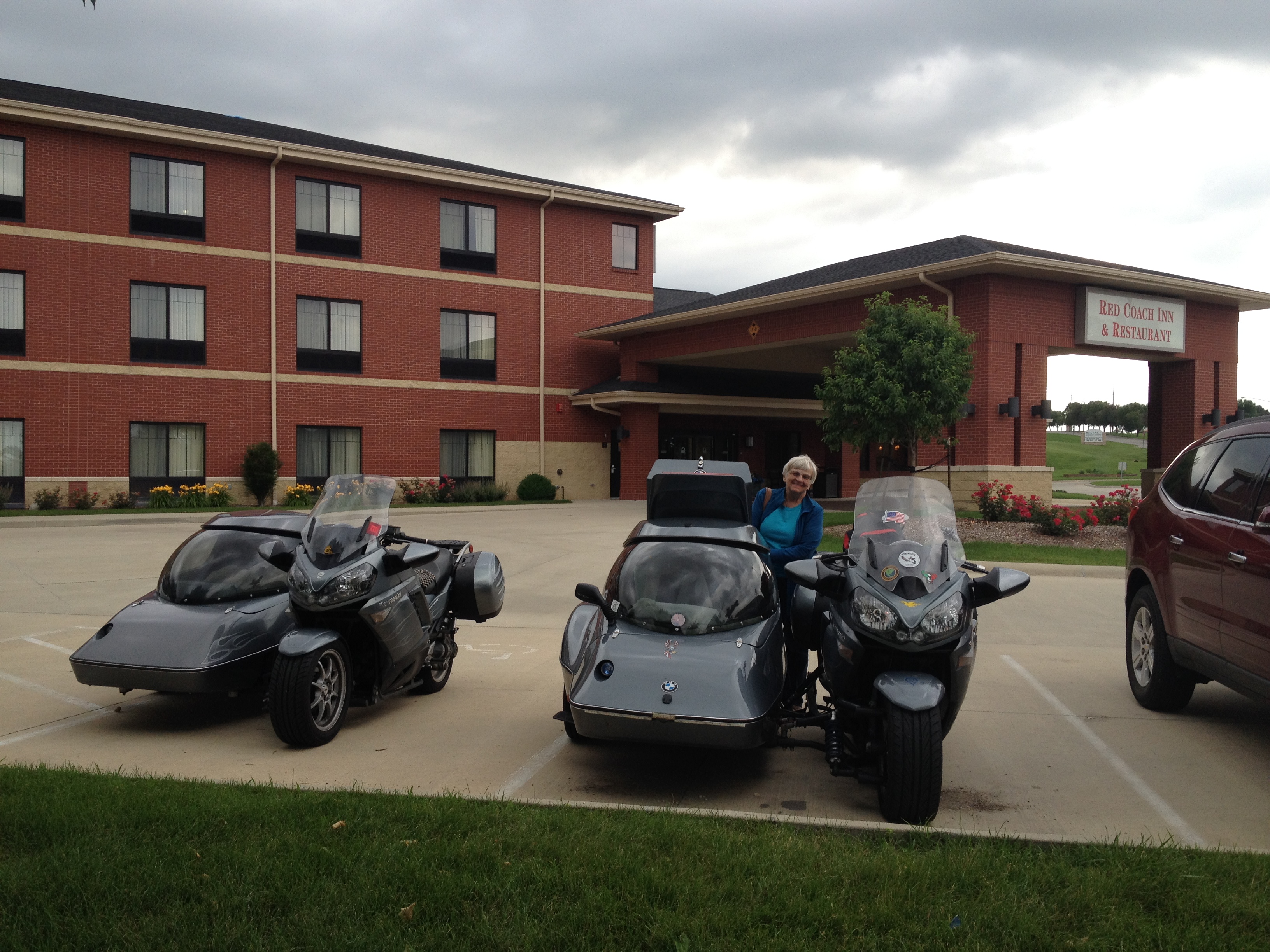 At a gas stop I noticed that the skies were bright and there were no dark clouds around at all. I quickly took off my rain gear and enjoyed the ride once again. Mary kept her top on all day making communications difficult. By "her top", I mean the sidecar's top, so don't get excited!

We are staying in a motel called Horse Creek Inn in McCook, Nebraska for the night. My hip is doing well but the rest of my body parts are getting weary!



I would be remiss if I didn't talk about the House on the Rock in Wisconsin. If you're ever even close to this place and didn't visit it, you'd be doing yourself a great injustice. It is wonderful and has to be experienced in person. It is a life-long dream of its owner, a man with great vision and wealth. His imagination is visible in every nook and cranny of the extensive property. you could easily spend an entire day there and not see everything. You can get a flavor for the place by looking at the website.




---

Hello, All!
We are home. We arrived late Thursday afternoon amidst a very silent fanfare, greeted only by the envelopes gathered from our mailbox. Catherine made sure her father was amply supplied his favorite fruits. All traces of wild parties held in our house during our absence have been carefully erased and we were happy to walk into an orderly home. Thanks, Catherine!
Thursday's trek was from Bradford, PA, a mere five hours away. Part of that was the entire length of Route 88, which now is full of construction zones. Traffic was very sparse, so that wasn't the problem. What was is the general condition of the temporary roadway created to skirt these all-too-frequent work zones. It is apparent to me that those who create these surfaces don't really care about what they create. They are very, very bumpy, uneven and bone-jarring. The fact that we were traveling in a sidecar made it even worse. There was one of the work zones with a temporary surface created on the surface to the right of the fog-line that was so bad, I had to slow down to twenty miles an hour. I tried moving around the lane, to no avail. Some sections of 88 are so bad I elected to drive in the left lane and there is one section where both lanes are terrible. I remember a time not that long ago, when that road was deserted and a pleasure to drive on. Its current condition is further proof that America's infrastructure is crumbling and not enough is being done about it. By the way, I would like to strangle the bastard who came up with the idea of paving only half of a lane.
On another topic: While driving the roads of our wonderful country I have lots of chances to think. The topics are many, most not worth mentioning. The one that stands out is why travel thousands of miles, over all kinds of terrain, in possibly inclement weather just to attend an event lasting no more than two days, mingling with people, most of whom you don't know and more than likely will never see again?
Good question and I don't have the answer. Well, I don't know the complete answer. I only know the reasons I do it. I have always put the journey way ahead of the destination. I have always felt sorry for people who complained about having to travel great distances between points A and B. They wish the people whom they visit at point B lived closer, so they wouldn't have to spend so much time on the road.
With me, it doesn't matter how far the destination is or how many times I have already been there, I will plan a different route each time and see different sights along the way. While traveling to work a few years back I had just gone through a traffic light. I wasn't sure that it was green. This concerned me enough that from then on I sought different routes, just to not be in "cruise control".
On this trip my friend, Charlie, picked the roads to traverse and for that I thank you, Charlie. We both prefer "the road less traveled", even though it takes longer to get there. It turned out to be a wonderful and memorable experience. We saw some awesome sights familiar to both of us and experienced some for the first time together. We drove through Yellowstone National Park in Montana, drove on the Beartooth Highway and crested the Beartooth Pass at 10,990 feet of elevation, Estes Park in Colorado, Rocky Mountain National Park.
I was happy to show Charlie and Peggy two places Mary and I have been to before: Staavkirke (Chapel on the Hill) in Rapid City, SD and the Warther Museum in Pennsylvania. Friends have told us about an attraction in Wisconsin called House on the Rock. Neither of us has been here before, so it was exciting to experience it together. I would recommend visiting this indescribable creation of a gifted man with a wonderful imagination.
As the four of us parted company at the end of Route 88 I couldn't help wondering if this was our last "big" trip we will be a part of. I thought I detected a small tear in the corner of Charlie's eye and maybe the same question occurred to him as well. This sad thought quickly left my mind and I am already thinking about the next trip.