I had no idea but I was about to receive the second biggest break of my life. The Padars held a sort-of family reunion at their house in Brooktondale, to which friends were also invited. My uncle Andrew, his wife Mária, their dughter Babus and her son Ivan came from Philadelphia. Babus was in her early thirties then and she and I hit it off. She asked me what I was doing for a living and when she found out I worked in a factory, she told me that it was not for me. She kept talking to me until she talked me into visiting them.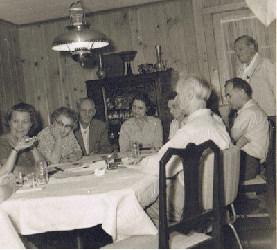 The get-together in Brooktondale brought together Somody Sári, Kuhajda Margit, my Father, Mimi néni, Bözsi néni, Ginzery Bandi bácsi, Jóska and Somody Pista.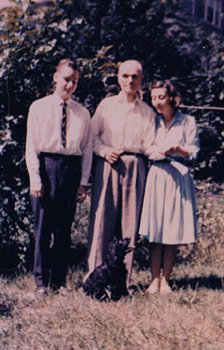 Iván, Bandi bácsi and Babus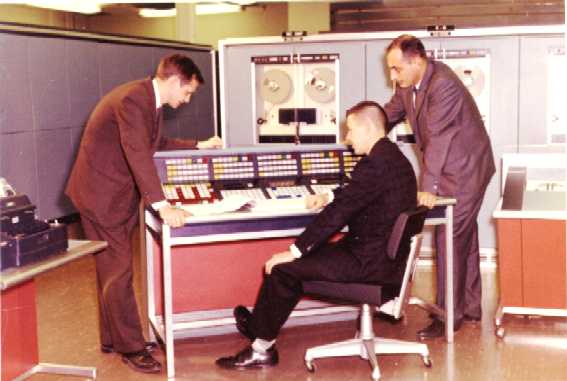 I traded the Oldsmobile for a 1963 Austin Healy Mk 3000. It was black with bright red interior. I bought it from a dealer in Montour Falls, New York, just outside of Watkins Glen, a little village I was to visit many, many more times in the future. Bringing the car home was an eye-opening experience. The Oldsmobile, being a typical American car of that era, did not like to turn. When it was suggested that it do that by turning the steering wheel, it just kinda snickered at the driver and waited for a few more seconds to begin to think about executing the asked-for maneuver. On the other hand, the Healy turned as soon as the driver thought about turning. This difference took the rest of the trip home to Ithaca to master. To the outside observer I must have appeared drunk, weaving from one side of the lane to the other driving up the straight hill leading out of Montour Falls.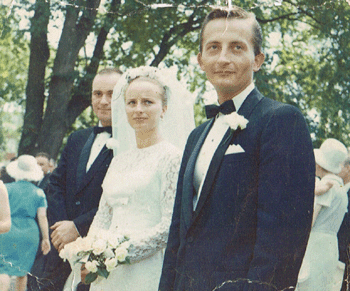 The double wedding of the Padar "boys" in Ithaca was a geat event.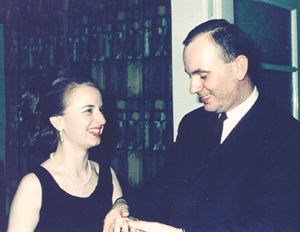 George and Ingeborg were truly happy.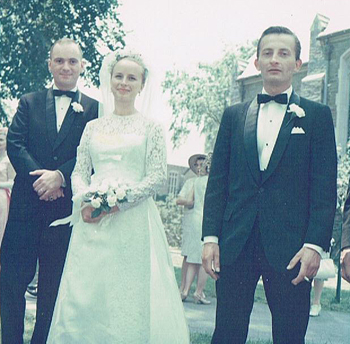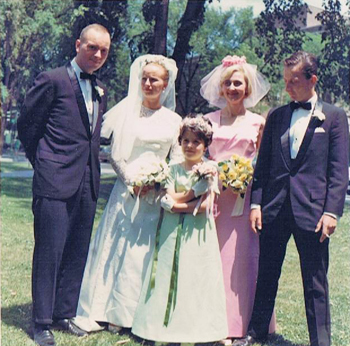 They lived on Spruce Street, near 46th Street. The houses for blocks looked the same: Two narrow houses together separated by a firewall with a narrow driveway on each end. There was a huge porch, huge doors with etched glass, a good-sized foyer, leading into a large living room. All the ceilings were 10 or 12 feet high and there was carved woodwork all around. All the rooms were large and there were three floors of them. Mine was on the third floor. Ivan was a junior in high school and he was one of two white kids in his class. He was the only one for his senior year.
None of us had much money at the time. It is for this reason that my cousin Babus called me one day to tell me that her car broke down somewhere on 130 in New Jersey. She couldn't afford a tow-truck, so I told her we'd tow it home with my car. She had a Mercury Meteor, a small car by American standards, but my car was a 1963 Austin Healy, a two-passenger sports car with a six-cylinder engine with a 132 horsepower. I had my tire chains from the Ithaca days. They were mandatory in those days: When it snowed the police would not let anyone up the State Street hill without chains. So, I hooked one end to my bumper, the other to hers and told her to be my brakes. I must say, she was a damned good driver and followed my words to the tee. I don't know how many traffic lights we encountered on the way, I just know that there were MANY. Of course, a lot of them were red, but Babus did her job and we managed to get her car home. The next morning I had no clutch and had to buy a hydraulic cylinder for the clutch.
Babus arranged for a job interview at Fidelit
y
Bank, where she herself worked.
I passed the aptitude test and was given a job in their Data Processing department. I remember the excitement I felt the first time I walked into the computer room and saw my first computer, an RCA 301. Then I saw the second one around the corner and was completely mesmerized. It was the RCA 501 with a bank of eight tape stations surrounding it in a half-circle, some reading and writing, some perfectly still. The console was eight foot wide and was filled with buttons and indicator lights of different colors twinkling as the program was running. I immediately knew that this is what I wanted to do for the rest of life.

I started in the so-called
deleaving
room, separating multiple-copied reports printed on the computers and throwing away the carbon. It wasn't long before I mastered this task and was promoted to be a 301 operator on the second shift. The two 501 computers created print-tapes which were then processed by the 301. There was a single tape station, a card reader and a drum printer connected to this 301, which possessed a total of 10K of memory. The "big" 501s had 77K with which to process all of this large bank's data processing.

For the most part I was taking the bus to commute to work. The bank was a block away from City Hall. I made friends with some people at work, one of whom was a young lady named Barbara
Slizewski
, another was Tony
Vanella
. We all too often hung out at the local watering hole, the Ole' Glory. The time was near New Year's Eve 1966 and Barbara was planning a party at her house. We all had to work on New Year's Eve, so the party was for the 30th. We all met at the Ole' Glory and were to end up at her house. She had planned to be my date but needed one for Tony. She called one of her friends and arranged her to be
Tony's
blind date. When I met this blind date I liked her immediately. Before the night was over she fell asleep on my shoulder. We made plans to see each other again in the near future. I will forever be grateful to Barb for introducing us.

The blind date's name was Mary and she lived in Trenton with her mom and three kids. I was car-less by this time, so I took the train to visit her. She was not feeling well, so I arrived with a bouquet of flowers and told her to take a nap on the couch while I took care of the kids. Mary's divorced brother,
Tyrie
and his daughter, Michelle were also living in the same house. I met him soon and after our short talk he advised against a deeper relationship with me, Mary told me later, because I was not a good guy. He could tell by my South Philadelphia accent!

The kids were good kids, always willing to accept attention from me. We hit it off almost immediately, establishing a rapport of mutual respect and friendship. We played with each other and, I must admit, at times I was one of them and loving every minute of it. It wasn't long after this that I suffered my very first bone-related injury. The six of us (Mary's three and Michelle) were playing on the grass. The kids ganged up on me trying to wrestle me to the ground but I wasn't capitulating. Mom's help was summoned for and granted and with the extra weight and muscle (not in that order) I was pinned to the ground by one of Mary's knees to my chest. In the heat of the battle a little too much force was applied by those very knees and I heard a loud crack which as the x-ray showed was caused by a crack in one of my ribs. The doctor taped me up and life was still happy.

The winter of 1967 had a record snowfall, during which Mary came to visit me in Philadelphia. It was a wonderful visit about which I remember two items: I remember singing "Ding, dong, the witch is dead" from The Wizard of Oz with her and Mary teaching me to make snow angels in the snow.

During Chris' birthday dinner I pointed out to him that he was getting to be too big for his mother to cut his meat for him. He looked me squarely in the eye and announced with great confidence that he would be cutting his own meat on his next birthday. When that time came he proudly demonstrated his newly developed talent WITHOUT being reminded!

But there was a hiccup. A bump in the road. It was her mother, Mary Jackson. Upon seeing how quickly I gained the respect and love of her daughter and grandchildren, she panicked and became very possessive. She didn't want to lose her family. It took many months before she accepted me.

Mary Jackson had an interesting, albeit at times painful, life. She had developed a cyst near her spine, which had to be cut out. The surgical procedure to do that was in the experimental stages back then and when it was performed, they sadly cut some nerves, resulting in loss of functionality in her legs. She was told that she would be wheel-chair-bound for the rest of life. They didn't know Mary. It was after this that she had four children, Elsie,
Tyrie
, Mary Catherine and Sharon. After her husband's death she supported the family on her own. She was a computer programmer and worked mostly for the government in those early years, moving around quite a bit. Mary Catherine was born in St. Louis and lived in Indiana, Virginia, West Virginia, Maryland, and New Jersey.

Mary's mom was currently working in New York City, taking the train every day, walking with a cane. She was one tough lady. I worked in the city for two years, so I know how tiring it was at times for me and she was much older than I.


---

1967
Mary's mom suggested I go up to New York City and interview for a position in a newly opened computer center. She was a programmer at the time, working for RCA Corporate Staff in the 52-story RCA building on the corner of 6th Avenue and 50th Street. Across the street is Radio City Music Hall and at the other end of the building is Rockefeller Center, where the annual Christmas tree stands and the famous ice rink is located. Inside the RCA building were the headquarters of NBC, including many television studios, from where network shows were broadcast. One of these was the famous
Tonight Show
starring Johnny Carson. The much-talked-about NBC Cafeteria was also in this building.

Based on help from a colleague, Pete Gurney, at Fidelity Bank, I calculated the salary I would be asking for. I took the additional expenses, such as commuting, city tax, etc. into consideration and came up with a figure. It wasn't until weeks later that I discovered I made an honest mistake. In my favor! I traveled up to the City with a slight attitude. I was very happy at the bank. I liked the people, I loved the work and I enjoyed living in Philadelphia. I was just put n charge of a project of converting programs from the RCA 301s and 501s to the new Spectra 70 mainframe computers and I felt good about it and myself. I didn't care whether I got the new job or not. My interview with Owen Duffy must've gone well because he offered me a job.


The computer center had several computers: an RCA 301, a 3301, and two 70/45s. I operated the 301. This model was four times as large as the one at Fidelity and had a disk drive connected to it. The four disk platters were about an inch and a half thick, stood on edge and were almost four feet high. It took over almost a minute after turning them on before they could be used.
For the most part my employment with RCA in NYC was exciting, rewarding and a great life-lesson. New York was a great place to work. My colleagues were all nice people. When one of them found out I lived in and commuted from Pennsylvania, he was amazed and wanted to know how long the commute took. When I told him it was an hour by train to Pennsylvania Station, he couldn't believe it and said that it took them longer than that to travel from Staten Island. It turned out that if this man didn't take a particular subway to catch a particular ferry, and to catch a particular bus, it would take him three
hours to get home.


There were many shops on the ground floor of the RCA building. There were even more one floor down and all the shops were expensive, as you might imagine. It was in one of these shops that I bought Mary a crystal vase. I don't remember the occasion. On the ground floor was a Bostonian shoe shop. I bought myself a pair of shoes that I have to this day. I put them on and they felt as though they were made specifically for my feet. I have had them re-soled many times since but the shine is still there, as is the comfort. They were very expensive at the time: thirty-two dollars!


It didn't take me long to learn the ins and outs of commuting. I got to be pretty good at taking a nap just long enough to awaken in time to disembark in Trenton. Only once did I wake up too late one night. I had to call Mary to come and get me at the 30th street terminal.


There is a way to use subways and underground tunnels to never having to surface in case of bad weather. While convenient that way, this route had its drawbacks, as these tunnels were frequented by the drunk and homeless. It always stunk to high heaven. Speaking of which, once I was waiting for the subway on the way to work. It arrived and I quickly noticed an almost empty car just ahead. I quickly boarded and, as the door closed, I discovered why it was empty. There was a horrible smell that nearly made me gag. At the back of the car there sat a woman wearing dirty clothes. Both her legs were wrapped in dirty rags but there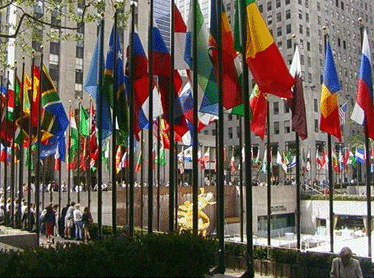 was a small area uncovered. It revealed the source of the smell: gangrene. I've never smelled anything that bad in my life. I tried to go to the next car but couldn't open the door. I stood with my nose at the crack of the door and couldn't wait for the next stop so I could change cars.


One day after work I was sitting on the train heading home. We had just left Penn Station and since the next stop is Newark, New Jersey, a mere 15 minutes away, the conductor was busy checking tickets. I was in the back of the car, so I could see him snaking his way to the back of the car. Two rows in front of me was a woman, appeared to be dozing. When the conductor got no response from her for a ticket, he nudged her. She didn't move. Someone held a mirror under her nose. This test proved that she was not breathing. By this time we were pulling into the Newark station. I decided to get off and take the next train, fearing a long delay because of the woman's death. I made it home and the next morning I was sharing this story with my colleagues at work. An hour or so later a woman approached me. I recognized her as one of the programmers from upstairs. I was shocked to learn that it was her mother I traveled with on the train the night before. She was traveling home from visiting relatives in New England.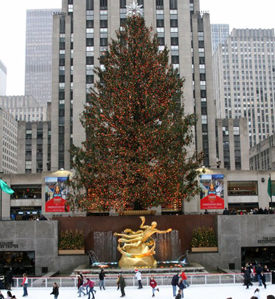 The computer center was on the 8th floor. The windows went almost all the way to the floor, so standing close the window was a little eerie. I was working there in 1969, when the Mets became world champions. Even though I've never been (or will be) a baseball fan, it was a sight I'll never forget. All the surrounding buildings' windows were wide open, with people literally hanging out of them, all listening to the last game. When the Mets won, everything made out of paper was thrown out of all those windows. We had quite a few keypunch machines on the floor, so all the
chad
from the punched cards, normally collected in a container within the machine, was thrown out the windows. There were rolls of toilet paper, punched cards, paper tape flying through the air. I remember, it was millions of dollars to clean up the streets after that day.


I was people-watching one day during my lunch hour, looking out the window, when I saw a man dressed in a suit and tie in the middle of the intersection. He was directing traffic, pointing to and admonishing jaywalkers, motioning to horn-blowing cars to proceed, generally acting as though he were a traffic cop. After 15 or 20 minutes he went back to his job, only to return the next day.


While walking one day I saw a guy on roller skates, zigzagging through the heavy pedestrian traffic. To expedite his quick travel he had a horn with a rubber bulb attached to his belt. He would squeeze the bulb periodically to alert those in front of him to get out of the way.


Another day I saw a very large man dressed in a Viking costume, holding a thick staff, which larger than he. His other hand was resting on his hip and he was just staring off into the distance. I wondered whether he was on his lunch hour also, after which he would go back to work?


One day a large construction crew started to knock down buildings across 60th Avenue. This was a multi-month project I found difficult to ignore. Whenever I had the chance I was compelled to watch the progress. First, they knocked down all the buildings in the whole block. None of these was very tall; I don't think any were over 10 stories high. A large crane with a wrecking ball was used for the task. There were people in some of the buildings, probably gutting them, I guess. Once, one of these people asked the crane operator for a ride. He stood on top of the wrecking ball and was gently lowered to the ground. On the very next swing of the same ball against the side of a building, the cable broke and the ball stayed in the wrecked building. I wonder what the hitchhiker thought of his luck.
Once all the buildings were razored, deep holes were drilled in the ground with pneumatic machines. A man wearing a large, multi-pocketed apron, would walk up to the hole, reach into one of the pockets, pull out a stick of dynamite, would drop it into the hole. He then would take a large, heavy, metal pole and tamp the dynamite repeatedly. The wires would be tied together from all the other sticks of dynamite. A crane would bring heavy metal mesh blankets to cover the area. A loud whistle would blow, followed by an explosion, lifting the mesh blankets into the air. Some dust would rise from the explosion area, and the cranes would take away the blanket. The pieces of rock would be loaded into trucks and the process repeated ad nauseum. The resulting skyscraper turned out to be taller than the RCA building.

I was heading out to dinner one night. I took the elevator from the 8th floor. It stopped on the 7th, where NBC was and Johnny Carson boarded the car. I was so surprised, I couldn't think of anything to say. I am sure Johnny was thankful. We arrived on the ground floor and he went his way, I mine.

Another day I saw the actor who played Grandpa in the Munsters in the cafeteria downstairs, in full makeup. I ate at this place quite often. They had great sandwiches you needed two hands to encircle.

Another night I was heading to eat in the NBC Cafeteria. Even though Johnny Carson made constant fun of the food, it was a pretty good and a reasonably priced place to eat. To go there I took the elevator to the 7th floor and walked over to the NBC side through a couple of fire exits. Then I walked past a row of offices and makeup rooms to get to the elevator banks. The cafeteria was a short distance from here. As I was walking in the corridor with the offices and makeup rooms, a door opened ahead and Ed McMahon and Sammy Davis Jr. exited. They were walking side-by-side and I couldn't stop smiling, because for every step Ed took, Sammy had to take two.

The RCA cafeteria was on the 52nd floor, overlooking Central Park. It was a gorgeous view. I was heading there to meet my mother-in-law for lunch. I went down to the lobby and walked to the center of the building. This is where the main elevator banks were arranged by floor levels. The first bank would go up to the 15th floor. The second bank would go to the 30th floor. The last would go to the top. In those days each elevator bank had a person directing people to the next available car and each car had an elevator operator. I went to the last bank and boarded a car. The operator closed the door and we started to ascend. The floor display showed a letter 'X', which would not change until we reached the 45th floor. My ears popped from the altitude. All of a sudden, the car stops very abruptly and the doors swing violently open. There is a brick wall with the number "42" painted on it, staring at us. Everybody in the car maintained their composure. The operator moves the lever to close the doors. They do, then the card drops a few inches and the doors fling open again. He tries again, with the same results. At this point I wish he would stop trying. He gives it one more unsuccessful attempt, then he calls down to the lobby and asks permission to break the emergency glass. He is given the go-ahead and two buttons are revealed, one for up, one for down. He pushes the "down" button and the car crawls down to the next floor. The outer doors are forced open and I feel solid ground again. I somewhat reluctantly took the next available car up to keep my lunch date.

Three shift had to be covered, so I had many opportunities to work 2nd and 3rd shifts. Second shift was my least favorite for more reasons than the train schedule which was sparse at that time of the night. When I missed the 12:15 train a few times, the next one wasn't until 3:23 during which I stayed at the train station. Not many decent people frequent train stations at these hours, so it wasn't long before I ran into a couple. As I set reading something (no iPods yet) I observed someone sauntering toward me in my peripheral vision. I looked up before he got to me and looked at him. He asked me if I had a cigarette. I did because I was a smoker but I made up my mind that I wasn't going to give him one. I said "Yes." He looked puzzled when I made no motion to give him one. I could tell he was searching for words. If I wasn't shaking inside I could display a wry smile at this point but thought better of it. Then he asked if he could have one to which I said a loud "No." This time he didn't have to search for words, he was on familiar territory and the filthy words just poured out of him. I bowed my head and went back to reading. It seemed like eternity before he finally left to look for his next victim.

The official name of the computer center was Information Systems Center or ISC, under the umbrella of Corporate Staff. We must have been successful, for before too long we expanded and opened another computer center in Los Angeles. We then became ISC/NY for New York and the new center was christened ISC/WC for West Coast. I remember people talking about the fact that each of the 12 giant letters in "ISC" installed on top of the building cost a thousand dollars. It sounded like such a large sum to me at the time.

It was for the opening of this center that I was sent on my very first business trip. It was around November, when in New York the weather turns nasty, as winter sets in. My traveling partner was a young man from Brooklyn, named Donnie DiMartino. It was his first trip also. When we arrived in Los Angeles, the weather was sunny and hot. The hotel on Sepulveda Boulevard we stayed at had a pool which we used whenever possible. I felt guilty for leaving my loved ones behind, while I basked in the sun. Donnie, however, did nothing but complain. He wasn't happy until he got back home. His father picked us up at the airport and we were in bumper-to-bumper traffic on the Belt Parkway. I didn't let him influence me. How can you complain about anything when you're on a semi-vacation someone else is paying for? We had a car, saw some sights and even accomplished the tasks for which we were sent here.

One night we went to a strip joint. I am pretty sure it was my first time. It happened to be amateur night. One of the contestants was wearing a fur coat and not much else, in fact nothing else on top. While she was waiting for her turn she was watching her competition performing on stage. The fur coat did nothing to calm her nerves and quell her apathy; she was repeatedly raising herself up on her toes. Of course, every time she did, she jiggled other parts of herself, which didn't go unnoticed by the males in the audience for very long. We broke into a hardy applause, after which she predictably stopped jiggling. Men are pretty stupid sometimes.

We had some free time and a car with which we did some exploring. We found the spot above the city from which you get a wonderful view of the city with the famous HOLLYWOOD sign just under you. I have seen this very same shot in several movies since. We also managed to drive on the famous Mullholland Drive, a very curvy, two-lane road popular with sports car drivers.

One of the jobs the California computer center performed was for the California Department of Motor Vehicles. There were some terminals in the lobby of the building. One of the demonstrations given for the opening was to enter the license number of one of the passing cars into the computer, which would then search the Mass Storage Unit's (MSU) magnetic cards for the driver's name, address, etc. I wonder if that would have some legal ramifications nowadays. I take that back as a rhetorical question, as just today an employee of one of the local DMVs was in the news for wishing some young lady a happy birthday, then admitting that he looked her license plate up on his work computer. She reported him and he was fired. I hate the 21st century!!! Nobody seems to have a sense of humor.
One of the programmers I worked with was a man close to retirement age. He was looking forward to this event, as he constantly talked about his summer house in Maine and how nice it was to be there. They have been vacationing there for years and he planned to move up there after retirement. The big day finally came and then I was shocked to learn that he died less than three weeks later. This got me thinking and it wasn't long after this that I made a promise to myself: I wasn't going to wait to do something until I was old enough, rich enough. If the opportunity presents itself, take it!
The presidential elections were covered by the networks and NBC naturally took part in this effort. The computer center was utilized for analyzing data from exit polls and the predictions for each state were done using our computers. It was always a hectic but exciting night, and we got to see the newscasters close up. It was a brief exposure to show business. I still have the gold Cross pen they gave us for participating in the 1968 elections.
---

The First Trip to Cleveland
During the summer plans were made to visit Mary's older sister, Elsie, her husband Don and three sons in Cleveland and I was invited to go along. I had not met them before. They picked me up after work at the bank at midnight in Mary's mom's car and the six of us set off on the Pennsylvania Turnpike. Mary's mom was driving, with Mary and I sitting next to her in the front and the four kids in the back, asleep. In those days the traffic was much sparser, consisting mostly of tractor trailers. Mary's mom didn't like trucks, so she would pass them at all cost but then would immediately slow down to a speed slower than the truck's she just passed. She did this to a truck three times before the driver got upset enough to lay on the air horn. I looked at Mary with pleading eyes and she got the message and asked to drive. I sat in the middle. After a while Mary got tired and asked her mom if it would be okay for me to drive. She, of course, refused. So, I devised a plan to give both of us a little relief and with my left foot I operated the gas and brake pedal, while she just needed to steer. This is how we drove all the way to Cleveland.

As we were driving into Chardon, the closest settlement to their house, I noticed what looked to me like ashtrays attached to almost every tree along the main road. There were sidewalks on both side of the road with houses. I had two thoughts in my head: One was a commentary on how clean this lttle village must be that they provide their populus with ashtrays and secondly, how much must these people smoke? When I voiced my observations to Elsie, she almost fell of the chair, she was laughing so hard. As it turns out, they weren't ashtrays but containers to catch the sap from the maple trees! What a country!


---
Our First Trip to the "Shore"


This picture on the left is of Mary and I on June 11, 1967. The picture above is of the back of the picture on which Mary wrote:



"

Geza and I at the shore June 11, 1967. I got a sunburn but he just gets brown. We had the kids with us. Geza saw to it that I had a good time anyway.

"



Mary's voice, her white teeth, wonderful smile and great sense of humor attracted me to her, traits she still has and I still

find

endearing.
---

The next chapter is:
So, it was with this car that I traveled to Philadelphia, towing an enclosed trailer holding all my worldly possessions. By the way, the trailer hitch was attached to my bumper at the local trailer rental place. Yes, cars had metal bumpers in those days! As soon as I got into Pennsylvania traveling on Route 81 just past Binghamton, I saw a traffic sign which I thought said MAXIMUM SPEED 50MPH. I jammed on the brakes to quickly slow down and was feeling good about my noticing the sign and thus preventing a possible speeding ticket. Then I saw the next sign a little later. It said MINIMUM, not maximum. The rest of the trip was uneventful and I managed to safely arrive.