It was from this school that I traveled to the US. I traveled by train to Vienna's airport in Schwechat and boarded a plane for New York. It was a propeller-driven aircraft and it took many sleepless hours before we touched down in Idlewild (to be named JFK later) the next morning. It was March 25th 1958. The airport was under construction. It was years later that I learned that all American airports are under construction ALL THE TIME. I was dead tired. A short, chubby American chewing on a stinking cigar met me at the airport, who made me understand that he will put me on a train. We boarded a taxi and headed for Grand Central Station. On the way I marveled at the famous skyline of the city and when we got closer, my neck was hurting trying to look at the tops of the towering skyscrapers. We arrived in short order in front of the railroad station. I only had one piece of luggage but it was HUGE and half of it was filled with the Reader's Digests from Austria. After a while I could only drag it on the floor for the weight. I was mesmerized by a huge American car spinning on a turnstile in the huge foyer of the station. I was trying to keep up with the cigar guy but couldn't take my eyes off the car. I had never seen a car that big. Remember, this was 1958 and the cars had huge fins on the back.
We ended up below the ground and boarded a train. The man with the cigar sat me on a seat, said his goodbyes and disappeared. I was trying to catch my breath as I looked around me. The car started to fill up and before too long we pulled out of the station. Nobody gave me a second look despite my appearance. My aunts had sent me a camel hair winter coat in a package while I was in Austria. I thought it was too long for me, so I altered it myself. I cut several inches off the bottom and then I put in a hemline. Unfortunately, I only had black thread. Pinned on the lapel of that coat was a sign, announcing to the world that I was a Hungarian Refugee. At a time when 99% of the boys of my age wore crew cuts, I had a huge head of hair, bigger than Elvis'.

The hours wiled away as the scenery out the window no longer included tall buildings but open fields. We stopped quite often; more people would get off, few would board, until the only people in the car were a group of five men playing cards in the back and I, in the front. Somewhere along the way I had lost my lighter and it's been hours since I had a cigarette. I had no idea how long the train ride was or even when and where I was supposed to get off. All that together gave me the courage to ask for a light for my cigarette. I held a cigarette between my fingers, and walking toward the card-playing men, I held up my hand and said: "Fire.". This is how you ask for a light in German and in Hungarian. They turned and looked at me strangely for a second but then put two and two together and one of them tossed me a book of matches. I took one to light my cigarette, then handed the rest back to its owner. He made me understand that I could keep them. Wow! This guy must be a millionaire to be giving matches away like that. You see, in the parts of Europe I just came from, you had to buy the matches with the cigarettes.
Finally I couldn't stand it anymore and in my head I formulated a sentence, using all my English grammar and vocabulary, to ask the conductor when I was supposed to get off. He showed me that when he took the little stub away from the top of the back of the seat in front of me, the next stop is mine. Now I could relax a little.

It was dark by the time we arrived in Ithaca. I had no idea what my relatives looked like, luckily there were only a few of us getting off the train and even less people waiting to meet us. My two aunts and uncle and my younger cousin, George met us at the station. He was (and still is) a year younger than I. We conversed in Hungarian, of course, all the way home. George spoke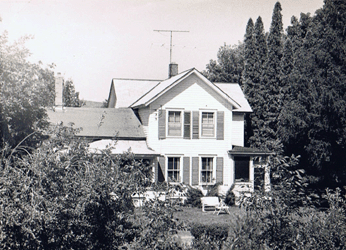 Hungarian, although with an accent and my aunts and uncle spoke perfect Hungarian, naturally, but with a few English words indiscriminately thrown in. When I questioned them on this practice they told me they were only doing it for my benefit, so I could learn English quicker. Of course this wasn't true: these were English words for which there were no equivalent Hungarian words, e.g. television, computer, calculator, etc. Words for things discovered or developed after they left Hungary. I am experiencing this same phenomenon myself, as my Hungarian vocabulary is lagging behind the times. Languages are living entities; new words are born every day.

I remember driving down State Street of Ithaca (the main drag) and marveling at all the lights still burning bright despite the hour of the night. Compared to Budapest, this was Monte Carlo or Las Vegas or New York City in my mind's eye! What a rich country! After the short ten miles we arrived at the house in Brooktondale. It still stands today and looks familiar every time I drive by it. A lavish dinner awaited our arrival (I don't remember what it was. I was pretty tired by then: I've been up for more than 24 hours at this point but I do remember the sliced white bread served with dinner. The uniform slices all in a row were quite impressive. In Europe rye bread bought by the elliptically shaped loaf you sliced yourself was norm. And the pièce de résistance of the festive meal was dessert: ice cream! In March! I couldn't believe it! Ice cream was only to be had during summertime in Hungary. What a way to finish a huge day in my life. I went to sleep that night thinking I was close to heaven.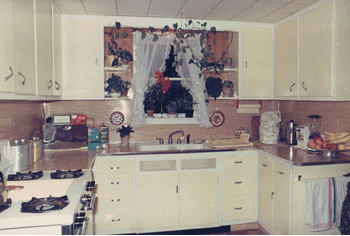 The next day we went down to the village of Brooktondale and hung out at the fire hall with some of George's friends. There was a ping pong table, so we all played. I was pretty good at this game, so I proceeded to beat all the local boys. It was on this very day that I learned a word I was to use for the rest of my life. I was playing a match with someone when I noticed that whenever he missed a shot he would say a short word, whose sound I
kinda
liked. Pretty soon I decided to incorporate it into my own vocabulary, much to the delight of all who were there. Oh! The word? If you haven't guessed it by now, that word was SHIT.

I was always fascinated by cars. Living in Hungary for sixteen years made me lust after them all the more. Every time the family car was taken somewhere I was in it. Backseat or front, I was always watching every move the driver was making. At times I even asked questions. I learned from my cousin, Steve
Padar
, the correct pronunciation of the word LIMIT, as in speed limit. He was also the one who told me to look to the right of the fog-line (that's the solid white line next to the right shoulder) whenever an oncoming car's headlight bothered your vision.

One day my aunt Elizabeth (she was the only driver of the two sisters) announced that she was going to the store and Post Office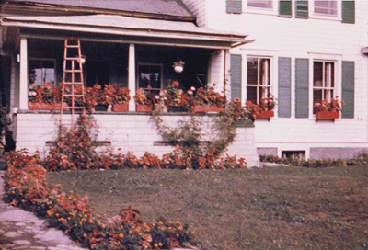 in Brooktondale. I was sitting in the car before she finished the sentence and off we went. She was a very

straight-forward kind of person, always doing everything by the book, all the while being and looking very serious and sometimes stern. We parked in front of the general store. She went in and came back with a couple of bags. I helped her put them into the car. She said she was walking over to the Post Office, which was about 50 feet away. I sat behind the wheel and saw that the keys were in the ignition. I boldly started the car and drove past the Post Office and turning around, parked in front. The car, by the way, was a 1951 Dodge with a semi-automatic three-speed transmission, shifted with a lever mounted on the column. I didn't stall the engine once. I remained sitting behind the wheel. When she came out I asked her if I could drive home. Why she said yes remained a mystery to all. I had no license, no experience and obviously no right to ask her that question. It was in April and there was still some snow and ice on the roads. She said afterwards that when I made the right-angle turn to cross the bridge, I was VERY close to hitting the bridge. I had no idea. I drove the rest of the way home, a distance of about 4 miles without incident. After parking I shut off the engine, gave the keys to her and I got out of the car. I had difficulty standing for my knees were shaking so badly.

In typical American fashion it wasn't long before I was to be hitched to the front of the family wagon, along with the rest. It was decided that the best course of action to take for me would be to attend school with my cousin George. I followed him around like a puppy dog and tried to assimilate as much of the culture and language as I could. I was introduced in each of George's classes as his cousin, the Hungarian refugee. Remember, that the Hungarian Revolution of 1956 (only two years thence) shook the world. The little country of Hungary stood up to the giant Soviet Empire. As the saying goes: It made all the papers! We were in – of all classes – World Geography class, when after the introduction one of George's classmates said to me: "Hungary, huh? Is that an island in the Pacific?" My opinion of Americans was at an all-time low at that moment.

My German was pretty fluent after the two years spent in Austria, so I quickly became one of the stars in German class. I spent the rest of the school year attending classes with George. Between the interaction in

school and watching cartoons and the Mickey Mouse Club on television my English was improving.

My favorite pastime at this time was watching television. The set was black and white, the reception was via a roof-mounted antenna and the picture was rather grainy, depending on weather and we had a choice of three stations. I watched the Mickey Mouse Club every day, along with easier-to-understand cartoons. Wagon Train with Ward Bond was my favorite of the many Western shows. Life was easy there: Good guys in white hats, bad ones in black and the white hats always won. You never hit someone who was down and you always let the other guy draw his gun first.
Ahh
, the naiveté of it all!

While still going to school my aunt and I set out looking for gainful employment to support my smoking habit. My first job was as a dishwasher at
Kresge's
department store on State Street. I met Jim Robinson during this time, who was the stock clerk. It was Jim who taught me to drive, using his 1955 Ford. He would offer to take me home after work and I got to drive while he read a book. It was a pressure-free environment making driving fun. I remember the first time I passed a car. We came upon a slower-moving car, so I slowed down to match its speed, not sure of what to do. He looked up very nonchalantly and said: "So, pass him." I looked in the mirror cautiously, put the turn-signal on and with my heart in my throat, stepped on the gas pedal to engage the passing gear and was by the slower car before I knew it. I felt my chest swelling with pride and self-satisfaction. Jim was a nice man, married to Thelma with a bunch of kids.

I worked with a very kind elderly cook, and a Japanese woman, who tried to teach me some Japanese terms. The two I still remember are:
ikaka
dieska
?
and
giengides
, how are you? and fine, respectively.

The
Padar
family made plans to visit some friends in Toronto, Canada. In those days an immigrant had to spend two years in the US before receiving the "green card", the first milestone toward achieving

citizenship. Nobody in the family was too clear on what I could and could not do before possessing this identification, so my uncle asked at the Canadian border. We were surprised to learn that I was allowed to leave the US but would be denied re-entry. It was wisely decided to leave me in Niagara Falls for the weekend. I stayed in one of the many hotels in town and went to see a movie, the original

The Fly

with Vincent Price.

That same year, I think, I moved on to another job, working in a drug store, two or three doors from
Kresge's
called Doan's Drugs. I worked Monday through Saturday, eight hours a day, for a dollar an hour. My gross income for the week was 48 dollars. The pharmacist/manager was Leon
Faibisoff
, a very good manager, who, despite the store's very small size, managed to have weekly sales that brought in hoards of customers. He spent many enjoyable hours assembling cutouts of pictures of items on sale for the newspapers every week.

One summer he and his family, wife Sylvia and two boys, (one was named Jan) went on a driving vacation to the American West. He came back with his left arm extremely dark and told us many tales.

He bought a
Criss
Craft wooden boat and took me for a ride up to the top of Cayuga Lake. His wife and her girlfriend accompanied us and I had a great time, taking pictures with a movie camera. I still have that footage on a DVD.

I was the stock clerk of the store and occasionally filled in as salesperson, able to work the registers with the aplomb of a veteran. I remember a couple of favorite encounters with customers:
The one question that would help me find the item a customer was looking for was to ask what the item was used for, as this is how they were categorized. So, one day a lady asked me for a tube of KY Jelly. I asked her what she was planning on using it for, to which she turned beet-red and I immediately knew what section I had to look for the item. Afterwards I had to ask Leon some specific questions. It's so much better when you don't get your information on the streets!

An old lady came in and announced in a loud tone of voice that she needed a new douche bag, as her cat chewed up her old one. Everybody in the crowded store enjoyed that one!

By this time I was done with school and decided it was time to move away from my aunts in Brooktondale. I moved in with my best friend, John Ferguson in his parents' house on Brooktondale. John's father worked for Cornell University in Ithaca. He and his wife were very frugal people, living in conditions I thought were "unusual", to say the least. It was only a few years before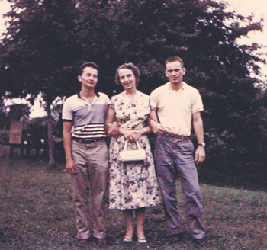 that they installed indoor plumbing into the kitchen. They still used an outhouse but had a television. I always thought that was unusual. Given a choice I would've chosen an indoor toilet. By this time I had car, my first, a 1951 Ford. I remember one winter night was so cold that when I tried to start the car in the morning it turned over once and died. The driveway had a pretty good incline but it was so cold, the car wouldn't even roll down the hill.

One night, coming home from Ithaca, after a night of partying John and I noticed a car pulled over to the side facing toward Ithaca. I turned around and pulled behind the car, got out and asked the driver and his passenger what the problem was. They said they were out of gas. Without hesitation I told them to get in the car and just steer, pulled behind them and lined up my car offset to the left enough that I could see the road ahead and proceeded to push them the 7 miles to Ithaca. They ran their battery down trying to start the car, so I had to rely on my one headlight to light the way. Ithaca is in a deep valley, so when we got to the top of the hill, we stopped and I told the driver to coast down to the bottom of the hill to the gas station. He thanked me profusely and offered to give me money, which I didn't take. I still wonder what his feelings were while he was being pushed down the road by a three-quarters-drunk guy and what I would have done in his position.

I felt that it would be better for all if I moved out of the house into the well-house, a little building next to the house. It afforded me more privacy and I could smoke freely. There was a horizontal metal bar in there a little higher than my

head and it
became my gym apparatus. I used it for chin-ups, graduating into being able to hang by my heels! All my friends were amazed at this unusual talent.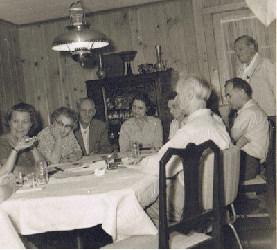 George and Steve's wedding drew many guests:
Somody
S
á
ri
,
Kuhajda
Margit, my father, Ginzery M
á
ria
, Ginzery
Andr
á
s, J
ó
ska
and
Somody
Pista
.

Not long after this I found a room for rent on Seneca Street in Ithaca and I was on my own! Continuing to work at Doan's Drugs I befriended a new employee, Lorraine Seaman. She, too lived in Brooktondale, so we carpooled a lot. Not long after she invited me to her house to meet her husband and daughter, Sherrill. I spent some real nice times with the family. Gerald, the father, was a milk-truck driver. It was in their living room that we all watched Elvis Presley's first appearance on the Ed Sullivan Show. It was here that I was introduced to a man dressed in tails playing a classical piano selection. In the middle of it he kept playing higher and higher notes, until he fell right off his bench. I was totally unprepared for this and I formed a life-long love of Victor
Borge's
musical and comedic talents. Making a long and somewhat painful story shorter, we fell in love and got married. Stephan, our son, is the result of this marriage, whom I named after my maternal grandfather,
Saly
Istv
á
n.
Sherrill and I were babysitting for her cousin's daughter, Lynn one night. A friend, Bob Dean and his girlfriend Donna came over and leaving Sherrill behind, and collecting another relative of Sherrill's, a young boy, the four of us took a 1959

Volkswagen to the stockcar races. I wanted to leave earlier, to get be back home before the owner of the car came home and, in my hurry, I missed a turn. I kept going and, not being familiar with the roads at night, I entered a right-hand turn too fast. When the outside rear tire blew. I over-corrected to avoid hitting the bridge culvert, I have only had my license for a week and didn't really know much about accident-avoidance, so we ended up flying through the air, upside down and hitting a pole about ten feet high, impacting it enough to break loose the transformer. As this was happening, my only thought was, my God, I broke the window. What am I going to tell the owner? The car came to a rest, the radio and windshield wipers were going. I looked to the passenger. It was empty. I heard Bob and his girlfriend scampering out the knocked-out back window. I exited and was frantically looking for the young boy. Eventually I found him lying on his back with one of his legs under him in a very unnatural position. His eyes were up in his head and he was frothing at the mouth. I was so upset by this site that I swore that I was never going to drive again. The young boy spent quite a bit of time in the hospital, the Volkswagen was replaced by a brand-new 1962

Corvair

and, thank God, everybody else was healthy and happy.

Remember, this car had no seatbelts!!
The marriage didn't last long and by the time my parents were able to come and visit us, Sherrill was already gone. I have the dubious honor of being the very first person to divorce in our immediate family, a fact my mother especially, didn't take well. The year was 1964.
---

My Parents Come to America
It was wonderful to see my parents again after eight years of separation. They did enjoy the company of their grandson for a little while and had many nice memories together. The Padars had many friends and Hungarian acquaintances in the area, so they were always on the go. At this time I was working at three different places, a factory named Morse Chain Company, where I operated a punch-press, Doan's, then Mack's Pharmacy and also at a small grocery store/beer outlet in college-town in Ithaca, working for a couple of Greek brothers, Gus and George. Gus was a good businessman. He sold beer by the many cases to the college students. His favorite phrase to them was "The more you buy, the more you save, grick!" He called everybody a Greek. Once I asked him why he didn't fix up the store. He said because he didn't want people to find out that he was making money.
I was driving a 1960 Oldsmobile grey convertible with maroon interior. It was in this car that I drove to the airport in New York City to fetch my parents. Driving on the expressways of New York City was an experience in and of itself. I remember that when the new portion of Route 13 North of the city opened up a year or so earlier, it was a big deal! It was the area's only four-lane highway. Yet, here I was with cars on both sides of me, whizzing by at speeds I was not used to. My heart was in my throat for the whole trip. At the airport I remember standing on top of this building, open to the air, watching my parents walk down the stairs after exiting the plane. I had tears in my eyes as I yelled down to them, waving frantically. It was a very emotional but jubilant meeting. On the way home I was driving on Route 17, which back then was a narrow, winding two-lane road. The top was down and we were having a great time. My parents were always wonderful passengers. Nothing seemed to faze them and they thoroughly enjoyed every trip with me. We were gliding downhill into a little valley. You could see the road going up on the other side and to the right was a run-of-a-mill junkyard, full of cars. My father asked what that was, so I told him. It didn't seem to sink in. Why doesn't somebody fix the cars, he wanted to know. We had to stop, so he could take a picture to show everybody back home. A few weeks later he took a non-functioning light-switch apart and proudly showed it to my uncle, saying that this is the broke part. If you can get a new one, I'll be able to fix the switch for you. My uncle just laughed while he tossed the switch in the trash, offering to buy a new one. My father didn't understand the wastefulness.


My parents were met at the airport by – from left to right –

Somody

Pityu

,

Zsuzsa

,

Jutka

,

Feri bácsi, Bella

&

Steve Padar, Tommie, Sári néni, my Mother, myself, my Father and Bözsi néni

In the dining room in Brooktondale. From right to left are Juci, Zsuzsa, my Mother, Hugó, Jutka, Bözsi néni, Mimi néni and I

The junk

y

ard on old Route 17

coming home from the airport.

This was the only Christmas the four of us spent together.


The

Somodys

and

Ginzerys

admire the newest Ginzery

Stevie was a good-looking and good kid.

My parents were never happier.


Sherrill's

Aunt Bess, her sister

Nana (

M

y

rtle

), Stevie, my Mother and I.

My father made that swing for Stevie.


What, no cigarette in my hand?

Enjoying the water of Cayuga Lake

Sitting on the trunk of 1960 oldsmobile convertible

Going for rides with the top down was always fun ...

... as was throwing rocks into the water.

Both Stevie and my mother loved dogs. Here we're picnicking in Stewart Park.

It's no wonder I have so many pleasant memories from this house in Brooktondale.

Stevie learning to throw crabapples. Every try resulted in almost hitting my mother, much to her delight. After a while I think Stevie did it on purpose, by the look on his face.

My father, his friend K

á

lm

á

n and his son, K

á

lmi

with

Stevie.
As I said earlier both my parents smoked, as did I. They brought their own supply of Hungarian cigarettes with them when they came but these were soon replaced with much finer American stock. One day everybody but my father went to town. When they returned my mother turned up her nose and wanted to know what stunk so badly in the house. As it turned out, my father ran out of the American cigarettes and had to smoke the
Kossuths
brought from Budapest. These non-filtered cigarettes were really bad. Every part of the tobacco leaf was rolled up in the cigarette paper, including the stalk. When you were smoking the stalk, it was possible to have a glowing ember a couple of inches in length.


Life was fun around my parents and my two aunts and uncle and my parents enjoyed themselves during their stay. The
Padars
had many Hungarian friends and invited them quite often. Somebody would always play the piano and before too long the women were dancing with each other to the Hungarian music. I particularly enjoyed watching them dance the "
cs
árdás
", a very spirited dance with a lot of hip movement. I got to see a side of parents they had kept hidden living under communism. If I had to define what "freedom" means in America, this would be at the top of my list.


It looks like they're drinking espresso but I am not so sure!

My father is enjoying watching the women dancing the csárdás.
He vowed not to dance while Hungary was under communism.
It was during these times that I observed my parents arguing. This is something I had never seen growing up. These few arguments were always over something trivial and they never got angry at each other. The first time my mother told an off-color joke was a memorable one. I somehow didn't think my mother would "lower" herself to that level. Keep in mind, these were not dirty jokes but it still surprised me. In all the years I have known them, not once did I hear them use foul language.
My mother was a wonderful joke teller. My father tried but his eyes were twinkling way before the punch line and he had trouble keeping a straight face.

My parents' visas were issued for six moths but we all were having such a wonderful time that they extended them for a year. During this time they managed to see more of this country than I and I was somewhat jealous of them. The Padars took them to the Catskills where they stayed with a Hungarian couple who owned an inn and took day trips up to the Adirondacks and surrounding areas. I rece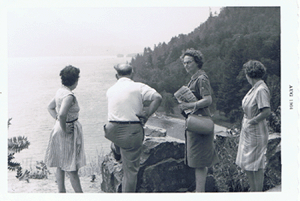 ntly came across this picture on the left of them by a rock overlooking Lake George. My mother, my uncle Frank, my aunt Margit and my aunt Elizabeth are looking at the scenery. I know this rock on Route 9N and I've had my picture taken by it several times several decades later as we discovered it while touring in a car, then on a motorcycle.
All too soon their visa was about to expire and shortly after the tearful goodbyes my parents departed for home and I felt really alone again. They left with much more than they came with. I bought them a stereo record player. I didn't realize until I went home for a visit that the difference in the household currents between the two countries (110V 60~
vs
220V 50~) meant that a transformer was needed to step down the 220 to 110. The difference in the cycles (current alternates 60 versus 50 times a second) meant that the music would be playing much slower, making it un-enjoyable. It took the talents of an engineer neighbor to rewire the record player to make it compatible. They enjoyed listening to records for many years after that.


Then my ex-wife took Stephan with her to Hawaii. The next few years were spent aimlessly, just wasting time and working. Despite working three jobs I spent money as fast as I made it. It seems like light-years away as I cut ties with my ex-in-laws and all my ex-wife's relatives.

---

The next chapter is:

Life Continues in Philadelphia