Then in 1956 the unthinkable happened. A large group of college students staged a rebellion in front of the radio station. It spread like wildfire and before long much of the downtown area of the city joined them. There were open demonstrations (not allowed under communism) and before too long, the radio station was taken over and victory was declared. It was very short-lived, as a few days later the Russian militia moved in and surrounded the city. Artillery shells were flying through the air, exploding at differing distances. It was a scary experience. One of these shells ended up in one of our neighbor's clothes closet, unexploded. It was an incendiary bomb, so we were very lucky it didn't explode. Small arms fire was heard almost any time, mostly originating from the nearby park, where a lot of the fighting took place. All the stores were closed and nobody went to work or to school. I remember waking up that morning to hear the pendulum of the wall clock above my head hitting the side of the clock. At first I thought it was an earthquake. We tried listening to Radio Free Europe to find out what happened. Of course it was jammed and we only understood bits and pieces. Finally, through word of mouth we learned what happened. On October 23rd 1956 there was a revolution, an uprising of the people, who've enough of communism. Many gave their lives, most of them young people. One of my classmates, an excellent gymnast, lost his life during this time. It wasn't long before the Russians quelled the fighting. It was all but over in early November and there was an eerie quietness in the city. We went for a walk. The buildings wore the results of the heavy shelling. At most intersections a Russian tank was placed strategically pointing down the street with its cannon. It was really eerie to walk towards one of these, as you were never sure that it was unmanned. There were dead bodies everywhere, most of them covered with lime powder. I saw several Russian soldiers lying on the ground, victims of the famed Molotov cocktails used on their tanks. A glass bottle filled with gasoline with a rag sticking out of it for a fuse. Lighting the rag and throwing the bottle at the tank made a very efficient weapon. The dead Russian bodies shrank from the heat to resemble those of children. It was really grotesque.
The son of a friend came by the house riding a ten-speed bicycle. He came with a bag full of cigarettes, which he dumped in front of my father on the table they were sitting around. My father asked where he got them, with great pleasure in his voice. It's been a while since he had his last cigarette, as the stores had been closed since the revolution broke out. The son was a professional soccer player. He made it known to my father in so many words that he stole them, as he did the bicycle. My father pushed the pile of cigarettes away and would not take a single one. This was just one of the countless reasons I loved and respected him.

This quietness and freedom to walk around the city only lasted a few days. Those days were a blur in my mind's eye. My parents and the immediate family were making plans. They invited the
Andrasofszkys
and were talking seriously, in a hushed tone. This was unusual, for
Kálmán
was a robust, loud, joking, seldom serious kind of person. It wasn't too long before they let me in on their plans. They wanted a better life for me, than was possible in Hungary under communism. As my father was blacklisted, so was I, so much so, that my mother pulled many strings, prayed a lot and had luck on her side when she was able to have me be accepted to attend gymnasium. This is the equivalent of high school here in America. Without this

my only other option would have been to choose a technical path, which, they felt, would have been beneath my station.
The day and time came to board the truck in front of the house. There was a lot of crying, as we said our goodbyes. I was to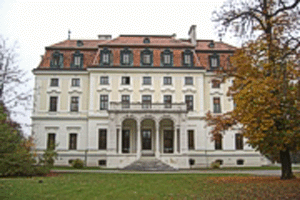 never see my maternal Grandfather again. We were all anxious about this undertaking because stories circulated about some local guides who took money to show refugees the way but then either abandoned them in the dark, or worse, led them right into the arms of the border police. When you're young, everything is easier.

I don't remember what I took with me on this trip. The truck pulled up to a house very close to the border. This would be our home for the night. I remember it was a peasant house and I couldn't sleep for the excitement and the excessive amount of heat generated by the feather bed. It was the middle of the night when we were awakened and it was time to walk across the border. We were asked to be quiet and careful walking in the darkness. We came upon a small building close enough that we could see the soldiers inside and heard them talk and laugh raucously. As we kept walking, keeping one eye on the windows of the building, all went quiet and the inside lights were doused and bright outside lights were turned on. Everybody dropped to the ground and it seemed an eternity before the outside lights were turned off and all returned to normal, including our heartbeats.

---
I Am a Refugee
Before I can proceed, I need to say a few words about the "Iron Curtain". This was an entity which was part physical and part mystical. For a hundred or so feet from the border on the inside of the country all trees and bushes were destroyed. Land mines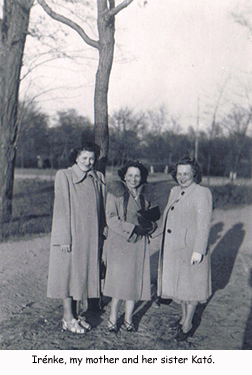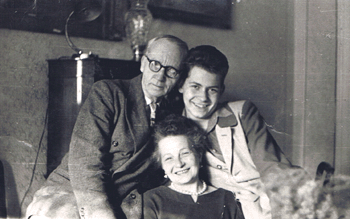 were buried in this swatch of land to indiscriminately kill all life that happened to step on them. To fortify the border even more, tall machine gun towers were erected within sight of each other, equipped with powerful search lights.
Additionally, it was forbidden to travel within a few miles of the border. In those days permits were required to travel anywhere and if you were caught in this forbidden zone without a permit, your fate might never be learned by your loved ones.


Back to the story. There was a period of a few days when the so-called Iron Curtain did not exist. The machine gun towers were left unmanned in sympathy of the freedom fighters, some of the mines were disposed of by the locals, who knew the area making leaving Hungary possible. It was this window of opportunity my parents chose for me. At this time my brother, Peter was 11 years old, too young to come with me. My mother didn't want to leave her father behind. My father felt that he was too old to start a new life in the US at the age of 58 and he didn't want to be a burden to his sisters.


A long-time family friend from the
FertÅ'szentmiklós
days was called upon to help.
Irénke
worked for a transportation company and she was able to legally hire a truck to take us to this forbidden zone close to the Austrian border. Incidentally, this trip was paid from my salary of the past summer, when I worked separating wheat from the chaff and other equally challenging menial tasks. It was decided that I leave with the children of my father's friend,
Kálmán
. I was a very young 16 years old and this adventure was to be my first time away from home without close ties.
Kálmán's
children were older,
Kálmi
was 3 years older than I and
Zsuzsi
was even older. The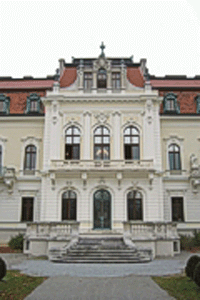 siblings were to go to Canada, as they had no blood relatives in the US. A date of departure was agreed upon and we waited. I remember being at my uncle George's apartment, listening to 78 records, instructing us to speak English. One of the words I learned then was "easy chair", which I don't think I ever used. Since first I was going to be in Austria, some German words were in the offing. "
Telefon
Buch
" was one of these.
We walked for a long time before we came to some railroad tracks. Our guide said that if we followed the tracks in the direction he pointed, we would be in Austria before too long. He bid us good luck and disappeared. We reluctantly started to walk but those stories of other guides were in the back of our minds. When we arrived at the little train station and saw the German writing on the wall, we knew we were safe. The name on the wall was
Pamhagen
.



The next few days were a blur, during which we were shuffled from one place to the next. During this time there were MANY of us Hungarian refugees (

Flüchtlingen

in German). I have a lot of respect for the Austrian people for taking us in, after all it wasn't too long before that they obtained their freedom from the USSSR. They mostly emptied school buildings to house us. The classrooms were filled with bunk beds for us and privacy was almost non-existent. We were given 30 Schillings a month to subsist on and provided us with food and shelter. I have no bad memories from this time at all but I did manage to acquire a life-long dislike for yellow cheese. I can still see the

gallon-sized can of it sitting in the window sill and shudder at the thought of looking at it.



I spent the next 15 months in different refugee camps in two different regions of Austria. At first we stayed around the beautiful city of Vienna. One of the camps (

lager

is German) we stayed in was a private palace at one time called

Altkettenhof

Schloss

. It was still beautiful and very spacious. I played ping pong incessantly and became pretty good at it. Then we moved to Vienna.

Kálmi's

sister by then had left us to go to Canada. Last I heard she married an American of Hungarian descent and moved to California. I haven't seen her since.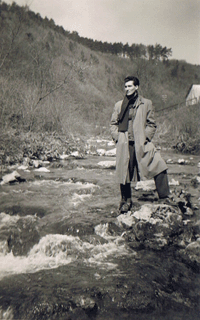 Kálmi
and I saw most of the sights in the city, hoofing for the most part. We visited
Schönbrunn
, the Kaiser's summer palace, got free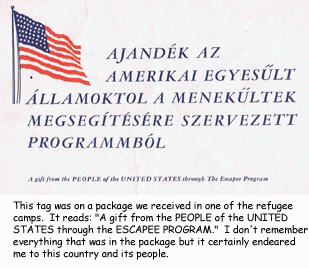 haircuts in a barber school, ate out once in a while and generally had a great time enjoying my personal freedom for the first time. One of the highlights from this era was eating a slice of
Sacher
Torte in the restaurant it was named after. K
á
lmi
and I spent my first New Year's Eve away from my family in
Grinzing
, one of the suburbs of Vienna and had a great time. We didn't have much money but we did manage to find a good buy on a Kodak box camera, which we used to take quite a few pictures. When K
á
lmi
and I split up, he kept the camera and I kept the pictures. I proudly displayed them on the wall, using toothpaste for glue.


I am very thankful to K
á
lmi
for his guidance. I could easily have been lost without it. I tried to find him through the Internet a while ago and I found a flower shop in Toronto with an e-mail address. I sent a message but never got a reply. I know he lived in the Toronto area and married a Hungarian woman and they had a son together.
I was to immigrate to the United States entrusted to my father's two sisters. I was to travel to a land of freedom, where the streets are paved with gold. The importance of this took decades to reach the inner core of my tiny brain. It is without a doubt the single-most important event of my life.


---
During my stay at these different "lagers" many recruiters came to offer us opportunities by coming to their country. One that stands out I my mind was from England and he was looking for people to work in their coal-mines. The one that opened my eyes really wide was from the US, a country he described with the following illustration:


As soon as you land you are given a car for your personal use. Should that car ever leave you stranded, all you need to do is walk to the nearest tree, which WILL have a built-in telephone. Pick up the receiver and ask for a new car. Right then and there I thanked God I was coming to such a wonderful country.
From Vienna I was sent to the
Salzkammergut
region of Austria. It is in the middle of the country, in the foothills of the Austrian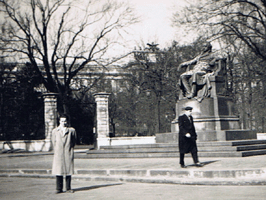 Alps. It is still as breath-taking a place as it was then. I traveled there by myself on the train. After getting off the train, I asked for directions to the school for Hungarian Refugees. As I was walking toward the building, I remember all the windows were open and out of every one there were bald-headed boys two-three deep. I later learned why they were bald. I was 17 years old. Even though both my parents smoked while I was living at home, I never tried to smoke. Everybody at this school smoked but it was hard to support a habit with little money. That is why kids would cut off all their hair for a pack of cigarettes, or less, depending on how close to payday it was. Needless to say, I started to smoke, too. We all do stupid things in our lifetime; here are some of mine while staying at this school. When some of us had no money to buy cigarettes, we would ask a smoker for the cigarette butt. Remember, these were non-filtered cigarettes! So, when the smoker had his fill, we would take over and smoke the butt until it was too hot to hold. My thumb and index fingers were almost black from the nicotine and calloused from the heat. Then somebody got the idea to stick a pin in the cigarette butt and hold it with the pin. This way you could smoke it until there was nothing but glowing amber. Geez!


There were many of us boys living in this building. It was run by catholic priests, who held a very tight rein on us. There was a schedule that had to be followed and regular classes to be attended daily. We did have some free time, some of which I used to read stories in English-language Reader's Digests I bought in Vienna. When I came to a word I didn't know, I would write the English word on a piece of paper, look up the Hungarian word for it in my dictionary and write it next to the English word. The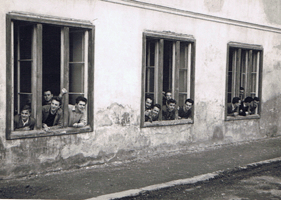 piece of paper remained with the story in the magazine.


We, boys, suspected that saltpeter was used in our coffee to keep the testosterone level down but this might have been an ugly rumor. I didn't care. I told you I was a very young 17! Lights out was at a pretty early hour and many times we weren't tired enough to go to bed, so we quietly conversed with each other, waiting for the gym teacher to come in and do a bed check, counting bodies. One night we were really bored, until the beans served for supper earlier started to ferment. We held a
flatulation
contest. Then somebody asked the question in total darkness: "Do you think it burns?" There were several volunteers (I might have been one of them) and the question was quickly answered, when the familiar noise of gas seeking a way out was heard (commonly known as a fart) followed by someone's lighter clicking. Voila! The answer was in front of our noses! Apparently, it was in front of the gym teacher's nose as well because as he opened the door and turned the lights on to come in to count us, he made a disgusted noise, shut the lights off and slammed the door.


One day an American movie was playing in the only movie house in
Kammer
am
Attersee
. Many of us wanted to see it, so a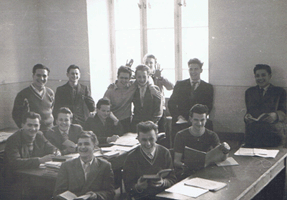 delegation was formed and formal permission was asked for from the principal of the school. It was denied. We were very upset and a few of us decided that we were going to see the movie, no matter what. The name of the movie was
The Glen Miller Story
and I kept the ticket as a souvenir. I still have it. After lights-out we tied a bunch of sheets together and lowered ourselves down to the ground. One rather chubby boy stayed behind and was supposed to lower the sheets when we got home. We fixed the beds as best as we could to resemble someone sleeping there. Once on the ground we went to the movies. Once we went inside, we realized we were in trouble because a lot of our teachers were also there. I thoroughly enjoyed the music in the movie, even though I couldn't understand the words and it is still one of my favorite movies.


After the movie we assembled outside the movie house within sight of the teachers. We marched in formation (like we did every Sunday to and from the church), someone was shouting one… two… one… two in the front and marched toward the school. When we neared the familiar building all the lights were on.


The principal, a very large man, was blocking the doorway, preventing our entry. He made it clear to us that we were not coming in. A little discouraged but too proud to admit it, we got into formation again and kept on marching. We found a field with haystacks and slept in the hay like babies. The next morning we went back to the school and all was forgiven.
Someone had a pair of ski boots for sale, so I bought them; the largest purchase of my life. They were made of leather, of course and there was a way of forcing air inside via a rubber bulb to make the fit better and also for extra insulation and support. I got to use them a couple of times on the surrounding slopes of the Austrian Alps, before it was my turn to leave the school. The location of this school was just absolutely beautiful! The front of it faced several of the almost-always snow-covered Alpine peaks, while our backyard met the shoreline of Attersee, with more majestic mountains in the distance.

I had heard that the Hungarian government punished all those who left the country during the revolution by forbidding them to ever to enter the borders again. My Hungarian citizenship stripped from me, I was now really homeless.


This is a postcard I bought in

Kammer

am

Attersee in 1957

. Maybe someday I'll mail it back to the

B

ü

rgermeister

(Mayor) of the village.

Somewhere in Austria with a forgotten best friend.
---

The next chapter is:


Now I am an Immigrant