In 1948 my father came home from Siberia. He was fifty years old. He had lost almost half his body weight and looked it. He wore tattered, smelly clothes and I didn't recognize him. He was given some chocolate bars when they released him. Rather than eating them he gave them to the needy children he saw along the way, never realizing that his own children didn't have chocolate in years. He cried when he found out what he had done.

For the last three and a half years both my brother and I had been looking at his pictures taken before or during the war and now he didn't look anything like that. He was included in our nightly prayers as my mother showed his picture to us. My brother cried every time he saw him. He was afraid of him for a week or so, until he got used to him. My mother threw out his old clothes and after he cleaned up, he looked a little better. The next Sunday we went to church to thank God for bringing him home safely to us. My grandfather, Kató and Gyurka were also there and many tears of happiness were shed.

My father tried to get a job. His name was on the "blacklist", due to being a career soldier fighting against the Russians in the war. The new Hungarian Army didn't recognize him. Despite his many qualifications for white collar employment, he was turned down and had to settle for a job in the nearby Ganz factory, which made industrial electrical motors and components. He was very well liked and advanced as far as he could until his retirement in 1974. He was 76 years old.

My father was my idol and hero. Even when I was a baby, I would wait for him to come home before I would eat or go to bed. It was very clear to all that I preferred my father over my mother. He was a quiet man, who commanded respect just by his presence. I don't think he had any enemies throughout his life. All the soldiers, who served under him, spoke of him with great respect and never spoke ill of him. He reluctantly filled the position of disciplinarian in the family but never punished us in anger. The reason for the punishment was always explained to us beforehand and was meted out with a feeling of necessity, never anger. Both my parents always prefixed the punishment with: "This is going to hurt me more than you." and ended it by making us apologize for what we did wrong, then we hugged and that was the end of it. The instrument of this punishment was my father's old riding crop, which I still have. In fact I used it on my children pretty much in the same fashion. Once, when I was around fifteen, I let some air out of one of the tires of the only car in the apartment house. I was caught in the act by the owner, who slapped me in the face. When I went home and told my father why I was crying, his face turned white and rushed out of the apartment to talk with the man. He told me that what I had done was wrong and why it was wrong. I never knew what was said by either my father or the owner of the car.
One night he caught me reading my then-favorite book about Fulgur, a super-human, much like Superman, under the covers, when I was supposed to be sleeping. He was upset enough to rip the book in half. That is the angriest I have ever seen him.
---
Surviving Under Communism
I was an outstanding student in every grade. The only subject I had difficulty with was gym. I also didn't like the mandatory Russian language lessons. Hungary was under communistic rule after the war. Shortages of everything were widespread. Someone would find out that a shipment of something was coming to one of the stores downstairs and within minutes there was a long line of people waiting for it. I was often sent down to stand in line, often for a long time, only to end up going home because they ran out. That is probably where my utter dislike of waiting in line for anything originates. If you've seen Robin Williams' movie Moscow on the Hudson these conditions are depicted accurately. As you walked down the sidewalk of any main street in Budapest, there were many shops whose windows were full of attractive wares. These were mere displays, meant to fool the unknowing few outsiders catching glimpses as they drove by. It is known as PROPAGANDA, without which communism wouldn't have existed. If you went inside the store they had none of the items displayed in the windows. Some, who were lucky enough to know someone who worked in a store, might be able to purchase some items "under the counter", at a premium price. This is when and where I learned the importance of conservation by fixing something that broke, since a new one was seldom an option.
One of the many items we have in our living room is the milk container my brother and I took to the milk store downstairs. The
milk came in large containers to the store, whose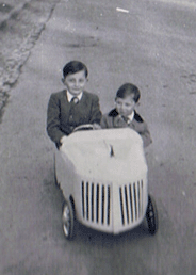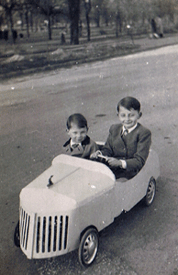 contents they would disperse into the customers' own containers. So long as we're on this topic, let me describe some interesting differences in the process of "shopping" in general. If you needed eggs, you never bought a dozen because you could just buy fresh ones when you needed them. For years there was only an icebox in the apartment. In the summer the ice-man brought ice to the front of the house. We kids would go down with our buckets and buy some ice. During the other seasons perishables were left outside either in the unheated kitchen or in the pantry. Later on, in the seventies my parents had a gas-operated refrigerator which was only adequate and never made ice cubes. When it leaked water on consecutive hot days a repair man was called. He oneeded a short time to arrive at the verdict: There was nothing wrong with the refrigerator, it was just too hot.

Scare tactics were freely employed during this period. Fear is a devastating human emotion and it can cause behavior in
people that is not in their nature. Hitler used these same tools to have neighbors turn against each other and family members turn each other in for possible favors. It made people turn their heads in all direction before telling an anti-communist joke or to repeat a new rumor circling in their midst. Trust in your fellow human being was almost non-existent.

Of course talking against the government or communism itself in the open would always be met with severe punishment, whose level often reached death. There were always rumors about people being summoned for "questioning" about some real or manufactured act they supposedly committed. Sometimes these people were never heard from again. The most notorious of the communist headquarters was located near the Danube River (
Duna
) in
Andr
ás street
and was rumored to have a chute in the basement that was used to dump bodies of tortured and executed people directly into the river.
Parents were afraid to talk openly in front of their children at home because some teachers would ask poignant questions from the children about what their parents talked about at home. Anti-communist remarks would then be reported and acted upon and the teacher would be rewarded by being labeled as a pro-Communist. One of my teachers asked me once if my parents belonged to the Communist Party. People who joined the Communist Party were automatically held in high esteem. When I said no, she wanted to know why. In the end my mother was summoned to appear in school. She was always one to think on her feet and despite her diminutive size, could not be made to cower. She showed up for the interview dressed to the nines (including gloves) and promptly told those present that if the Communist Party changed my father's job to one that fit his qualifications better, she would think about joining the Party. And that was the end of that!
It was forbidden to take any kind of religious education. My mother hired a private tutor, who came to the apartment to teach my brother and me for a couple of years. Despite the unfavorable eyes cast upon religious people whenever we traveled on public transportation or walked past a Roman Catholic church, we always crossed ourselves, regardless of who was around us. My mother continued this tradition until the day she died.
Budapest always had a very good public transportation system. Back in the day it was affordable for all and was used by all. The street cars' ends were all open on the sides and during rush hour people were standing on all the steps, often barely hanging on with one hand. As a teenager, of course, this was all fun and I couldn't enjoy it more traveling to and fro school.
Under communism we never had much to wear but it was always spotlessly clean. We were taught to always look our best; particularly when we went out of the house. After coming home we always changed our clothes, which preserved our "good" clothes. Whenever we ventured outside to visit friends or relatives people always stared at us, especially my mother because she looked like she used to before the war. She always wore gloves outside and a hat, this at a time when everyone else wore dark, drab clothes. My brother and I often wore white gloves to church.
It was forbidden to learn foreign languages, other than Russian. I took private English lessons from someone in the apartment house for a year or so. This helped me immensely, as this was my foundation. I also took a couple of years of Latin in school which was also very beneficial in learning English.
Radio Free Europe was my parents' source of real news. Everything else was controlled by the government and most if was propaganda. New radios only received the major Hungarian radio stations. Our sub-letters had one of these hanging on their wall.

One day we received a letter from the
Padars
from America. My aunts and uncle – my father's sisters – and the older one's husband had left Hungary during the war and were now living in the United States. The letter advised us of a package they had sent us. This was a huge deal! We were all very excited and couldn't imagine what they could've sent us. They also said that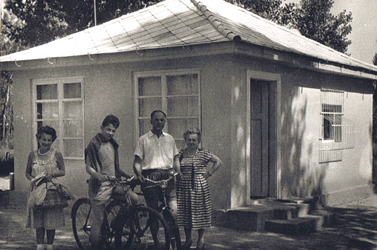 through a special program they paid for a bicycle for us. This was an even bigger deal and my brother Peter and I could hardly contain ourselves from the anticipation. It could not have arrived too soon but one day a notice came that we could pick it up. That bicycle was a huge part of our lives for many years to come. It was difficult for me to share

because I always felt that Peter was abusing it. He was too short to sit in the saddle, so he rode it solo with his right leg sticking through the triangle created by the perpendicular piece of frame under the saddle, the horizontal piece extending to the steering neck and the diagonal piece connecting the two by the pedals. Of course it was tiring for him to ride this way, so he always managed to recruit a girl to help him pedal. He would stand on one pedal, while she would stand on the other and off they went bobbing up and down alternately. I thought it was too much weight for the pedals and I would get unnecessarily upset every time I saw them do this. We, for the most part, rode in the courtyard of the apartment house. We both took very good care of the bike and it was stored in the apartment after each ride. It was on this bicycle that I pedaled down to the Balaton one day. A friend,

Bir

ó Gyuri

from the house accompanied me and it was a life-long experience.

As for the contents of the package, I don't remember everything but I do know that I was given some clothes, which I wore on a regular basis. I was the envy of all who saw me, for they knew the clothes were not Hungarian. I also remember a little plastic toy car that had a magnet in it. You set it on a table and using another magnet held in your hand, you could make it move by moving your hand over it. I also remember a much larger car, a police car with a blinking red light. It had
Sheriff
written on the side. Perhaps the only puzzling entity among the contents was a roll of alien-smelling
and –tasting round candy-like substance with a hole in each piece. A bunch of these were rolled up into a log-like package and the writing on the outside informed us that they were lifesavers. We looked up the word in the dictionary and to this day I cannot figure out why they were called that.

The news of pictures sent via waves through the air reached us one day. This was the first time I saw television. Actually,

all I saw was a lot of snow on a tiny screen but the 30-40 people who were there were in awe. Later on I became one of its biggest fans.

We went everywhere as a family. We visited family and friends and took trips to the mountains surrounding Budapest. In all the years growing up my father never went out with a friend. He didn't want to have any friends who were only his. His soldiers tried repeatedly to make contact with him but he always turned them down. My mother had friends come to the apartment but she never visited a friend by herself. If she went without my father, she took us with her. I don't think this was a mandated arrangement between them; it was just something they did. In the wintertime we went to the park, where there was a large hill, perfect for sledding. There was a ski slope on one of the mountains in Buda that I had the good fortune to ski down on a couple of occasion, using wooden skis and borrowed ski boots that were hiking boots in disguise. It was great! Once, after skiing I was supposed meet my parents at the Opera to see Verdi's Faust but I skied down the wrong slope and ended up in an unfamiliar area and took me a lot longer to get home. My mother was especially worried about my welfare as the temperature was -20 degrees Celsius. I met them at their seats after the performance started and I remember I fell asleep during the big scene when Orpheus is burning in hell.

As a child I didn't really notice that when the infrequent meat was served for a meal, my father always chose another helping of potatoes or rice instead. It wasn't until much later that I discovered that we didn't always have enough to serve everybody. I do however have many pleasant memories of having potatoes served hundreds of ways and I liked and

still like, them all.

My parents bought two plots of land south of Budapest by the Danube River. After I left Hungary the financial strain became even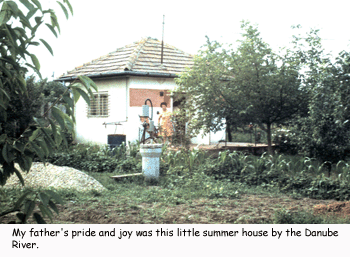 worse and reluctantly, they had to sell the second plot to have a tiny house built on the remaining one. This tiny plot of land became my father's pride and joy. The
Andrasofszky
sisters Olga and N
á
ti
had a summer house within walking distance, so it was very nice to be down there. Looking back, it wasn't really easy to get there but nobody seemed to mind it. We took a street car, a subway, a train, a bus, then walked for a couple of miles. Depending on what had to carried (clothes, food going and fruit, flowers coming home) the trip was varying degrees difficult.

Living in a city was a memorable experience for me. Any point within its limits was accessible by the more-than-reasonably-priced public transportation, whose only drawback was the number of people taking advantage. Riding in a taxi was a rare occasion, maybe a handful during

my short stay in Budapest. Even though there was a shortage of new items to be had, there was always a myriad of services available to fix anything that was broken. My mother didn't wear pants in all the years of living with her, but she always wore nylon stockings. Before the advent of pantyhose there were separate stockings for each leg, held up by a garter belt. Due to their manufacturing process they had seams, which were worn at the back of the legs and deemed to look most fashionable when centered on each leg and, of course, straight. Since we had no full-length mirror in the apartment, it was always my brother's and my job to make sure her stockings were straight. Despite wearing gloves when putting these stockings on and always being careful while wearing them, runs were a reality. Believe it or not, there was a business downtown which could fix these runs much cheaper than the replacement costs! I always imagined that person wearing Coke-bottle-bottomed glasses.

Hungary had no private bank check system in place (it still doesn't), so people got paid in cash. My mother kept the cash inside the linen cupboard in between some sheets. My father would always go to this "secret" place when he needed money. He didn't know and didn't care how the money got there, so long as it was there. Sometimes when there wasn't any there he seemed surprised and would announce to my mother that the cupboard was bare. Of course she knew this already. The arrangement between Mary and me is a lot like that. Coincidence? I think not!

My mother has always been a very psychic person. I remember playing with a Ouija board that someone had. One day my mother went to a psychic reading given by someone the next street over from ours. Months later she revealed that the lady told her that I would be living overseas.


---
Dömsöd

One of my father's soldiers lived in the village of Dömsöd, which is located south of Budapest, next to the Danube River. His name was
Krizsa
Lajos
.
Lajos
had served under my father and had invited our family to visit them once for a pig slaughter and subsequent pig roast. We went and became lifelong friends after that. The trip to this little village was a "big deal". As I've said somewhere else already, we always traveled together as a family. We would board a small ship in Budapest and enjoyed the trip down the Danube. We always had time to look at the ship's engines, to enjoy the scenery, and have a picnic on board. Of course the food was brought from home. After docking we walked the 2-3 mile trek to the
Krizsa
house.

I spent two of my best summer vacations of my life with them. I had made friends with their dogs, I went to the movie house next door, I drank raspberry juice with soda water (
málnaszörp
) in the bar they owned, I crawled under a huge raspberry bush and ate raspberries until I couldn't anymore, I ate poppy seeds from their garden and I thought I was going to die from constipation, it was like passing a fist-sized rock. We also visited them for grape harvest which was also great fun, being able to eat my fill of all different kinds of grapes was a treat I haven't enjoyed since. Of course eating all those grapes gave me diarrhea, so to counter that I at some quince, which has the opposite effect and the two offered a nice balance. Extra people were hired for the harvest, most of whom would cut the bunches of grape off the vine with scissors, collecting them in small containers. There were men, who would carry a wooden cask-like container (
puttony
) strapped to their backs, like backpacks. They walked the rows collecting the grapes from the cutters. Once their backpacks were full, they would head for the horse-drawn wagon, on which were two very large open casks. The grapes would be dumped and the procedure repeated. Once the open casks were full, it was time to head for home. Much like in that famous
I Love Lucy
episode, people with bare feet would get inside the casks and stomp the grapes. I had also done that and it was fun. The released juices were eventually put in casks in the cellar, to be turned into delicious wine. The grape harvest in general but the grape-stomping experience in particular, will always remain fresh in my mind. I can almost see the hundreds of bees and wasps gathering to partake in the sweetness.
Lajos bácsi also operated a gas station, which consisted of two manually operated gas pumps. It was probably identical to the early pumps in this country: It had two glass containers which were filled by operating the pump handle in between them. Once one was full, it emptied through a rubber hose and, if you kept pumping, the second glass container would fill up. Most of the cars driven in Hungary during this time had two-cycle engines, whose fuel had to have oil mixed with it. This was accomplished by mixing the two in a five-gallon (or so) container, which operated much like a butter-churner. Oftentimes I would help wait on customers and thought I was a big deal.
Lajos' brother, Balint, had a horse which was at least "middle-aged", named Tündér (Princess). On several of the trips back from the orchards and vineyards pulling a loaded cart, she would often pause. I asked him why doesn't he use the whip to get her to move. He said that she was just a little tired and after she rested a little, she would start again by herself. And it was always so. This was a life-lesson for me. Thank you, Tündér! Now as I am getting older, I know exactly how she felt!

Across the street was a movie house in which my brother and I had privileges that we thoroughly took advantage of. We could climb a long outside stairway to the projection booth and observe all the magical things that took place there. Once while my brother was climbing down, he lost his balance and took a tumble down the last 4-5 steps. Only his pride was hurt but he did manage to crush almost all of the cherries he was packing in his pockets. The red juice leaked through his pants and when our mother saw us, she thought it was blood. Once the truth was learned, much to my sick delight, I was happy that he was scolded.

My very first fishing experience took place in Domsod. It was wheat harvesting time on a tract of land by the Danube River. This was a physically brutal task, as it was all done by hand, using scythes and pitch forks. Before work started they threw in a couple of fishing lines connected to rods, propped them up by v-shaped branches stuck in the ground and put me in charge of watching them. All was well for a couple of hours but then I got bored and started to wonder away. Next thing I know the reel made a noise and by the time I looked over I saw the rod and reel being pulled into the water. I ran to ask for help and was told to take the bicycle and go home to fetch a large treble hook attached to some rope. On the way back I couldn't figure out a better place to carry it, so I hooked it over the handlebar and like a banshee pedaled back to the river. As I took a sharp corner my load shifted and ended up being wedged in between the front tire and the fork leg, causing the bike to come to an immediate stop. I was unceremoniously dumped over the handlebar but neither the bike, nor I were permanently injured, so after dislodging the treble hook I continued on my way with a little less vigor. The pole and reel were recovered soon afterwards but fishing left a bitter taste in my mouth and my next fishing experience was decades later.
Peter and I sitting on the ver

y

steps of the moviehouse he stumbled down.

Krizsa

Lajos

, my Mother,

Lajos

' sister-in-law,

Gyurka

, Kat

ó, Peter and I

The Pet

Å'

fi

tree was on the way to the

Krizsa

house and we always stopped

My love for picnicking probably originates from this era

I was ver

y

proud of m

y

self when I swam

to the other side

o

f the Danube River a few

y

ears after this picture was taken


The next chapter is:

The Revolution