The Second World War was looming on the horizon and when it became clear that Hungary was on the losing side my father was given an order to pack up the contents of our house and have the family move west. Only four days were given to complete the packing, so many things had to be left behind. The things that were packed were loaded into a railroad boxcar. We were to never see that house or the city of Kolozsvár (Cluj) again. I was five, my sister four, my mother 38 and my father 49 years old.
We were in Budapest, when the air raid sounded. The sound itself is enough to chill your blood but you also know what's coming. We were escorted to the basement of a large apartment house. Since these events were rather frequent in those days, the occupants of the house had their own little cubbyhole with blankets, some food and water, candles, etc. We found a place to huddle and waited for the bombs to fall. I was very scared but also very hungry and, looking back, pretty selfish, too. I asked my mother for something to eat. She gave me some food on a pottery plate and a tin spoon. I told her I wasn't going to eat it because I wanted my china plate and my silver spoon. I didn't settle down until my sister, at the age of 4, told me that this was wartime and we all had to make do with what we had. She was wise beyond her years: Some time later we were talking about the arrival of the baby. She said to my mother: "If it's a girl, we'll name her Irén. If it's a boy, you'll name him Péter."

Some months into the war it became clear that the war was going to be won by the Russians, so my father wanted the family to emigrate to the West. A bus was hired and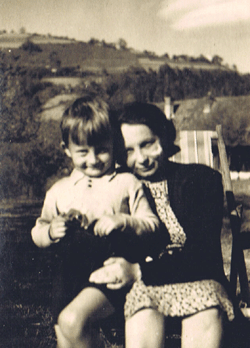 filled with families of officers. We had barely crossed the Austrian border, when a lookout soldier sitting on the fender of the bus notified the driver of a plane coming toward us. The driver stopped but an officer from inside the bus ordered him to go ahead. When we were moving again, the pilot of the plane apparently found it easier to spot us and he commenced to attack the bus. The driver stopped again, but it was too late. The pilot strafed us with his machine gun and as he passed over us I saw my sister's head split open by shrapnel. She died immediately, sitting next to me, while I remained unscathed. During that same sortie my mother was also injured by shrapnel and her whole head was covered in blood. At first she thought it was my sister's but it was her own. She almost lost an eye, when a piece of shrapnel entered her cheekbone just below the eye and exited through her neck. She ended up with lead poisoning and suffered for many months, with her life in the balance. She always thought it was a miracle she lived and that nothing happened to my future brother with whom she was very pregnant at the time. On July 31st, 1945, my brother, Péter was born.
The picture to the right was taken not long after she suffered her physical and mental injuries, as the bandage is covering her face. She said that for months afterwards her face resembled a puddle of water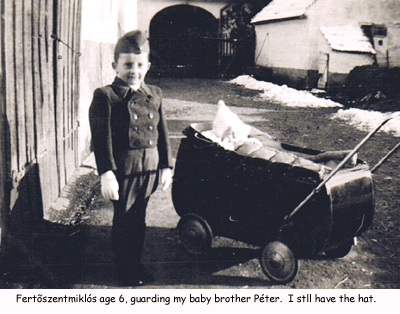 whose surface was barely frozen overnight. When touched, the surface would easily break and puss would ooze out from underneath.
My father found us in this condition. According to my mother, it was another miracle that he found us at all. All our valuables were contained in a little purse, which my mother discovered was missing. In all the turmoil of people stepping over us in the bus to try and exit, it just wasn't to be found. After we all left the bus, she said she was guided by an inner voice, which led her to one of the many bushes outside, at the base of which she felt around (she really couldn't see because of her injury) and the first thing she felt was the little purse. All its contents were in tact. God IS everywhere. Many sad days followed, during which we lost my paternal grandmother.
We wound up back in Hungary in the border village of
FertÅ'szentmiklós
, living with a family of peasants/farmers. This is where my brother was born, whom my sister named
Péter
. It was the summer of 1945. The valuables we managed to save thus far were buried in the ground close to the considerably-sized pile of manure and household garbage in the back courtyard. This site was selected for its formidable smell, hoping to avert those with prying shovels. The idea worked because after the war those valuables were successfully resurrected from their burial plots.


---
The Dark Days Continue
My father by this time was captured by the Russians, becoming a prisoner of war. He was 47 years old with chronic painful back problems and was suffering with his stomach as well. He and others were made to walk for many miles and for many days toward East. The Russian soldiers in charge of them were rather lax, so some prisoners escaped. This didn't seem to bother the Russian soldiers, who cared only about numbers: Numbers of prisoners. Whenever they were short, they rounded up as many civilians to make the numbers come out right. My mother and her father caught up with my father once during this trip. They bribed a Russian soldier with some cigarettes to let them talk with my father. This story he told them describes my father's naïveté accurately: He always kept his cigarettes in a silver case. When one of the Russian soldiers asked him for a cigarette, he took the case out of his pocket, opened it and politely offered the Russian the case. A refined person would've taken a cigarette but the soldier took the whole case with the cigarettes. My father always looked for the good in people and assumed that everybody else was like him. Since he didn't steal, it was natural for him to assume that nobody else would. This innocence would get him into trouble yet another time about which I'll write at a later time.

It was during this visit that it was learned that my father could gain his freedom for a bottle of booze. My parents immediately decided against it, because they knew that as soon as the number was too low at the next roll-call, the Russians would just capture a local man to fill the quota. My parents could not sleep nights knowing that an innocent civilian would suffer in my father's place. He was a soldier ready to pay the consequences.

After walking for many days toward the eventual country of his imprisonment – the Soviet Union – he was shipped by boxcar to Siberia. He never knew of my brother's birth. We didn't learn of his fate for many agonizing months. He spent the next three and a half years in different prison camps. These must have been very dark days, for he hardly ever talked about them to me. He wrote many letters to my mother sitting in those boxcars and then slipped them through the cracks to let them fall on the ground. It's hard to believe but some of them actually found their way to my mother. Apparently they were found by some kind people, who sent them to my mother's address. I still have a handful among my treasures. Life in the prison camps was brutal. There was never enough to eat. The nationally of prisoners, who suffered the most from this were the Italians. He didn't know why. When a prison-mate died, the others tried to conceal that fact from the guards, just so that the dead person's rations could be eaten by those who were still alive. These deaths could be concealed for weeks because it was so cold that the dead body would not smell. There were only two positive aspects of this prison life: The bunks had minimal padding, which cured my father's chronic backaches and the constant diet of potatoes cured his stomach ulcers.

During this period he befriended a man named Nagy Géza, who – according to my father – saved his life by eating the mushrooms Nagy Géza picked for them. They would remain friends for the rest of their lives. As a side-note, Nagy Géza was a personal friend of the very famous artist and painter Benyovszky István (1898-1969). This artist was well known for his love of horses, for most of his artwork depicted them. The artist gave Nagy Géza an album containing some personal photos, as well as many of his paintings. Nagy Géza promised for years to give me this album and – shortly before his passing – did so. He always exhibited a great lust for life and was in his nineties when he died after less than nice treatment from his nephews.

As an officer, my father didn't have to perform manual labor, which probably saved his life. To keep his sanity, he took up carving. He made his own tools from scrap metal and used bones he took away from the prison dogs to carve more than a hundred memorabilia. Some were simple, but others, like the travel chess board he made using the bone and some wood for the white and dark squares of the board. It is hinged in the middle and the underside storage holding the chess pieces are lined with part of his uniform. Each square has a hole in the

middle and each piece had a peg on the bottom that fits into the hole. It is quite intricate. There was a clasp to hold the two halves together, when folded and somehow over the years it broke. Many years after coming back from Siberia, he gave me the chessboard. I asked him to carve another clasp for me. He tried a few times, then gave up saying he had no patience for it. He was able to bring these priceless relics home with him. I will have these for the rest of my life. There is also a silver spoon with which he ate during this time and whose tip is visibly worn from scraping the bottom of the dish to get the last drop of soup, the last morsel of food.

I remember being in the city of Sopron, looking for relatives. The city was in ruins from the bombings and there was a stench covering the whole area. The currency of Hungary was so bad due to inflation that after a while it had no buying power at all. My mother's sister, Kató went immediately to the market after being paid (they were paid in cash in those days and for many years thereafter) and spent every bit of it, for it would be worth less the next day. I had to go to the bathroom, so my mother took me behind the bushes. After I finished she wiped my behind with several of the paper bills, saying that at least she put those few bills to good use. I have some of the un-soiled currency from that time:
The members of the peasant family we lived with were extremely kind to us. They supplied us with some free food and board. They fussed over me and especially my baby brother. Once, when they found out that I liked cream of wheat and that I didn't have it for months because of the ongoing war, the woman of the house fixed me a large pot of it. Unfortunately she used way too much salt (and I liked it with lots of sugar), so I didn't enjoy it much, but I did eat it.
It was on this farm that I got my training on how to clean the barn. I was told by the owners that I was as good as anybody my age born on a farm. To this day the smell of cow or horse manure brings those nice memories back for me. I spent many hours cleaning the stalls in the barn and became very proficient, much to the wonder of the farmer family. I learned to ride a horse and to drive a horse-drawn wagon.
I remember seeing the Russians use a weapon nicknamed "Stalin candles", named after the ruthless dictator of Russia at the time, Joseph Stalin. They were rockets held in a magazine, fired in rapid succession, lighting up the night sky. It was a beautiful sight to me, not realizing that they would kill many people where they landed. I also remember the American bombers flying overhead, dropping their load in a methodical fashion, dropping so many that we called it "carpet bombing".

By this time the Russians had occupied the country and quickly made themselves feel at home. When they saw that my mother was without her husband, they wanted to "move in". My mother was a physically small person but her heart and courage more than made up for it. She promptly declared that no Russian was going to sleep in the house. If they needed a place to sleep, they could sleep in the barn. She threatened to go to the authorities if they didn't leave immediately. They saw that she was serious and they left. It was only after they were out of sight, that she started to tremble and it was then that she discovered that she was winding her gold watch during this conversation and over-wound the spring and broke it. My wife Mary has that watch now.

On another occasion a group of Russians came to the house and they demanded we give them all the chairs we had in the house for some meeting they were to have. My mother refused, saying: "After the meeting you're going to throw all my chairs in a heap outside the meeting building and then I'll have to repair the broken ones and bring them home myself. No, you can't have them." The soldiers were speaking in Russian and sign language and my mother could only speak Hungarian but they understood each other perfectly. Then a Russian officer stepped forward and said in perfect Hungarian: "Madam, I will personally be responsible for your chairs and I'll make sure they are brought back to you. Please let us borrow your chairs." My mother agreed. After the meeting everybody else's chairs were thrown in a pile outside the building but ours were brought back in perfect shape.

I always loved dogs. There was one at the house we lived in that had bitten several people. Its owners had warned me to stay away from it, which I ignored and before too long, the dog and I became inseparable. He was my constant companion. When I saw how dirty he was I decided he needed a bath, so, barefoot, I waded into the water of the little pond in front of the house and using a bar of soap I gave him a bath. I was very lucky that I never got cut, because we found out later that the water was full broken glass, rusted metal and all kinds of other garbage.

One day the skies turned almost total black and a great storm hit the little village. Hail fell from the skies the size of golf balls. It was, and still is, the worst storm I've ever witnessed. There was a little pond in front of the house we lived and it was always full of ducks and geese, swimming and bathing happily. The storm killed them all.

There was a pot-bellied, wood-burning stove in the room. During one winter I was playing by twirling around my axis. Naturally, I became dizzy and fell against the stove, leaving marks on my right arm for the rest of my life.
Once I angered my mother and for punishment, she tied me very loosely to a post in the courtyard with a piece of leather and told me to stay there until she returned. I stood and stood and stood there, waiting for her to come back. From fidgeting the leather fell off me and laid at my feet. The farmer family tried to persuade me to go into the house and get something to eat or drink but I refused, saying that I had to do what my mother said. When she finally came home, we went through the routine: I had to apologize, promise to not do it again, then she kissed and we hugged and all was fine.
My mother's oldest sister,
Manci
, lived in Budapest with her husband and three children.
Lehel
Victor was her husband and he worked for the
Mávag
factory across the street from the apartment house they lived in. He was an engineer in an executive position at the factory, a position that took him on some exotic trips around the world. One of those was to India, from where he brought back a pith helmet and an intricately carved cigarette box. He said the box had belonged to an Indian, whom he visited in his house. He admired the box and, according to custom, the Indian gave him the box. The apartment house the
Lehel
family lived in was built for the white-collar employees of the factory. It is a five-story building laid out in the shape of a letter U. There are approximately 90 apartments in the building. There was a doorman at the front entrance and there was red carpeting covering the stairs. All ceilings are twelve foot high. They were packing up their belongings and legally immigrating to England. I think the year was 1947. The plan was to move into their apartment after they left.

We moved to Budapest and lived with my mother's parents (
Saly
István
and
Hajdu
Erzsébet
), sister
Kató
and her husband,
Gyurka
. It was a small apartment but we all managed to fit. The grandparents slept in a room, my aunt and uncle in another and the three of us slept on two couches in the dining room. There were never any arguments, raised voices or disagreements of any kind. We HAD to get along, there were no other choices. I loved my relatives very much. My grandmother spoiled my brother and me and we could sweet-talk
Kató
into many things.
Kató
worked in an apothecary and
Gyurka
was an office worker. They had no children.

During this time the inflation of the Hungarian currency was rampant. It was spiraling out of control so fast that
Kató
was telling us years after, that as soon as she got paid, she went to the open-air market on
Teleki
tér
and spent as much of it as she could because by the next paycheck the buying power of the same amount of money would be considerably less.


My mother never had to work while we were living in
Erdély
(Transylvania). She felt bad because she couldn't contribute monetarily to the household. She thought she would sell something of ours. She had some light bulbs from
Erdély
, so she decided to take those to a permanent flea market on
Teleki
tér
. Knowing her background you might imagine how she must have felt standing there with all the other unfortunate people, trying to peddle her bulbs. She had been standing there for

many hours without a second glance from passersby, when a very "simpatico" and sympathetic, well dressed man stopped in front of her. He asked her why she was selling the light bulbs. She broke down and told him the reason. He told her that she won't be able to sell the light bulbs because they were the wrong voltage. They were 110 Volts and the voltage in Budapest was 220. She was on the verge of crying, when he told her that he would buy them from her and if she had any more at home, he would be willing to buy those from her as well the next day. She was at the same spot the next day, not really expecting him to show up but he came, keeping his promise. My mother was convinced that the man had no use for the light bulbs but took pity on her and wanted to help her. He certainly did.

I have many nice memories from this time. Here are a few: I was told to take a bath. I filled the tub enough that I could be completely under water, except for my nostrils. I was playing like that being completely still, just breathing through my nose, when I felt someone grab my arm and yanked me out of the water. It was my aunt and there was fear in her eyes. She saw me floating with my hair all spread out and thought I was dead. When I opened my eyes and started laughing, she hauled off and gave me such a slap on my face, I never did it again.

My parents and grandfather, Aunt and uncle were all avid bridge players. Every Thursday night there was a bridge party right after dinner. Other relatives showed up, usually filling up two tables and the bidding was fierce.

My uncle
Gyurka
had a record player. We didn't. I remember listening to classical music on old 78 records, of the need to change the needle in the pickup arm and the
His Master's Voice
emblem on some of the records. I think it ironic that I wound up working for RCA, where in Camden, New Jersey, a huge picture of Nipper, the dog depicted in
His Master's Voice
was hanging on the side of a building. I worked in Camden for about a month while the brand new building 207 was being finished in Cherry Hill. It was on this very same record player on which we played the records of English language lessons.
Telephone book
and
easy chair
are two names of items I learned during that time.

My grandfather and I loved each other. He would often take a nap in the afternoon, a lot of the time with me sitting on his lap. It was hard sitting still waiting for him to wake up, but I did it. He shaved his head every day. He used to be a locomotive engineer. His test to pass for this position was to make an equal-side triangle from a multi-centimeter-thick metal to fit inside an opening in another piece of thick steel, so that, if held up to light, no light could be seen anywhere along the outline of the triangle.

There were some not-so-nice memories: I tried to cut the electric wire to a lamp with a pair scissors once. Only once. My grandmother suffered a stroke in her bed one day. Shortly after that she died and became the first dead person I was to see in a coffin.

Once, my aunt,
Kató
, was boiling some water in a large pot in the kitchen one sad day. She wasn't ready for the boiling water yet, so she thought she would add some cold water to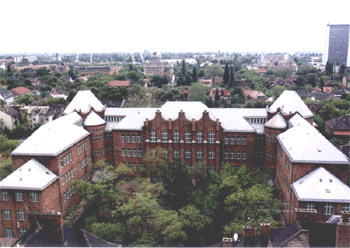 delay the boiling some. Instead of water, though, she grabbed a

container of pure alcohol, there for another reason. When the alcohol hit the hot water it exploded all over her. Luckily, it avoided her face but got her chest very badly. The alcohol was still burning when she ran in from the kitchen to where we were and had the sense to throw herself on the ground and roll up in a throw rug. That saved her life. I remember her agonizing cries and moans in pain. Luckily, the injuries did not change her personality and she remained the carefree, bubbling person she always seemed to be.

The
Lehels
left for England and we moved in. They left some furniture behind, which we gratefully accepted. The apartment was large and spacious, albeit very cold in the wintertime. There were three large rooms in which we could
sleep, two with wood-burning stoves, one with a coal burning stove. The kitchen, bathroom and water closet were unheated. There was also a maid's room, which was also not
heatable
. There was no central hot water, so a fire had to be made in boiler before one could take a bath. There was also a large, enclosed loggia, which was totally unusable in winters. But it was ours. I was very happy.
The windows faced the street on one side and an unused driveway on the other. The 23 streetcar traversed the entire length of Vajda Péter utca (which was called Simor utca before communism) and my grandparents' apartment was two blocks from us. The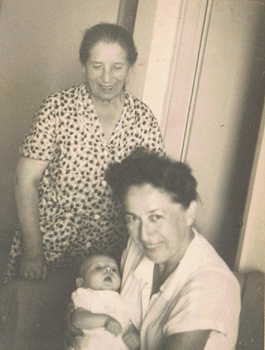 grade school I attended was in the next block. The church my parents were married in was a fifteen-minute walk we made on most Sundays. Money was very scarce during this time. If it weren't for a lovable Jewish lady named Fánika, our fate might have been different. She always had money and often treated us kids with food and candy and was eager to lend my mother money whenever she needed it. When our money came every month, my mother would pay her and oftentimes was back very soon borrowing some again. Despite these monetary problems I never considered these years as bad. Of course, the duty of providing for the family didn't rest on my shoulders. In looking back at all these events my parents went through, shielding us children from most of them, I often wonder whether I would've been strong enough to weather the war and its aftermath, losing 4 of 5 children, losing most of my worldly possessions, etc. and still keep my sanity. The immediate answer is "I hope so"; the philosophical answer is "Underneath, I know I would be strong enough!" but the religious answer is "I hope to God I won't ever have to find out!".

One day the doorbell rang. Some people came from the government and they wanted to look at the apartment. In those days you had no choice, so in they came. After the inspection and measurements, it was announced that the apartment was too big for the number of people living there and that they would be back with a decision of who was going to move in with us. My mother didn't hesitate to pick a couple on her own to
sublet the apartment to. She wanted someone trustworthy, so upon her sister Kató's recommendation, Németh Miklós and his wife, Sári néni, moved in with us. They were both pharmacists and worked with Kató. They were in their early thirties at the time. They became life-long friends and lived in that room until they retired and moved to Pécs.
During the Lent season no meat could be consumed, so the food of choice was always fish. A live fish was chosen from a large tank at the outdoor market. It would always survive the trip home, after which it was deposited in the bathtub filled with water. The damned pre-historic carp was happily swimming around until it was time to slaughter it. I could never eat it while growing up. Stories of people dying because a bone got stuck in their throat didn't help matters. This was the only food that I was allowed not to eat. I refuse to eat it even now. Tuna fish and shrimp are the exception. I guess I also agree with W. C. Fields, one of my favorite comedians, who said that he never drank water because of all the disgusting things fish did in it.

Despite the fact that the kitchen was 25-30 feet from the "living room" we always ate together at a table set up in the room in which my mother, brother and I slept. We crossed ourselves, Catholic-style and said a prayer to thank the Lord for our food. We were expected to clean up our plates, so we only asked for a portion large enough. There was always soup served and to this day I miss my mother's soups made fresh for each meal. My favorites were green pea, tomato, and chicken soup made from the heart, gizzards and liver of the chicken. The legs were always in there swimming around but I don't think I ever tried them. Her egg drop soup was always delicious.

After the meal we thanked our parents for the meal and excused ourselves from the table. It was this way for every meal.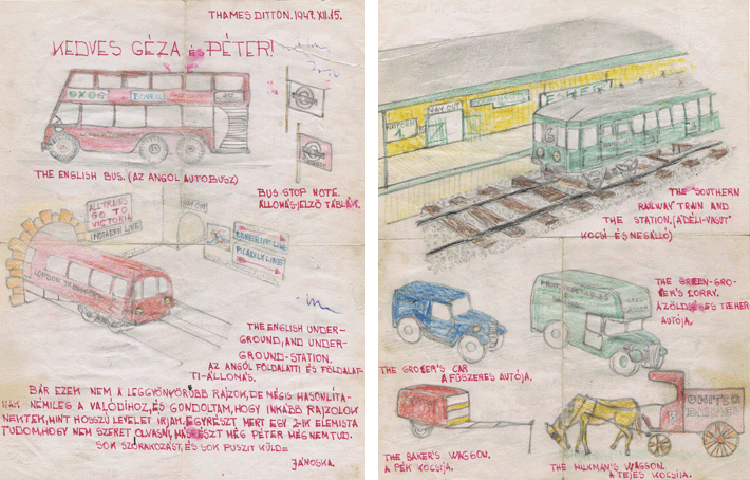 My cousin
Lehel
J
á
nos
sent my brother and me this wonderful hand-drawn, multi-lingual illustration of London life shortly after they emigrated to England.
---
The next chapter is:
God Brings My Father Home