Last updated in November 2011
We, Mary and Géza Ginzery, celebrated, in 2008, our 40th wedding anniversary and the 50th anniversary of my being in this country. We decided to give each other a unique gift for this wonderful occasion: A sidecar rig in which to journey across the country with no specific ending point in mind. Thanks to friends, the Internet, the Discovery Channel, and my beloved Garmin GPS we did have some points of interest along the way. We wanted to see as many National Parks, attend as many motorcycle rallies (both BMW and Moto Guzzi), visit as many motorcycle dealerships (Kawasaki, BMW and Moto Guzzi), and visit as many relatives and friends as possible. We had no time limitations for the trip.


For a little background, let me tell you that I was born and raised in Hungary. During and after World War II not many people could afford cars, so most of the vehicles on the road were motorcycles. A few of those were BMWs. Back in those days they only came in black. The people who had families drove BMWs with sidecars, so that is why I wanted one for years but Mary always objected, refusing to sit in one, "looking like a dork".

Over the years we managed to collect a few motorcycles. As of now we have the following: a 1994 BMW K1100LT with matching Bushtec cargo trailer, a 2000 Triumph Sprint ST, a 2001 Kawasaki Vulcan 500, a 2003 Suzuki Burgman 400, a 2005 MV Agusta F4 S1000, a 2007 Moto Guzzi Norge and a 2008 Kawasaki Concours 14 with a Hannigan 2+2 sidecar. We are members of the BMW Motorcycle Owners of America (BMWMOA), the Moto Guzzi National Owners Club (MGNOC), the United Sidecar Club (USAC) and the Concours Owners Group (COG) motorcycle clubs.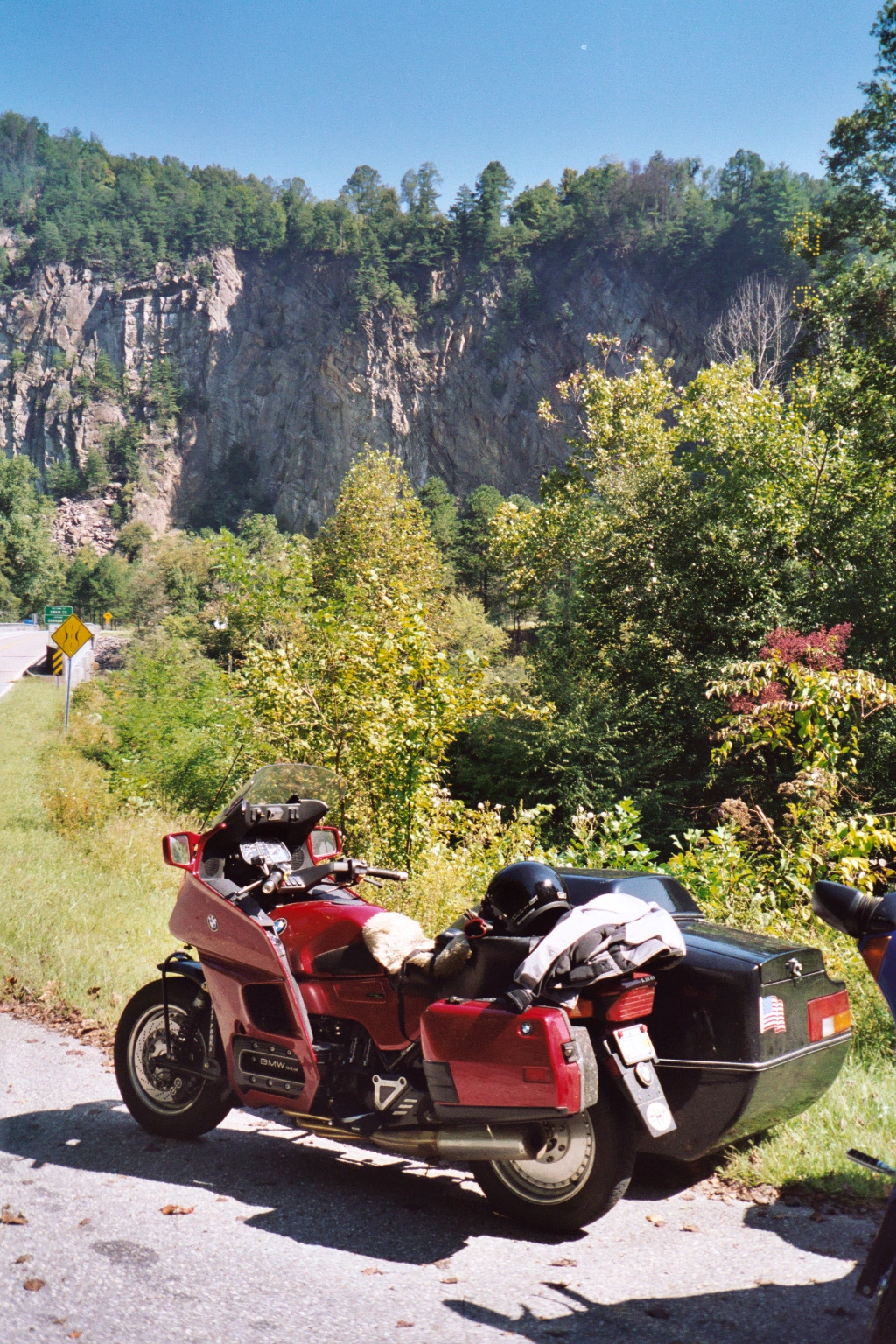 Somewhere on the BRP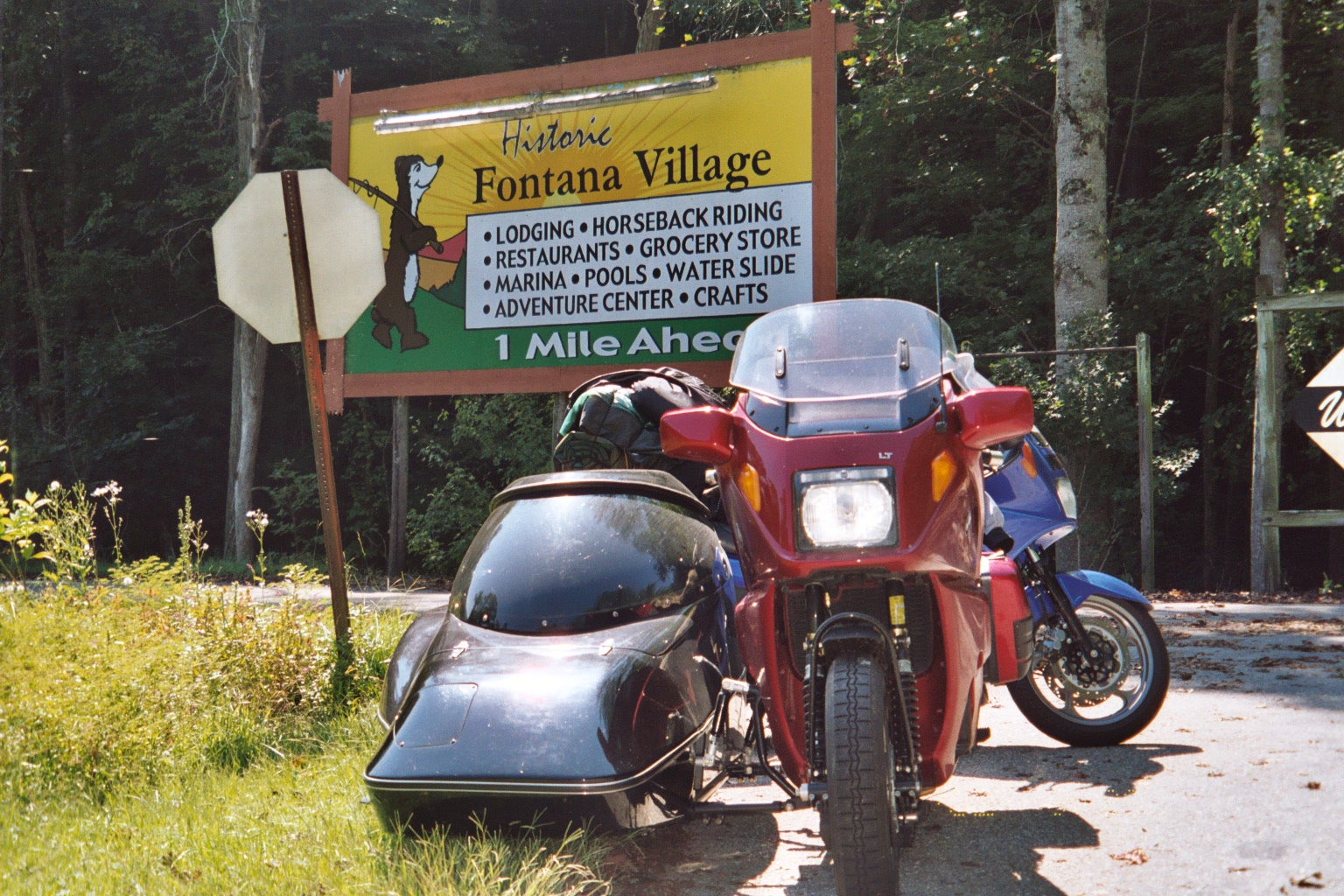 Close to Fontana Village and the Dragon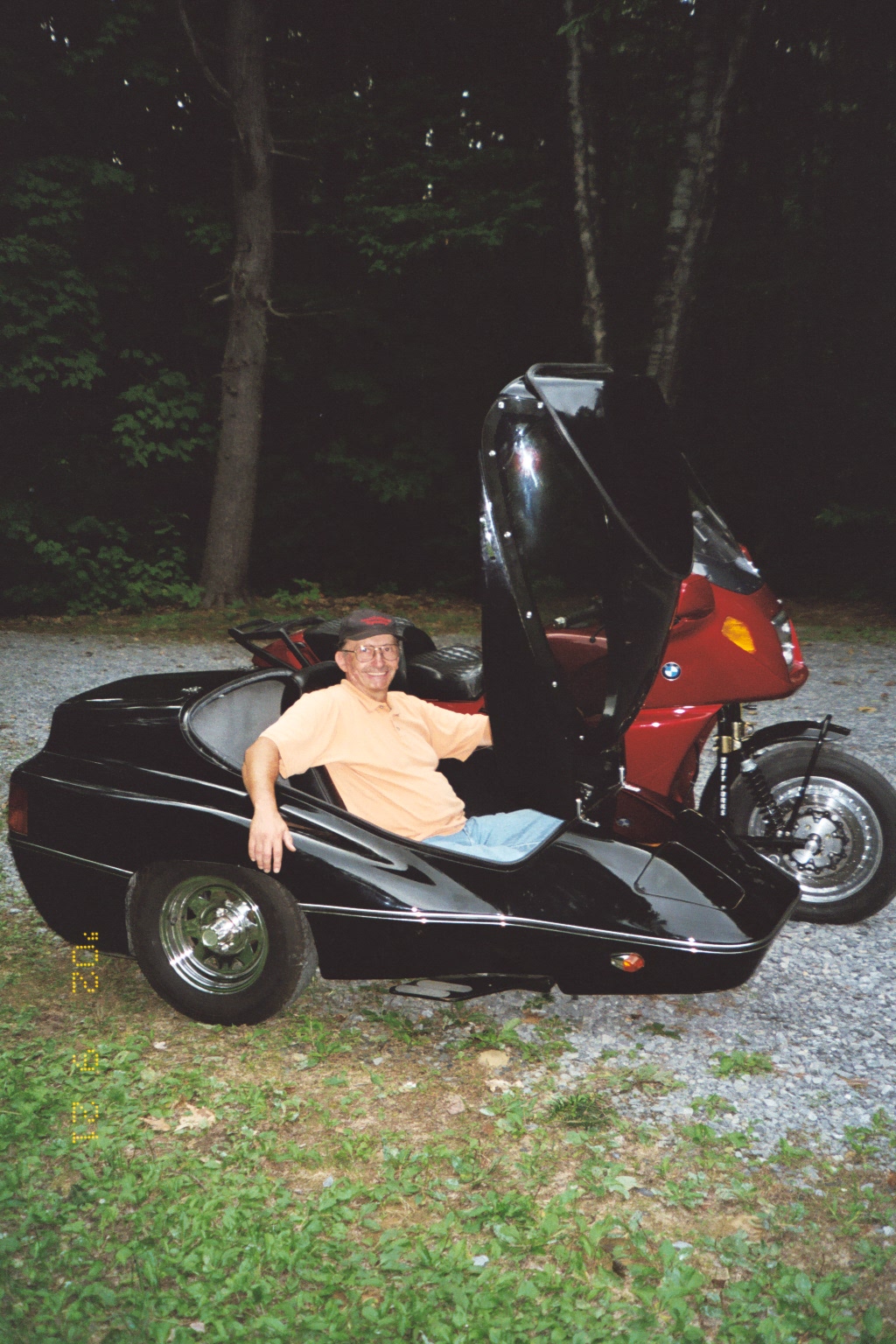 We just brought the new rig home from Heid's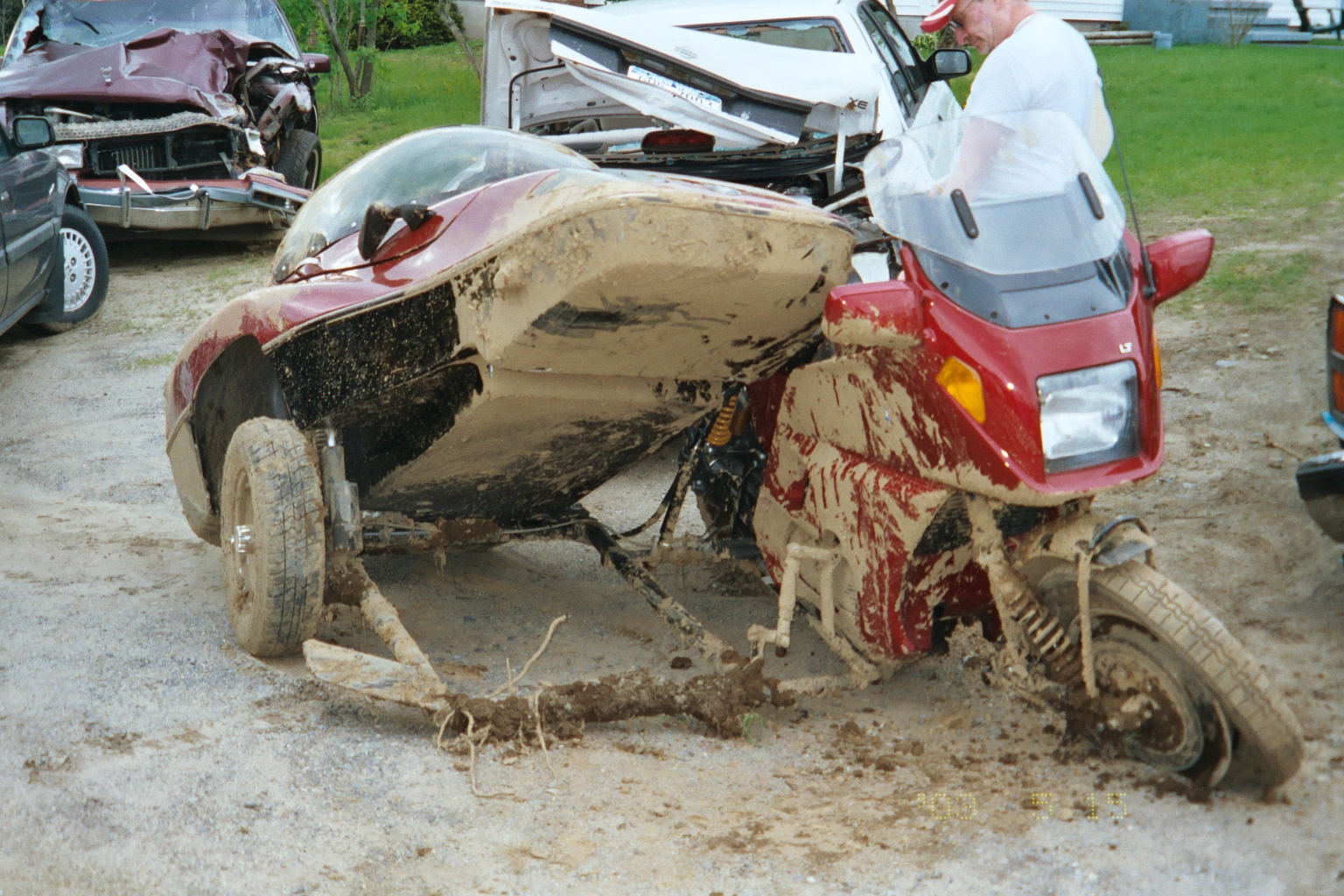 After the accident
I should also tell you at this point that this was to be our third sidecar. The previous two had also been Hannigans, the first bought used from a dealer in St. Louis and installed by Heid's in the Adirondacks. I really enjoyed researching on the Internet, looking for the perfect solutions. Once these were found, bought and imported all was assembled at Heid's by father Bill and son, Paul. I was called when it was ready and I made the trek with Mary on a Saturday to bring it home. This was my first sidecar "drive" (you "drive" a sidecar rig and "ride" a motorcycle) and it only lasted a few very scary minutes. I hated it. I wasn't even going to drive it home. I was going to sell it on e-bay that day. But then I remembered that I had plans with my friend, Steve to meet him in Pennsylvania in two days, spend the night at his house and then continue down to Tennessee via the Blue Ridge Parkway. I reluctantly and cautiously started for home. I forgot that my speedometer was now inaccurate because the motorcycle's round tires were changed to car-type flat tires of a much smaller circumference. The motorcycle was a 1994 BMW K1100LT and its front end now was an Earles-type leading link suspension manufactured in England. The way home consisted only of two-lane roads with very little traffic and before too soon my confidence started to increase. At the same time, though, my shoulder muscles started to ache, so I pulled into a rest stop and was about to brag to Mary about how well I was doing when she indignantly wanted to know why I was driving so slowly. With that my confidence plummeted into the abyss again, as we continued our way home, trying to drive a little faster.

There is a happy ending: We made it home, although not in record time and I did meet Steve in Pennsylvania and we did go down to Tennessee and had a great time. During the entire trip I only lifted the sidecar's wheel once while going around a switchback somewhere in North Carolina, despite the enormous load I was carrying, what with tent, sleeping bag, camp stove, etc.

Since the sidecar's color didn't match the motorcycle's, a few months later I decided to have it painted. We went to pick it up on a beautiful spring day and on the way home I was thinking ahead of how I was going to take pictures of the rig when I got home. I had less than ten miles to go home, when about two miles from home I was making my way around a sharp right-hander, probably too fast, the sidecar lifted and I panicked and did NOTHING, ending up in the ditch, totaling the rig. I had a fractured elbow but I learned a lot from that accident.

The second rig was advertised by someone in Florida and was a Hannigan Sport hooked to a BMW K75. Mary and I drove down to the Tallahassee area and I drove the rig home. It, too, had a leading link front suspension, identical to our first. The "missing" cylinder was noticeable, when going up-hill. It served us well for the two-plus years of ownership. Winter was about half over in 2008 when I saw an ad placed by someone looking for a Hannigan sidecar rig. After talking with the man and exchanging pictures and facts of the rig, a deal was struck and he drove up from Texas to haul his new sidecar back home. We were both happy.
Then I fell in love with a sidecar rig we saw at the Americade motorcycle rally in Lake George, NY in 2007. It was the model Hannigan calls the High–Performance Sidecar (HPS) model and one look tells you why. It looked low and menacing and you just knew it could fly up hills with no problem. The front suspension was called center hub steering. This was the latest and hottest sidecar suspension set-up. This is how it was explained by someone whose rig had center hub steering: Leading link suspension is 100% better than forks and center hub steering is 100% better than leading link suspension.


This Hannigan sidecar was low and wide, with three 195/50R15 tires and was hooked to a Kawasaki Ninja, a sport bike with chain drive and low handlebars, a setup I was not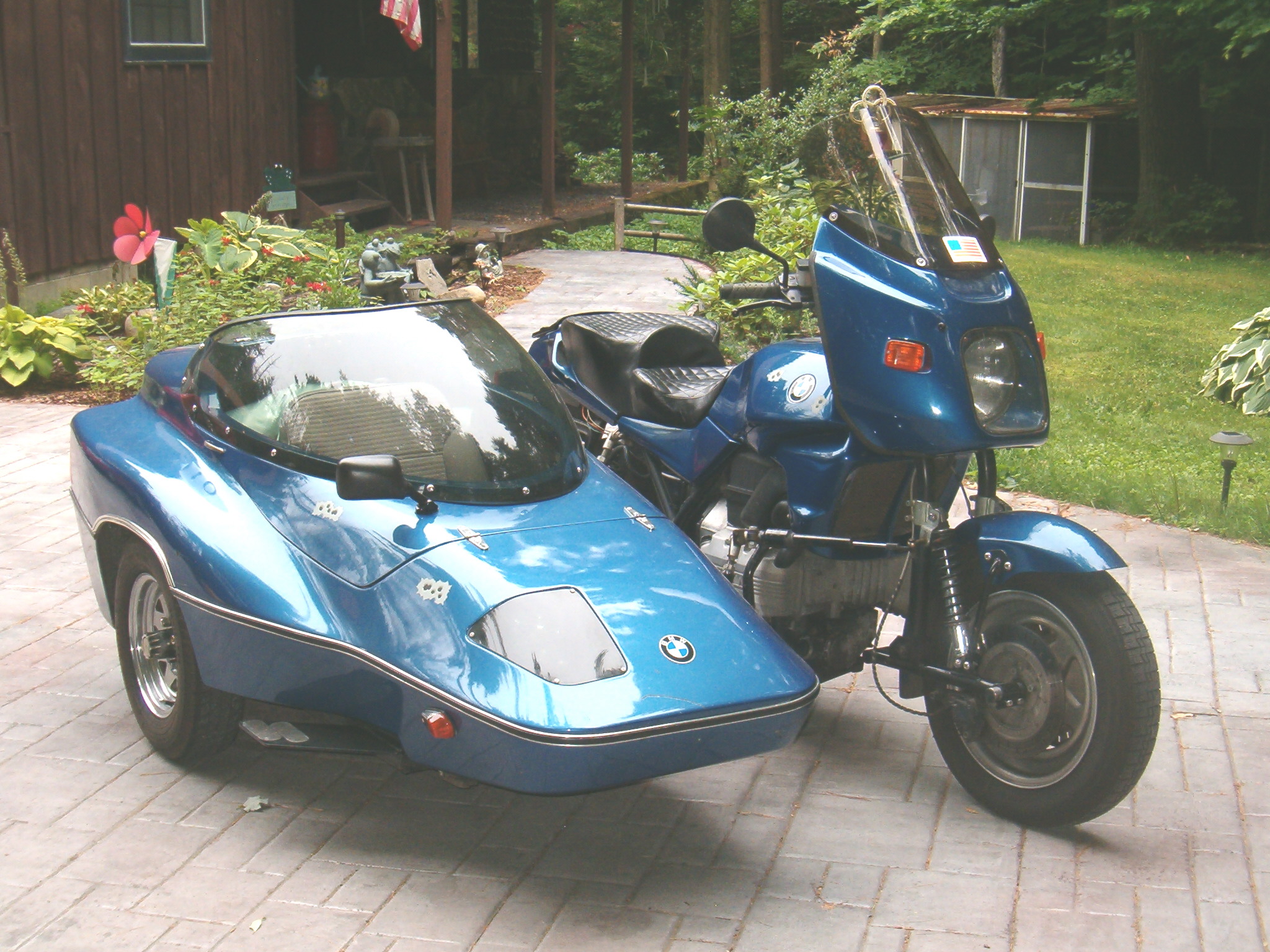 The new rig in our driveway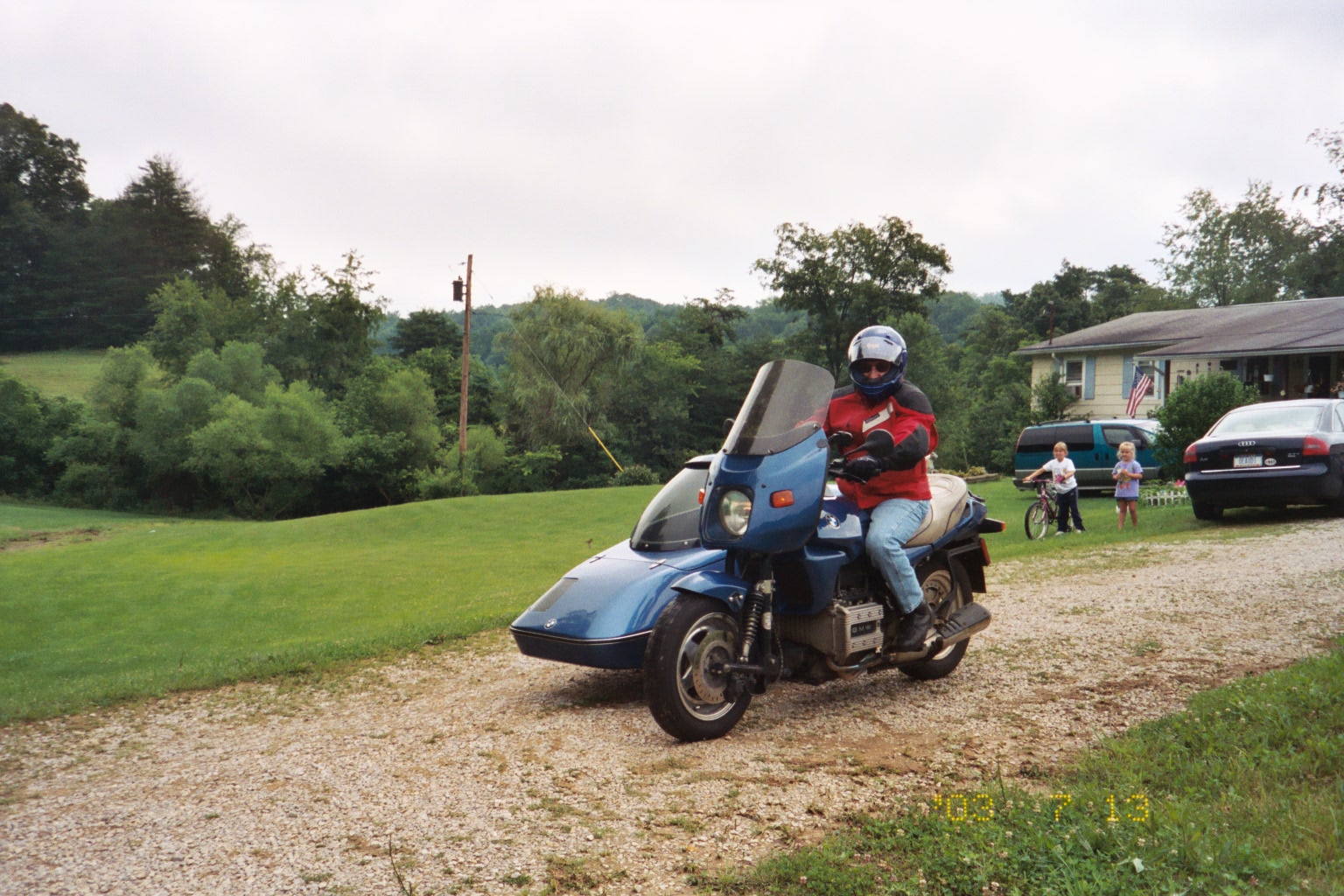 We're going for a ride with West Virginia relatives.
interested in. I wanted to go cross-country. I was elated to learn that this sidecar would be available with the then-new Kawasaki Concours later that year, a motorcycle with shaft drive and a much friendlier, upright riding position. Much dreaming took place from then until I was able to purchase the first Concours the neighborhood Kawasaki dealer received. I liked the way the sidecar looked but it didn't have a large enough trunk and it didn't have something that we've gotten used to and spoiled by: a top. In addition to weather protection, it also offers additional security to lock up things carried in the passenger compartment. A few phone calls later we decided that a Hannigan model called 2+2 would be just what we needed to accommodate our needs for the upcoming trip. It has an enormous trunk, a top and two children can comfortably sit side-by-side in the large seat. It was only later that I discovered that it was seven feet wide!

In September of 2007 a 2008 Kawasaki Concours 14 was purchased. For the rest of that year I thoroughly enjoyed riding it as a solo bike. It is a very powerful motorcycle with 153 HP at the rear wheel but it's also very friendly and is willing to be ridden/driven in any style. It is docile until the revs reach a certain point, after which you better hang on to the handlebar because it is going to try to rip it out of your hands. I almost didn't want to give it up to have the sidecar mated to it. There was a serious issue with the motorcycle: It has a level of security above and beyond traditional motorcycle fork lock and imbedded chip in key. It has a "fob" which houses a spare key and a battery-operated transponder, which must be within a few feet of the bike for it to be started. With the ignition key in place and the fob in close proximity, the ignition key is depressed, which causes a symbol to appear on the LCD display. It is only after this that the ignition key can be turned to the "ON" position and the starting procedure completed by pressing the starter button. The life of the battery in the fob is about three years.


Once in the garage I pushed the ignition key down and nothing happened. I quickly pushed it again and I was able to start the bike. I never really knew whether I pushed the key all the way down or just partially and that is why it didn't activate the fob and it was always in the back of head. Then this May heading home from having the first oil change performed by the dealer I stopped at a little park next to the Hudson River to enjoy the scenery. A few minutes later I got dressed and mounted the bike. I pushed the ignition key down and nothing happened. I pushed again and again and again,.. still nothing. I undressed and pondered my predicament. I had no cell phone with me but it probably wouldn't work anyway in such a remote area. About fifteen minutes passed before I was able to start the bike and made it home. This was on a Friday afternoon and we were to leave for Kentucky in two days. That day was an absolutely miserable day. I was on the Concourse, Mary in a yellow Honda S2000. It was raining steadily and the temperatures were in the low 40s. It was difficult to see but Mary, as usual, was a trooper and kept up with me, albeit not without complaints. I didn't want to shut the bike down during gas stops. Finally, after driving all day, we made it to near Pittsburg and stayed with our son for the night.


The next day we were suited up and ready to go, when the bike wouldn't start again. I was sweating profusely under the layers of clothing when it finally started. Again, I didn't want to shut it down but we couldn't make it all the way to our destination and had to shut it down while we stayed in a motel. The next morning it started fine.


We
arrived at
Hannigan Motorsports
in Murray
, Kentucky in the morning and dropped off the bike. We checked into a motel and were going to have a week-long vacation in Kentucky and Tennessee, waiting for the sidecar to be mounted. We had a great time for four days, until a phone call from Hannigan's informed us that they couldn't get the bike started. We headed back to Murray the next day to find that the local Kawasaki dealer
was now informed of the problem. We were very fortuitous because a few hours later a fix was faxed from Kawasaki, which was performed by the technician installing the sidecar and all appeared to be fine. That fix, by the way, was to break or file off a little piece of metal visible through a small crack around the housing of the ignition key, preventing contact. All of us were elated that the installation of the sidecar could now commence once again and I enjoyed observing. I appreciated having a free run of the Hannigan facilities.

A day and a half later the rig was finished. It looked beautiful. We piled the original tires and rims and other parts taken off the bike into the sidecar and headed for home. It was a memorable trip. We ran into a really nasty rainstorm, fully testing the handling of both the sidecar's and the Honda's wide tires, not to mention my riding gear. Luckily that was only for one day, the rest was very enjoyable. The sidecar drew a lot of attention. So much, that Mary's nose was a little out of joint because people were ogling me more than her in a bright yellow two-seater with the top down. Men in pickup trucks were especially blatant in their staring; often hanging in my blind spot for long periods before pulling ahead to check out the front suspension, then pulling ahead some more to check out the front of the sidecar, to see if someone was in it. Most gave me a thumbs-up, grinning from ear to ear. They couldn't tell, but I had the same expression on my face. Several people pointed their telephone at me, taking pictures.


We visited some relatives in West Virginia on the way home and while I was in a gas station talking with someone about the sidecar, I witnessed a stupid guy drive into and out of a ditch pulling into the gas station because he was so distracted by the sidecar.


These items were bought and installed in preparation for the trip:
•

To compensate for the lack of speedometer accuracy an electronic device called

SpeedoHealer

is now installed.

•

I also had heated handgrips installed, as these were not available from the factory.

•

In addition to the standard cigarette lighter outlet, a BMW outlet was also installed to accommodate my electric riding gear.

•

A larger windshield was also warranted for the long trip, as the standard one is too short, even for me.
Here is the finished rig parked in our driveway after the trip home: