06/03/2009
Starting odometer reading is 20,263

We drove down to Cherry Hill, New Jersey and had dinner with Donna and David in a nice Italian restaurant. They left the following morning for West Virginia to visit friends and Donna's horse, Anika. I brought down my Guitar Hero for Donna and left written instructions for her to try and play together with David.
06/04/2009
Don quickly replaced the rear brake pads for the bike and, as usual, wouldn't take any money for it.
06/05/2009
Tonight was the 20th reunion after closing the Cherry Hill RCA facilities. It was held at Maggiano's Little Italy restaurant at the Cherry Hill Mall. The turnout was nice and we got to see and talk with people we haven't seen in many years. Bill and Sue Potter were there and neither had changed at all. Sue Johnson still looks the same as ever. Marylou O'Brian writes Assembly code! It was nice talking with Marilyn Zonis, who is a little hard of hearing now. The Walps were also there along with Mike Turley, who asked for Maria's e-mail address. Carol and Frank Ross were also present. Frank had both his knees replaced and their daughter is graduating high school this month. Bill Ramirez did come with his wife Cindy and we made plans to get together for the future. Al Hazell was also there and he said he was going to join us for dinner but unfortunately got lost in the shuffle and went home. Sadly, we didn't get to talk with him enough.

As I say, it was a nice affair but it ended all too abruptly and it was time to go in the dining room to eat. We were seated in different parts of the dining area, so our conversation was restricted to our dining table partners. In our case that was Woody and Al Schlegel, a man about whom I didn't know much. He turned out to be a much different person than the one I had known from work and we had a nice conversation during dinner. I am hoping that next year's reunion is going to be organized differently and we'll get to spend more time with each other.
After having Donna and David's wonderful house for the last three days, it was time to start our Florida trip. We've had a good visit with Sharon and Don; Nancy and Donnie and I found Donnie Ray to be a delightful little boy. He truly is special. He asked me what my name was, so I told him it was Mr. Ginzery. He called me that for the rest of the day. The next day when we saw us again, he ran up to Mary and hugged her around the legs, while saying "Hello, Aunt Mary!". Then he saw me and excitedly called me Mr. Ginzery again. I finally took him aside and explained to him and though Mr. Ginzery was my name, I would rather he call me Uncle Geza.
I forgot my "vitamins", as Donnie Ray calls my anti-RLS pills, so I was getting ready to go back to Donna's house. I was standing by the sidecar parked on the street, getting my jacket out, when I noticed a black Cadillac with loud subwoofers driving by slowly. He went down to the corner, turned around and came back and parked on the other side of the street. I tried to look into the car but the windows were heavily tinted. Then a black guy jumped out and holding something in his hand, came bounding towards me. H said with a big grin on his face: "I can't believe it's you!" Turns out he saw me driving the rig the day before and thought it was the coolest thing in the world. He had to take a picture and holding the camera in front of me, showed me the picture.
06/08/2009
We started to get ready for the rest of the trip. Decisions had to be made as to what will stay in the car at Donna's and what we'll take with us. The day we arrived here we admired Donna's Bose iPod docking station so much that the next day we bought one for ourselves. It charges the iPod and it plays music through the built-in speakers. It, too has rechargeable batteries, so it makes it a portable "boom-box". It would've been nice to have it on the trip but I was afraid it would get damaged, so we left it behind. The other, an even tougher decision, was to choose a riding jacket for me. I had the old faithful, proven 'Stich with me as always. I also had the new one recently bought at Heid's where it was on consignment by a man in his fifties with little experience riding large motorcycles. He decided to buy a brand new BMW R1200RT, the biggest motorcycle BMW makes and rather than riding it by himself to gain some experience, he decided to put his wife on it first time out and predictably, dropped it on the left side of the bike. The next time they went out riding he dropped the bike on its other side and then decided, wisely, that it was time to call it quits and so the bike was also for sale on consignment at Heid's. When this man bought the bike, he also bought BMW riding gear for himself and his wife. The jacket lists for $745 WITHOUT the pants. It is made from a material that has openings large enough to let air molecules through but not water molecules (which are larger), much like the Gore Tex fabric we are all familiar with. BMW went one step farther with their material by enabling it to control the size of the openings depending on ambient temperature. What this means is that the warmer it is outside, the more this material breathes and the cooler the rider is. I wore this jacket on the way down to Cherry Hill and it was comfortable and when it rained (and it rained VERY HARD at times), it did not leak. So, with a heavy heart, I left my beloved Aerostich in the car.
We locked up the house and were driving to Don's shop to say our goodbyes. Waiting for a traffic light a hefty black lady rolled down her window and complimented our rig, saying, with a big smile, it would be the only kind of motorcycle she would ever ride in. It was after 11 by the time we got on the road. After taking the New Jersey and Pennsylvania Turnpikes we were heading south on Route 81. Traffic was on the light side and the sun was out in full force. We took frequent breaks, with lots of liquid (gasoline and soda). By 6 o'clock we made it to a Holiday Inn Express in Lexington, Virginia. I must admit I was tired. I did send out an e-mail to a selected few to apprise them of our progress.

I must digress a little now by telling you about the Christmas present I purchased for Mary last year. It is an iPod Touch. It is much more than an MP3 music player and picture viewer. Maria was with me when I bought it, a fact for which I am very happy because she talked me into buying the 16 gig model. I have always scrutinized my pictures, even when they were slides, only keeping the "perfect" ones. Despite this I have over eleven thousand pictures on my PC. Of these I decided to store close to 7,500 of the favorites on this iPod. The clarity on this device is exceptional, with the ability to be displayed either in portrait or landscape mode by simply turning the device. By tapping the screen twice the image is magnified. A slide show feature is built-in. In addition to all those pictures almost three thousand songs are also housed in this device. Music can be played through the surprisingly good built-in speakers or the provided ear-buds.
This is where the Touch surpasses the others and what enamored me to this device even more during our trip: It has built-in WIFI, enabling us to read, and reply to e-mails at nightly motel stops. There are one-button glimpses at the stock market, weather in user-selected cities (very useful during our trip), YouTube, the Internet and many other useful functions. There are many "apps" available for this device, many of which are free. Mary's favorite game, Bejeweled, is also available and used very often. The list of apps can be perused and downloaded in a WIFI environment within seconds and used a minute later. All this functionality is without any monthly fees!
'Nough said, go get one for your listening and viewing pleasure.
Mileage traveled was 350 miles.
06/09/2009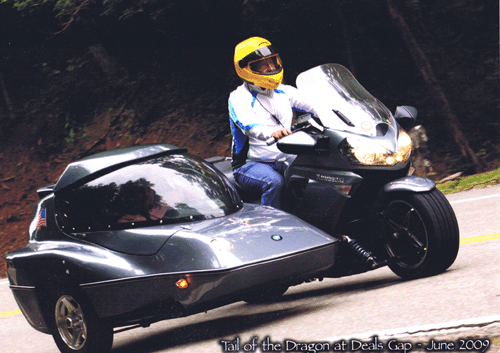 The temperature was already in the high 80s when we got started this morning. After driving a few miles on 81 I saw a sign for the Blue Ridge Parkway at Buena Vista, the site of my first Moto Guzzi rally. I took the exit and a short time later we were on the parkway. Much to my surprise the mountain laurel were in full bloom. We could smell the sweet fragrance from the bike. A few miles later we were delighted to see the rhododendron flowering as well. The first time Steve Danberry and I rode on this road and I noticed the miles and miles of these bushes I wondered what they would look like when they bloomed. They were beautiful, lining both sides of the road. The air by this time was full of fragrance and it was refreshingly cool. We didn't want the ride to end, but it did because the pace was much too slow to be where we wanted to be by day's end. We soon found ourselves again on Route 81 heading south.
06/10/2009
After another great in-room breakfast we set off on Route 81 again. Traffic was really sparse at first but grew heavier when we got close to Route 40. We were heading towards Pigeon Forge and Gatlinburg, two armpits of the South. We had been on this road years ago with Sonny and Maria, my mother and Stephan on our way to Florida. The traffic was terrible then, just as it is today. Luckily, when most people went straight at an intersection, we turned right, heading for the
Smokey Mountain National Park. Traffic was much better now. The GPS guided us onto a road called
Foothills Parkway. This road turned out to be a narrow, two-laner, almost devoid of cars and motorcycles. Speed limit was 45, a perfect speed for this road. The road was peppered with places to pull off the road to rest or enjoy the scenery below, just like on the Blue Ridge Parkway. We drove by one of these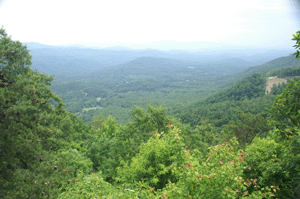 and noticed that the parking lot was full of all black vehicles. They had no badges of any kind and all sported huge bras in the front to hide the grille. I had seen spy photos of cars like these in car magazines. They tend to be models not yet announced to the public. We pulled off the road to change into something cooler and watched them all whizz by us at a rapid pace.
The Foothills Parkway ended and we soon found ourselves on Route 219 at the end of a caravan consisting of three cruisers, a small pickup truck and us. The last of the cruiser guys looked a little shaky to me, like he wasn't sure of himself. Then the curves started, changing quickly to switchbacks. It wasn't long before the first two bikers left their buddy behind and now he was leading the caravan. We drove by a guy with a long lens by the side of the road, taking pictures, as we drove by. Soon we saw his vehicle with a large sign with a web address on it. It hit me: We're slaying the dragon! This public road is North Carolina 129 and it boasts having 318 curves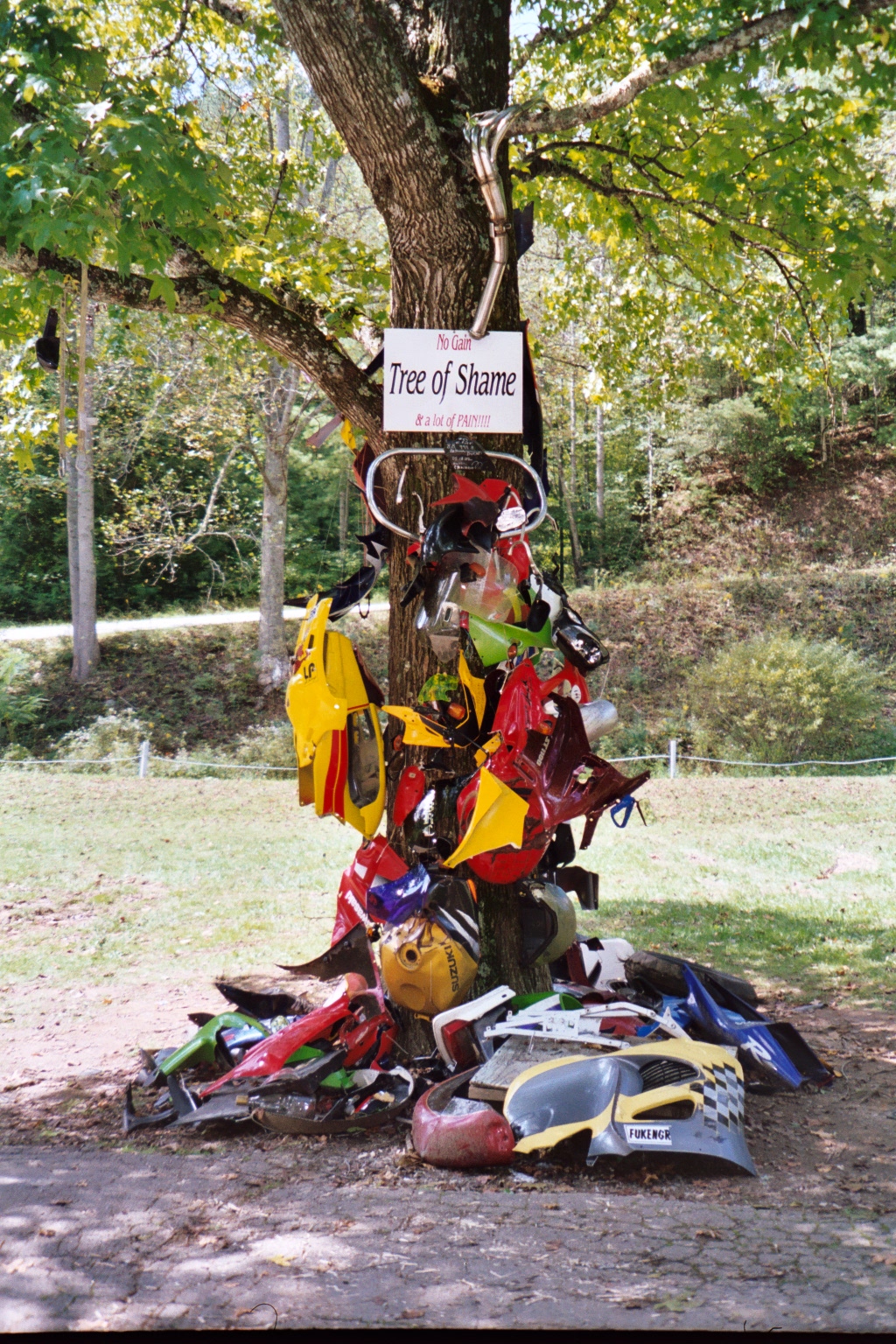 in 11 miles. It is nicknamed the
Tail of the Dragon (check out Trucks on the Dragon) and Googleing that phrase nets thousands of entries, along with thousands of clips in YouTube. The road is a sportbiker's Mecca and you can't travel a mile without seeing one. There are several thriving businesses whose photographers take pictures of every passing motorcycle or interesting vehicle and make them available for purchase on their website.
There were vehicles behind us now in the distance. Mary said she could see them from the side of the sidecar as we were on the upside of each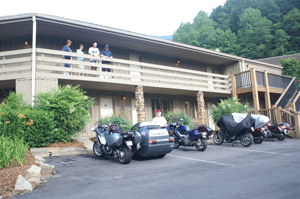 switchback. For the record: I had no trouble keeping up. Then it started to rain. Slowly, at first, then steadily. I was not wearing rain gear and before too long I cooled right off. By the time we got to Deals Gap I was pretty damp. Not soaked through, yet. We stopped at the store and showed Mary the "tree of shame", a tree decorated with broken parts of motorcycles crashed while slaying the dragon. The place was crawling with motorcycles. A couple of guys came over in the rain to talk to us.
I bought a couple of stickers and we continued on our way. We quickly caught up to a couple of Concourse riders, probably a man and his girlfriend/wife. He was patiently leading her, who was obviously afraid to ride in the rain, so I gave her a lot of space. I was counting on them to lead us to the Concourse Owners Group (COG) rally and they did. It was still raining hard and I didn't relish the idea of setting up the tent in the rain, so we opted to get a room at the Fontana Village Resort lodge for a hundred and sixty damned dollars. But we're dry.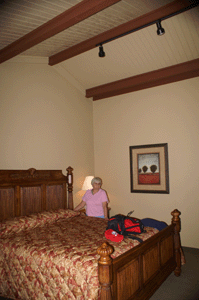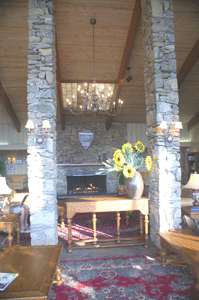 Later the sun came out and was a gorgeous day again, albeit very muggy. After dark another storm came through with much lightning, so I am still happy to be in a dry, air-conditioned room.
Since this is a Kawasaki Concourse rally, you might imagine the number of people with questions. I am being civil, answering all the questions.
The clouds managed to disappear and the sun made an appearance, bringing heat and humidity with it. I took some pictures of the nice facilities here, which, by the way, is an RCI resort. We could've stayed here for points.
We traveled 179 miles today.
06/11/2009
I didn't sleep well; the air conditioner kept waking me up. Then at around 7 there was a repeated sharp rapping noise on the glass door looking out at the pool. It wouldn't abate, so I got out of bed to see a beautiful red bird flying into and pecking at the glass, presumably attacking his own reflection. When he saw me he gave up the fight and flew away.
The weather is not looking any better this morning and it is pouring off and on. We both agreed that we weren't staying another night, so we packed up while being watched from several people on the second floor balcony. A woman asked me if it was harder to drive a sidecar than a solo bike. So few people ever asked me that and all of those had been women. We waved goodbye to those left and drove down to have some breakfast. We were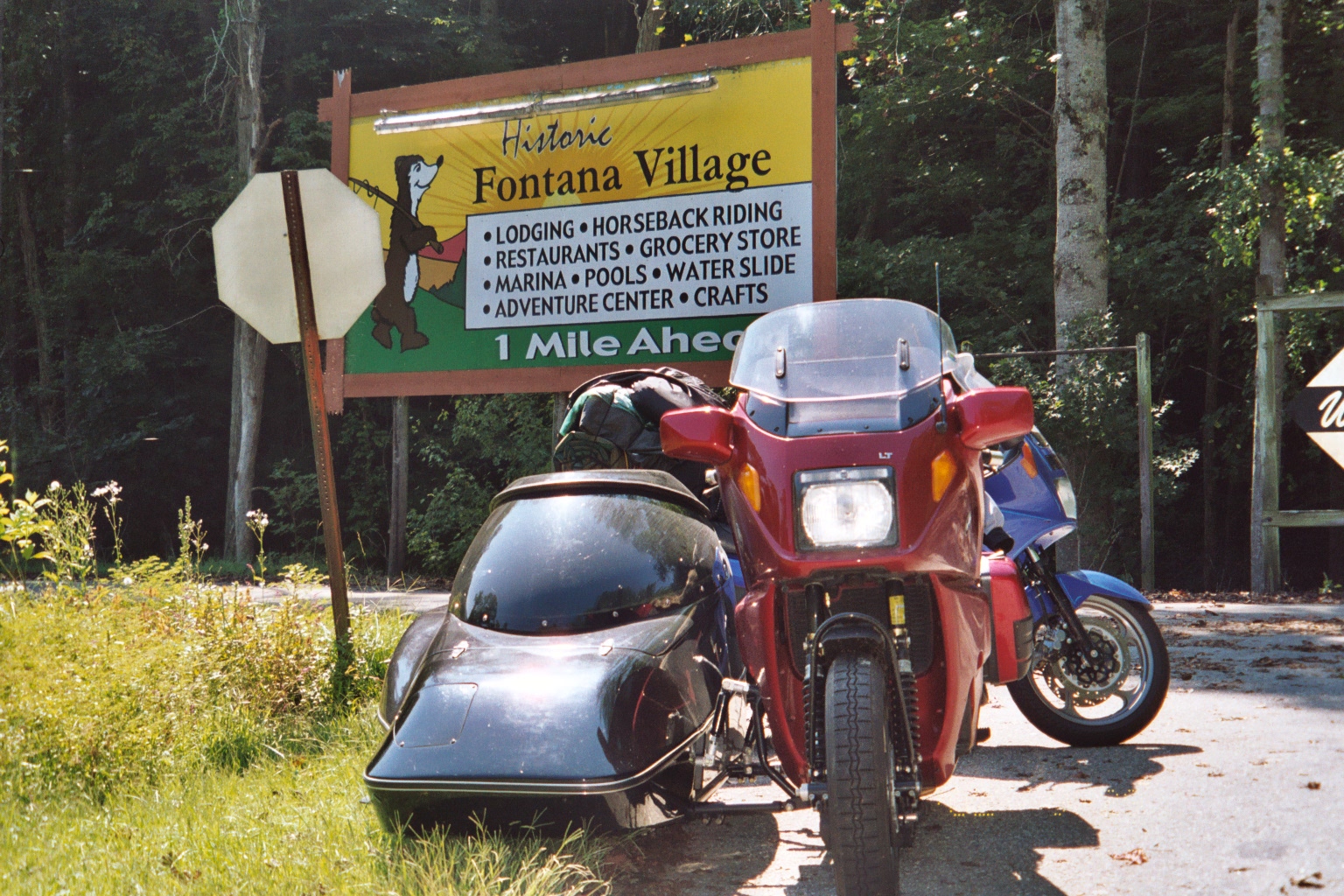 immediately mobbed and were stuck there for about 20 minutes answering good and bad questions. When the crowd thinned a little, we walked up to the restaurant, only to be told that the kitchen closed 15 minutes ago. C'est la guerre!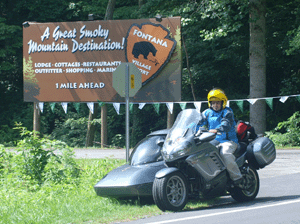 I wanted to check out the campground and take a picture by the sign for the Fontana Village sign. I had taken a picture by this sign when Steve Danberry and I were down here years before with sidecar number 1. The campground was within sight of the huge Fontana Dam. The weather by this time was much better, so most of the campers were out but the facilities seemed to be rather nomadic and we were glad that we didn't stay there.
It was time to find the
Cherohala Skyway. We heard many people talk about this road. It, too has many curves but it is not crowded and curves are sweeping and there are no really sharp curves. We eventually found it: It's Route 143 and it begins in Robinsville. We found a Chinese restaurant, owned by a young couple, whose children "worked" at the restaurant and had lunch. They had many gorgeous wooden carvings for sale made by the owner's family. Most were too big for us to carry but Mary did find a nice basket carved from a single block of wood. It will be a nice addition to her collection. We continued our journey and were enjoying ourselves when I noticed some dark clouds ahead. We kept climbing higher and higher and the temperature kept dropping. We were at over 5,000 feet when all of a sudden the sky turned menacingly black. There was a sign about a mile back for a public bathroom, so I quickly turned around and headed for it. The rain caught up to us by the time I pulled into the parking lot, so I left Mary in the sidecar, safe and sound, while I sought refuge behind a billboard. The wind was blowing the rain at a 45 degree angle and it was chilly. Another motorcyclist pulled in, saying that the temperature dropped from 85 to 57 when the front moved in. We were stuck there for almost an hour waiting for the worst of the storm to pass. I finally got impatient and decided to head into the tail of the storm. We drove by quite a few other motorcyclists waiting at rest stops and after twenty minutes or so the storm ended. The winds must have been pretty strong because the road was scattered with leaves and branches for many miles. We pulled into a rest stop and took some pictures of the green mountains and valleys with fog decorating the low-spots. This is the reason they nicknamed these the Smokey Mountains. The Skyway ends in Telico Plains.
Pretty soon the sun came out and we were warm again. We took Route 143, a wonderful, narrow two-laner with many curves of differing difficulty. The scenery was enjoyed by Mary, more than I; I was too busy having fun. I would love to have a solo bike on this road the next time.
We stopped at a gas station and had some coffee and bought some fried chicken for dinner. We called Ron DeRocher to see if we could stay with them for a while. They just came back from New York that day! I also talked with Steve Danberry and assured him that we were fine and having a wonderful time. A group of three Harley guys and gals pulled in just as I was on the phone, so Mary got to talk with them. One of the bikes was an old-school chopper with straight pipes. When I was finished talking I looked to see where they were from and was surprised see that they were from Illinois!
A large group of Harley riders pulled in and came over to talk with us. Another woman asked me if it was harder to drive the sidecar! It's interesting that only women would ask that question!
We drove on to Murphy, Tennessee and got a room in at a Day's Inn with WIFI.
Today we only traveled 132 miles, which felt like many, many more!
06/12/2009
We checked out of the motel at 11 again and set out to drive to Ron and Deb's house. I picked a route that did not include Route 40, a four-lane road we'd been on before and experienced the heavy traffic, especially tractor trailers, at well above the legal speed limit of 70 mph. My plan worked very nicely and Route 30 along the way impressed me most as it was a perfect mix of cool forests with a lot of sweeping curves with a few 15 mph curves thrown in. The one thing one has to learn while traveling the back-roads of Tennessee is that for every mountain you climb you have to descend sooner or later.
Descending on a particularly curvy section of this road I was having a great time. I had been followed by a pickup truck at a respectable distance. That's another nice thing about this sidecar (and maybe all others): other drivers tend to respect you and give you plenty of room. Oftentimes oncoming drivers will move their rightmost two wheels onto the shoulder. I observed this phenomenon in Nova Scotia years ago when oncoming log truck drivers would do this for solo bikers. So, the truck was following me, so I thought I'd try and lose him. As hard as I tried I couldn't shake him. I must be getting old, I thought to myself, so I picked up the pace a little more. Craig Kellum used to describe this condition by saying "the gorilla hairs started growing out" and race car drivers refer to it as the "red haze". It is when you are on a precipice at the end of your driving abilities, a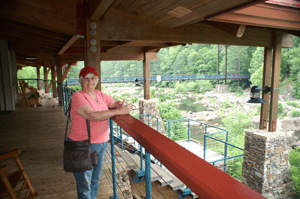 threshold you should never cross. Before I had a chance to do that Mary's voice broke the silence and, in so many words, asked me to slow down. This came at the right time and now it was her fault that I couldn't shake the pickup truck, and I felt much better and younger again.
The Ocoee River was the site of the 1996 Olympics' water events. Nowadays it is a recreation area used for picnicking and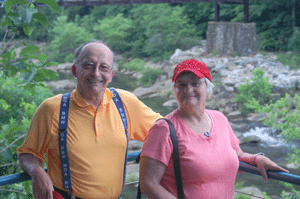 swimming. There were quite a few families there the day we came up on this place. We had a very tasty, albeit pricey, lunch and Mary bought me a couple of hat pins for my collection.
We decided that we should call Ron the next time we gassed up. When that time came I was running on one bar of gas and the das station the GPS pointed to wasn't there. We finally sought the help of some locals and found a Shell station. When we pulled up to the pump I immediately noticed a red Acura NSX in the little parking lot. The NSX is a two-seater sports car with a mid-mounted engine and an all-aluminum suspension. After filling up I took a couple of pictures. While waiting for Mary the owner came out with three other people: Another man and two young people. He asked the other man if he wanted to drive his car. The other man couldn't hide the big smile on his face. So I said to the owner: "Why don't you ask ME that question?", which got a long conversation started about the car and our rig and respective vacation plans. BTW, the other car they had with them was a silver S2000.
We called Ron and they are waiting for us. The big bomb they dropped on us was that they are moving back to New York State. They want to be with the grandchildren and friends.
06/13-15/2009
We had a wonderful visit with the DeRochers, even though we didn't do anything exciting. We did go for a short motorcycle ride and got caught in the rain for a while. It was so hot that the rain felt good as it cooled us off a little. The temperature was in the 90s, with rain threatening every other hour.
06/16/2009
Deb made us breakfast this morning and after saying our goodbyes we set out to continue our trip. I was thinking about camping out at Loretta Lynn's campground but after seeing the weather report, Ron talked me out of it. Instead, at his recommendation, we took Route 56 south, which is a curvy, two-lane road. He wanted us to see the Cumberland Caverns but Mary passed on that, as she's getting even more claustrophobic. We crossed the Tennessee River, as well as many other bodies of water. We switched to Route 55 in McMinnville and headed to Lynchburg, the home of Jack Daniels whiskey. We had been there last year while we took that mini-vacation, waiting for the sidecar to be coupled to the Concours. We ate some so-so pizza in town and continued on Route 64, until we ran into the Natchez Trace. It is called that because it ends in Natchez, Mississippi and trace is a word of French origin, meaning way or road.
The original Natchez Trace was made by the footprints of animals and people. The "kaintucks", as the boatmen were nicknamed, floated down the rivers from as far as Pittsburgh, PA. When they reached their destination they had but one choice: to walk back to board another boat. One of their most important possessions was their woolen blanket, possibly purchased from a representative of the Hudson Bay Fur and Trading Company from Canada. Their wares were available as far south as Pittsburgh. These blankets kept them warm even when wet, a trait known even to modern trekkers. It is hard for me to imagine how many footprints it took to wear a permanent path, still visible in some spots of the alongside the modern trace. The modern Natchez Trace was dedicated in 2005.
I was very much impressed with this road. It is a straight road with occasional gentle curves. The condition of the road is excellent, especially compared with ours at home, and it was virtually void of traffic. Most of the time we were riding in a forest, as tall trees lined both sides of the road, making the ride much, much cooler. By this time I was riding in my sleeveless shirt and every once in a while I got a little chill. It was a beautiful ride and I am sorry we won't experience the rest of it.
We are in a Comfort Inn just outside of Tupelo, MS with free, non-functioning WIFI.
The mileage driven today was 260.
06/17/2009
As I was packing this morning some of our motel-mates were leaving. An older couple was pulling out but not before the woman yelled out the window, saying she loved the sidecar. Another man asked the dumbest question to date by asking if the sidecar was for a person to sit in. Many possible replies popped into my head but I smiled and simply said "Of course."
The longer I drive on the "Trace", the more I am impressed by it. As it winds its way from Nashville, Tennessee to Natchez, Mississippi it touches many settlements, yet the Trace driver is shielded from most sights of "civilization". Rows of trees are cleverly planted at these locations and serve a dual purpose: that of keeping the temperature down. In areas where this shielding is not necessary fields of wheat, corn and other vegetables fill the eyes of the driver. Occasionally you'll catch a glimpse of a farmer harvesting his field and oftentimes I found myself wishing I could help him.
We saw much evidence of past storms strong enough to blow mature trees down; quite a few of them across the road, covering both lanes. These must have been recent occurrences, as the road crew basically did just enough to open the road and left the wood as it laid. In an otherwise fastidiously kept roadway these spots are very noticeable.
I am telling you all this because we decided to not go to the motorcycle museum in Montgomery, Alabama yet but to continue heading south to the end of the Trace and then possibly go to Baton Rouge. Neither of us has ever been to this city.
We came to a visitor center on the Trace, so we pulled in. The parking lot was mostly filled with old cars. There must have been 15-20 of them, from old Mustangs to all-out hot rods. A car club was coming from a car museum and driving to another one in Tupelo. I barely had enough time to get my camera out and take a few pictures before they were gone.
We were left with a couple driving in a car, leaving their Gold Wing trike at home because of the weather and a couple of guys on Harleys, all with a lot of questions. One of the Harley guys was puzzled by the steering and wouldn't rest until I turned the handlebar to show him.
After driving through an intersection, I looked to the left and thought I saw a gas station. After doubling back we found what used to be a gas station. We did find a place to eat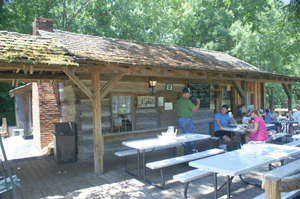 in the immediate area. A fairly long, loose stone driveway led us to the
Council House Café, operated by the French Camp Academy. As we looked for a parking place I noticed groups of people dining on the terrace outside. I was hoping they had a dining area inside. People parked their cars along the driveway. I tried to find some shade, so I pulled into an area where there was an old shed with an even older tractor. As we disembarked (a rather lengthy process, as we have to put the top on, unplug the GPS and cooler from their respective docks, free cameras from their hiding places, try to look presentable, etc.) an elderly black man came riding up on a lawn mower. His hair and full beard were pure white and wore coveralls. He pulled in right next to us, so I asked him if it was alright to park where we did. He nodded affirmatively, so we walked toward the restaurant. We found the door, which had a plastic bag with water in it stapled over the door opening, just over your head, as you walked in. These bags were in every door opening of the place. Turns out it was to keep the flies out, but, according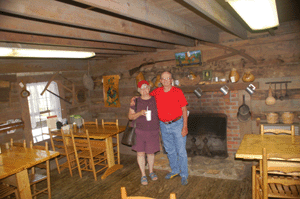 to the waiter, it didn't work. The inside dining room was air-conditioned and was large enough for about six tables. Two of the tables were in an addition to the original building. The original building was very old and contained a large fireplace. Each table had a plastic pitcher full of ice tea, sweetened or unsweetened, as marked. I was more warm, than hungry, so I had a broccoli salad similar to the one Mary makes and a bread pudding, while Mary had the same salad and an excellent sandwich. I took some pictures of Mary. The waiter offered to take a picture of both of us, marveling at the "fancy camera" of mine. During the lunch the couple with the trike we had met earlier walked in, so we talked some more. I took some more pictures outside that I will include in this travelogue.
After driving across the trace to the other side we did find a gas station. There were a couple of young blacks filling up their vehicle and they couldn't take their eyes of the rig but wouldn't make eye contact or even acknowledge us. I thought this was a strange reaction, as others have had no qualms about vocally voicing their opinions, usually quite loudly and always with a big grin.
On this and previous trips I've observed many drivers behind me driving excessively fast just to catch up to me, coming very close to me. I don't know what they are looking at during this time. Then after 5-10 seconds later they back off to a respectful following distance and seem happy to be there.
We found a Comfort Inn in Canton, MS and were pretty much spent by the excessive heat. We stripped our sweaty clothes off and took a quick dip in the outdoor pool. Only one other time did I have this same sensation: On a trip to Sarasota we went to the beach and as I was walking in the water, farther and farther away from the shore, more and more of my body immersed in the water. When it got to my crotch, I thought I wet myself. The water was that warm in the pool, too. I talked with Steve Danberry and learned that the weather at home is much cooler and wetter. Life is good for us!
We traveled a short but wonderful 172 miles today.
06/18/2009
One of the stops toward the end of the Trace was the
Mount Locust Inn and Plantation. There was a ranger in uniform and an elderly woman in period costume to answer all questions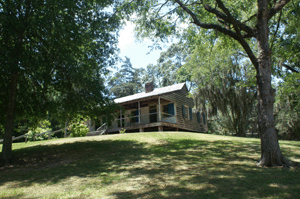 and to give insight to life in those days. The Inn and 1,200 acres, of which over a 150 acres were farmed by 51 slaves, were owned by a rather rich family. The house, by period standards, was very large with tall ceilings, wooden planked floors, consisting of 5 rooms. Many of the original furnishings can be seen, including the many toys with which their eleven children played. As travelers stopped by they were charged 25 cents for a night's sleep on the back porch or in the backyard.
The South is having an early summer heat-wave, with no let-up in sight. The temperatures are consistently in the mid- to high nineties and it has been very humid. After leaving the Inn I decided to wear my "wet shirt", a neat gadget I acquired at the BMW rally in Gillette, WY last summer. It came in handy on that trip and this one as well. Once it is saturated with water, you put it on and feel instant relief. Then I wear my lightweight bicycle jacket over it and as the wind blows over it slowly evaporates and keeps you very comfortably cool. After a couple of hours the process is repeated.
We were traveling on Route 61, a four-lane highway, when Mary noticed something unusual: The people living on this road had their mailboxes planted right on the main road, in front of their houses. Neither of us could remember another place for this phenomenon.
We stayed in Port Allen, Louisiana in a Comfort Inn.
06/19/2009
As we were only an hour and a half from New Orleans we decided we couldn't pass it up. The ride was pleasant enough and our route afforded us a nice view of
Lake Ponchartrain. By the time we reached the city traffic got much worse and I missed my exit and ended up on the other side of the river. I needed gas, so I found a station. As I was filling up I glanced at the door of the building and saw both employees gawking at us with big smiles on their faces. Later, the man came out and told me he had a Harley.
I asked a fellow motorist for some advice as to which exit to use and off we went. Eventually we wound up at a large outdoor parking facility with a sign prohibiting motorcycles from entering. I drove in anyway but was quickly sought out by an attendant on a bicycle. We left and drove around a little and saw some of the city. By this time the engine cooling fan had been active for at least twenty minutes and perspiration was running
At a gas and ATM stop a man stopped to talk with us. He has a motorcycle and was very interested in the rig. He took several pictures of it to show his girlfriend.
We stayed in Port Allen, Louisiana in a Comfort Inn.
06/20/2009
We traveled a very warm 274 miles.
Pickup truck driver with leg out window
Tire tread all over the roads
Southerners could care less about saving energy
06/21-22/2009
We set out to visit the Barber Motorcycle Museum in Birmingham, Alabama. This was one of our few definite must-see sites for this trip, so it was with much anticipation that we turned on the private driveway leading to the Barber Motorsports facilities. I pulled over to commemorate the moment via a digital picture showing the museum building. Proceeding to the front of the building revealed motorcycle parking places right in the front, so I obliged. Before going any farther, I must tell you that seeing this museum has only been on my agenda and Mary voiced her lack of desire to participate on numerous occasions. But here we were and it was very hot outside and the building was air-conditioned. There were a few other motorcycles parked outside, mostly under the shade of the few trees in the parking lot. Most of the owners of these machines were also gathered around and all eyes were on us as we pulled in. A single motorcyclist approached us and told us that the museum was to open in a few minutes. I didn't bother putting the top on and, in my haste, I even left my camera in the saddlebag.
Words cannot adequately describe what awaited us inside. The museum is touted as the biggest in the world. Two- and four-wheeled machinery is displayed on five floors of an ultra-modern building. The outside is all glass and the back of the building overlooks part of the 2.3 mile, 15-turn racetrack. Members of a PCA (Porsche Club of America) were enjoying their track day that day and the sounds of high-revving engines could be heard inside the building.
Inside the building there are motorcycles wherever you look. It is an almost-orgasmic experience. Most of the motorcycles displayed are close enough to touch, although signs are displayed to the contrary. We ran into a docent of the museum who willingly answered all our questions. One of the first questions I had was how this man managed to acquire his wealth. As far as I knew, he was a car racer enjoying moderate to high success, who after his racing days, established and ran a racing school.
As it turns out he came from money. His father had a large milk company in the area and after the son too it over, he made it into the biggest in the state, than in the country. He ran this business until the late eighties. Concurrent to that he also got involved with real estate and probably made most of his fortune from this venture. His name can be seen all over the state of Alabama. So, his first passion was cars and he started collecting cars. It wasn't too long thereafter that he realized he wasn't rich enough to have the biggest and best car collection in the world. A close friend persuaded him to switch to motorcycles, as they were much cheaper and smaller, enabling more of them to be housed in a building. The collection in the beginning was cramped into a rather small facility, in which Mr. Barber would not allow cameras, to the extent of confiscating cell phones upon entering the building. When the museum was moved into its current location, pictures are allowed, so long as without tripods. The reasoning behind this change was that now people were allowed to get as close to the machines as they wanted and now they could see how meticulously some of them were restored. I took some close-ups to show the gorgeous detail.
It was hard to leave the museum but we had to. Getting back to Route 20 we traveled toward Atlanta. Traffic was moderate for the most part. Driving east on Route 20 descending from a mountainside afforded us a beautiful view of the skyline of Atlanta. It is impressively sprawling with many modern tall buildings. The next sight we wanted to visit was Stone Mountain, on the other side of Atlanta. I had seen this many years ago when Maria and I visited it during a computer conference. It had changed a lot, from what I remember. It is now a rather large park with many picnic areas, one-way traffic in spots, with pedestrians and bicyclist having their own lanes. We eventually found the area from which it was only a short walk to the viewing area. The park was filled with black people. They were everywhere. Many of them were Muslims, wearing their all-black burkas. Just looking at them made me break out in sweat.
We found a Comfort Inn is Stone Mountain, GA and after check-in, went to eat at a diner in the next block. The food was excellent and Mary's salmon was superb. I had a glass of beer, which went down very quickly.
The heat was still oppressive and I must admit I was tired, so we decided to stay an extra day to recuperate.
06/23/2009
We set off this morning to pay a visit to a BMW dealer in the area, called Blue Moon Cycle, whose website I've visited many times in the past and noticed that they always gad many sidecars for sale. As it turns out my perception proved correct, as they have recently become a Hannigan sidecar and trike installer. Some of the employees viewed our rig with interest and we had a nice talk with the female parts manager. They have quite an extensive museum, which among others, contains TWO Pannonia Hungarian sidecar rigs, a red, like the one in Anamosa and a green one. The dealer also has an impressive line-up of larger-than-stock gas tanks.
We saw a copy of my new jacket with a price tag of $795! Fifty bucks over MSRP!


The next location I wanted to visit was one that has existed as a waypoint in my GPS for quite some time. I don't remember why it got there. More than likely while watching the Discovery Channel. Looking on the map it looked like a nice drive, mostly on two-lane roads, so we set out to escape the heat and humidity of the Atlanta area. It did turn out to be a very nice drive and we were quickly in the mountains of northern Georgia, with many elevation changes and curves. As we neared Helen, GA, the location of the waypoint, which was entitled a "Swiss Village" we saw a winery. After visiting it and some tasting, we left with three bottles of wine. The Swiss village was a mile or so down the road and it proved very worthwhile to see. The quaint little village is bisected by the Chattahoochie River (made more famous by Alan Jackson), more a creek than a river. It was chock full of tubers floating downstream, often getting stuck on rocks and each other. Luckily the "river" is shallow enough that a gentle push on the bottom with your hands or feet will usually free you.

The village is full of restaurants, most of them serving German food. We had a good lunch and despite the many others drinking beer around me, I abstained, figuring that the three samples of wine earlier was enough. We window-shopped for a while and took some more pictures and then somewhat reluctantly left Helen behind.
Taking Route 23 North we enjoyed the scenery and the cool air of higher elevation. We found ourselves on Route 40, a major interstate I had been on before with Danberry and remembered all the tractor trailer traffic. The years haven't changed the traffic on this road and pretty soon we were sandwiched between several trucks moving along at 70 MPH. We soon arrived at Asheville and found a Hampton Inn for $139 on the fifth floor (no, thanks) and spent a night in a 15-month-old Holiday Inn for $105, a very nice hotel with pillow-top mattresses, LCD wide-screen TV mounted on the wall (a first), terrastone in shower with a huge multifunction showerhead.
Mary and I talked about the visit to the Chesapeake Bay, wondering if the offer to stay on Monica's boat was not made in haste, with all the problems on Monica's shoulders. She's taking care of her mother and brother at the same time and we might possibly intrude on her at a bad time. I fired off an e-mail to her give her a chance to back out.
We traveled 212 miles today.
06/24/2009
The hotel had no free breakfast but luckily the Cracker Barrel was just around the corner. We parked right by the front door (something I seldom do) and as we were getting ready to go in a couple was coming toward the car to the left of us. The guy was limping and his wife was walking ahead of him with a great big smile on her face. "This is so cool!" she kept saying. The guy sat in the car, while she stayed outside, commenting on how comfortable the sidecar looked, going on and on and on. We instantly knew that we could kid with each other. I asked him if his wife was as nice-looking as this one, pointing to the woman. Mary said she was gonna slap them around if they were from New Jersey. He said it was worse: they were from South Jersey. What part, we wanted to know. They said the Cherry Hill area. No way! After this discovery we chatted for another 15 minutes.
After some difficulty we found the entrance to the Blue Ridge Parkway and enjoyed the serenity and coolness of that wonderful road. We found that the condition of the road surface had deteriorated greatly since our last visit. Some of the potholes were virtually invisible to my aging eyes, with all the sunlit and shady spots on the road being contrasted by sunlight alternating with shade on the visor of the helmet. I find myself appreciating the helmet's extra sun visor, as I need to deploy it during those times when trees are absent but riding without it when trees or rhododendrons are blocking most of the sunlight. We were both very happy to learn that those bushes were still blooming. I always feel so sorry for those drivers of cars who have their windows up because they're missing the wonderful fragrances of the flowers and freshly mowed grass or hay.
They are working on fixing the road surface, in fact, we ran into a couple of sections that were closed and we had to use a detour. During one of these we stopped for lunch at a little diner near Boone, NC. I think Steve and I had lunch there years ago. I am sure he would remember better. There was a Harley parked outside, fully loaded with camping gear, some items of clothing drying in the sun and wind. It brought back some pleasant memories of when Steve and I did that before I had a trailer or a sidecar with a huge trunk. There was an American flag there as well. Its owners finished their meal and stopped to talk to us about the sidecar. After we finished we got under way, finding the Parkway again, just to have to detour again. We found ourselves on a four-lane road going up, then down a good-sized mountain with pretty sharp curves. I found myself enjoying myself more and more. The more I enjoy myself, the more I notice Mary's breathing through the microphone. There were many motorcycles on this road, mostly non-waving cruisers. I noticed one up ahead. Before I knew it I pulled around him and felt good about it. Then I missed a turn and pulled over for a little window-shopping and refreshment stop.
So far we have lugged our unused camping gear around, so I thought tonight would be a good night to camp. We found a campground on the Parkway. Pulling into it we looked for a suitable site. The first sit was occupied by a Harley couple. I thought they looked familiar. There were only a dozen or so sites in this loop and we settled for one within sight of the Harley site. They were setting up their tent. We had to take out our four bags and two air-mattress bags to get to the camping stuff on the bottom. Soon enough we were setting up the tent and within 15 minutes we were camping.
I saw the two of them walking toward us. As they neared I realized it was the couple from the diner. They wanted to see the trunk because apparently the husband was counting the number of items being removed and couldn't believe it. They also marveled at how fast the tent was erected. Then he told me that he couldn't believe how well the sidecar handled in the curves and told me that it was them we passed on that four-lane highway. He said he was at the limit going around one curve, with his foot-board scraping when we passed him. I told him I didn't have foot-boards. They turned out to be a very nice couple and we enjoyed our long conversations. They are from just north of Baton Rouge. He is an ex-trucker, hauling chemicals from Baton Rouge to Ontario weekly. He lifted up a welding table and broke several vertebrae in his spine and was diagnosed with a bad case of osteoporosis. His working days gone he is on disability. She recently lost her job, so they're vacationing on the road, camping all the way.
They had no way of making coffee, so I made them a travel cup-full and told them the story of "my orientals" featured in My Autobiography,
It was dark already when a two-wheeled vehicle with two people on it pulled into the campground and circled around looking for a place to pitch a tent. I couldn't really see but it sounded like a scooter. They found a site for their tent, so we went to sleep.
06/25/2009
We awakened pretty early this morning and after making some coffee for our neighbors and us, we started to break camp. A man and a woman came driving by on the same two-wheeled vehicle we heard last night. It WAS a scooter, in fact the same one we have, a Suzuki Burgman 400. The scooter looked filthy and packed full of stuff. He had not two but four leather saddlebags slung over the passenger seat and he had a gigantic square bag between his legs. His wife wore a skirt and they both had Christian Motorcycle Club leather jackets. All that aside, they had been to all the lower 48 states on that scooter, a feat I would NOT care to achieve myself.
We finished packing and were on the road BEFORE 9 AM for the first time during this trip! The air was brisk in the sun and downright chilly in the shade. We thoroughly enjoyed ourselves again. We compared notes about the night before and discovered that neither of us slept well. Maybe our camping days are over? I think part of the problem is the air mattress. It seems to be either too warm or too cold and always squirmy. I would still like to try one of the Bunkbed-type camping trailers, made especially for motorcycles.


Not having access to WIFI we didn't know what Manica's reply to our e-mail was, so we headed east toward the Bay. We had left the sanctity of the Blue Ridge Parkway and were traveling east on Route 58 in Southern Virginia. At first a nice two-laner, it all too quickly became a four-lane highway with not too much traffic but all open and brutally hot. After a while my bicycle jacket was sticking to my body, so I took it off, exposing my arms to the sun. My whole body was sweaty and uncomfortable and I could only imagine Mary's condition sitting in a much more still air of the sidecar. Unlike I, she is not a complainer. I set a goal of Danville, VA for our next stop, and I asked Mary to find the library with the GPS. I wanted to see if Monica replied to our e-mail. We found a parking spot in the shade, drank lots of liquids and I went in with iPod Touch to use the WIFI. Monica did reply, graciously understanding our situation, so sadly, we won't see each other for a while. I feel bad.
Feeling somewhat refreshed, but looking anxiously for a shower, we continued, changing our direction to north toward Lynchburg and Culpeper on Route 29. Before we reached Lynchburg we saw a sign for the
D-Day Memorial. I immediately decided to head for it, so we took a westerly turn and headed toward Roanoke. The Memorial is a must-see experience, dedicated to those who gave their lives on that day, June 6, 1944. It is located on many acres on top of a hill in Bedford, Virginia. Being there gives one a peaceful feeling and tends to fill one with pride for country and its people. As you drive up, your eyes are focused on a large gate-like monument, surrounded by a circular drive. In the center is a visual display made to recreate the landing on Normandy Beach, with tank-traps, and status of soldiers both dead and alive. Fountains of water erupt from time-to-time, simulating bullets hitting the water, faithfully recreating that eerie sound. A small WWII airplane is on display off to one side. The semi-circle wall is lined with plaques giving tribute to the Allies. The participating countries' flags fly in the gentle breeze. At the far end, opposite the huge gate is a monument dedicated to Dwight Eisenhower, surrounded by busts of admirals and generals of the invasion. There are flowers everywhere you look.
There is much to see and read about that day from the many plaques on display. One Mary shared with me was about the United Auto Workers (UAW), who, without orders, stopped production of automobiles and changed the assembly lines over to the production of tanks for the war effort. They held street rallies with a patriotic theme to get people to rally around the war efforts and soldiers. Mary had tears in her eyes as she was telling me this story, which, of course, made me tear up. I know those were different times and different people but are they gone forever? It's hard to believe that it's the same union that is about to bring the American automobile industry to its knees.

The whole area was meticulously maintained. There were signs declaring the area a monument to the many people who gave the ultimate sacrifice to their respective countries by giving their lives. The signs instructed visitors to not litter, picnic, skateboard, bicycle or use the grounds for anything but to pay respect. I commend their bravery for displaying these signs and applaud all the visitors for obeying these common-sense rules.
It's worth mentioning that the reason this site was chosen is that the county it resides in had the highest number of soldiers per capita, who died on that day. Four out of six soldiers died during that attack. Think about that a minute. Put yourself into the scene and see if you could muster the courage to keep advancing, past all those dead bodies, knowing you're soon to be one of them. To me that is one of the best definitions of courage.
We left with stirred emotions and were silent for the first few miles.
Total mileage today was 273.
06/26/2009
We watched Wimbledon until about 5 minutes before checkout time, and then reluctantly wheeled our stuff down to the rig. As we were packing the rig in front of the hotel Mary reminded me that the cigarette lighter outlet in the sidecar came apart yesterday and that we need it for the GPS. As I was working on replacing the fuse a hotel employee came out and handed us three biker duckies. We have three more of them at home that we collected from different Comfort Inns. Apparently they had a successful charity run last weekend, which close to a hundred bikers attended. She got to ride in the parade and really enjoyed it.
We were close to Route 81, so I resigned myself to traveling that road as we did at the beginning of our trip. Truck traffic was especially heavy almost immediately and the traffic pattern was the typical one these days I detest so much: everybody in the left lane and not one will move over, come hell or high water. I wasn't having fun and neither was Mary, in fact she suggested that we find an alternate route. At this point Route 81 and 11 were running together but at the next exit they separated, so we got off. Route 11 is a nice two-laner but its solo status didn't last very long and before we knew it we were on 81 again. This time we happened to fall in a pocket of traffic stillness and were happy for a short time. Then we found ourselves in the pack again, so when I saw the exit for Buena Vista, we took it and wound up on the Blue Ridge Parkway. What a difference! We were cool again and, for the most part, had the road to ourselves. When we got hungry we pulled over and had a little picnic finishing off the leftovers and continued, feeling refreshed.
When we got to the end of the BRP we continued north and entered the
Shenandoah National Park via the Skyline Drive. The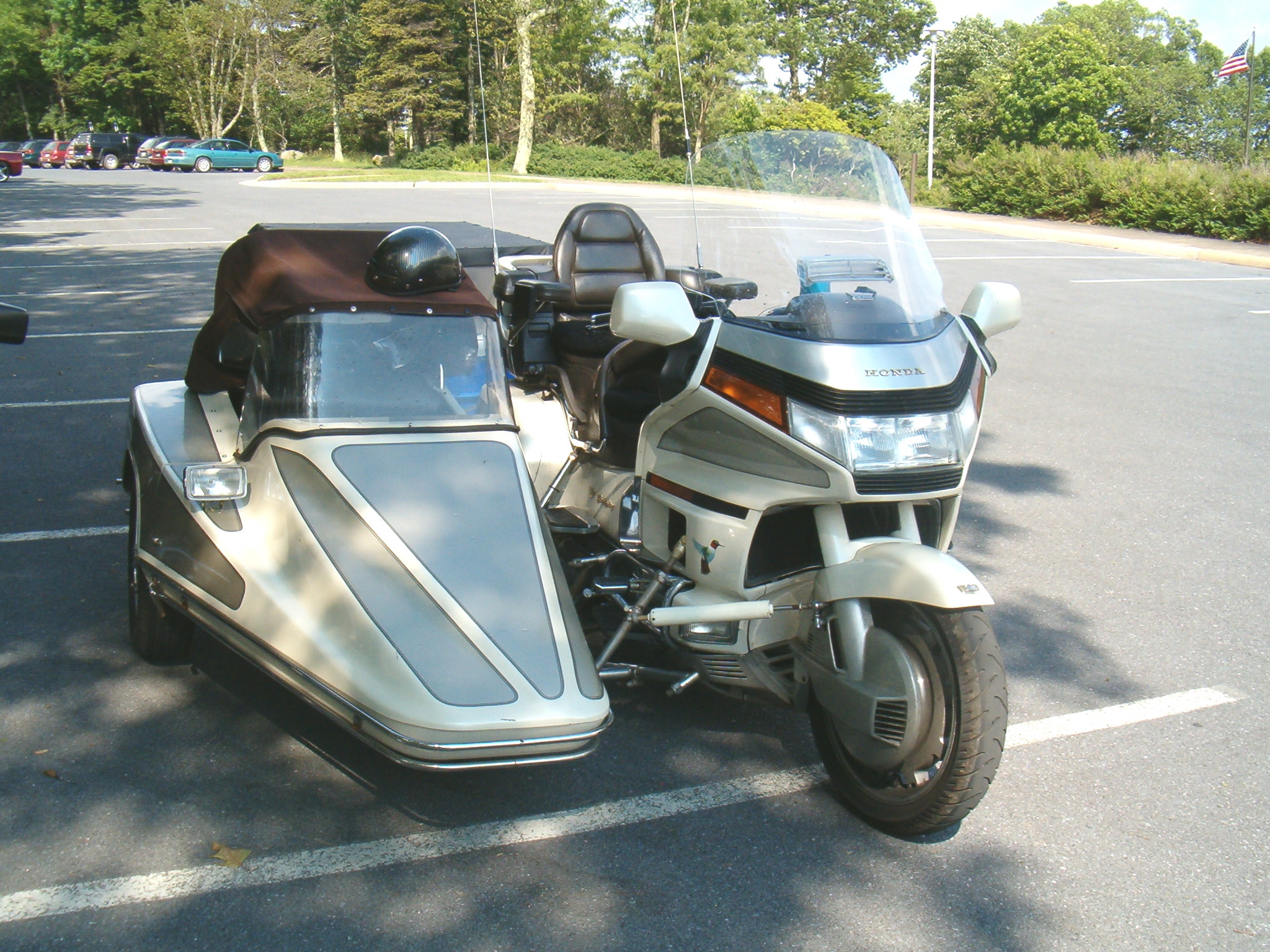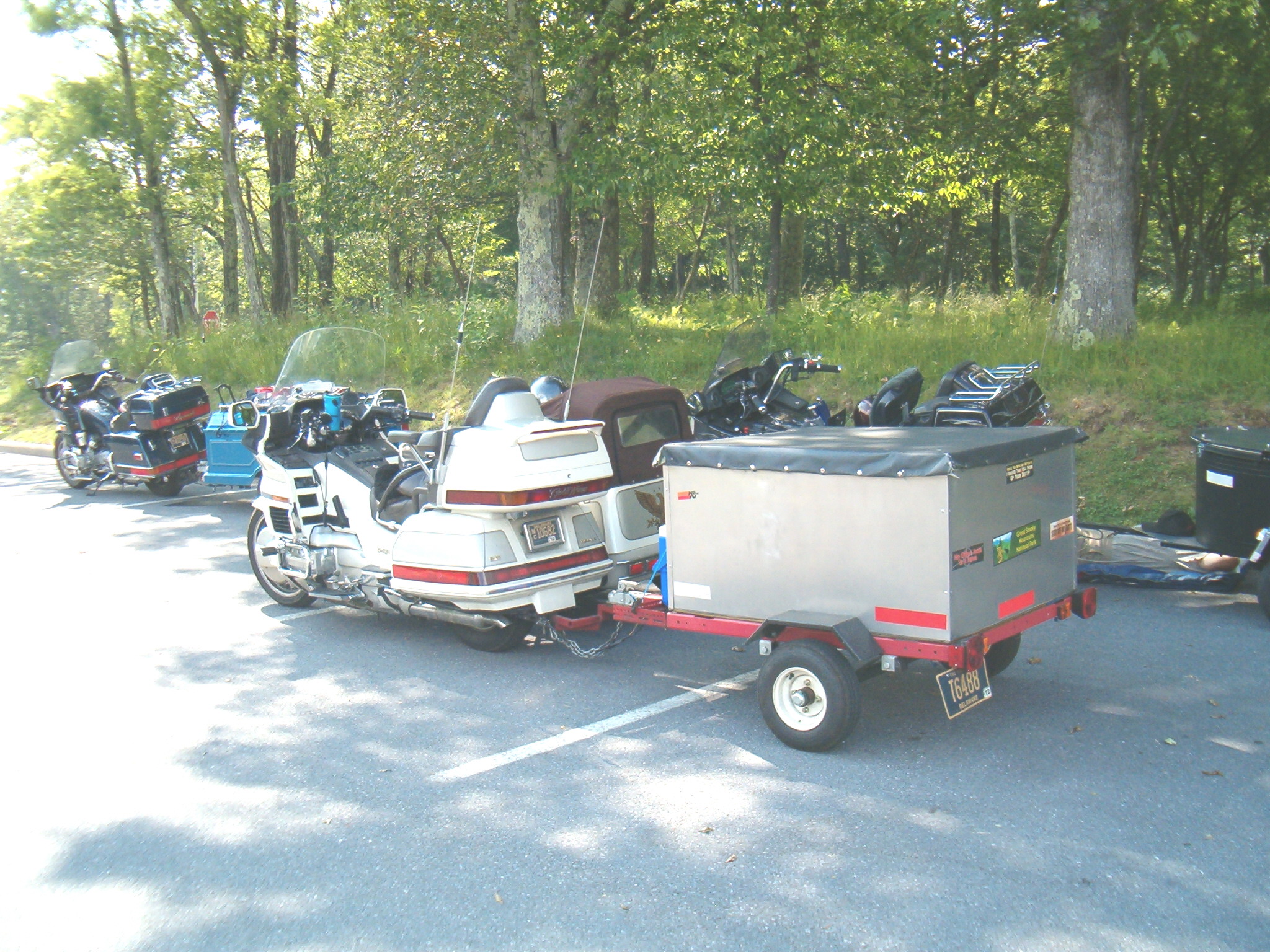 road is similar to the BRP but it's only 117 miles long and the speed limit is 35 MPH. The entrance fee is $15 now, but for us, Golden Age Pass card holders, it was free. Within the first mile I saw a black bear cub less than 10 feet from the road in some shrubs. He was looking right at me and before I could react we were by him, so Mary didn't get to see him. The driver of the car behind me must have because he disappeared from my mirrors.
Mary wanted to look for some presents for Donnie's kids, so we pulled into the visitor center at Big Meadows, a campground we know well from previous trips. I parked the rig at the far end of the parking lot and waited for Mary to return. I was looking at the map when I heard motorcycles. There were three of them, all pulling trailers. I didn't pay attention until a group of four kids came to look at the rig. They were part of the three-motorcycle caravan, one of which turned out to be a Gold Wing with a sidecar. I had a good time talking with the kids. The father came by asking me questions about the rig, saying Grandpa has that, Grandpa has this. Grandpa was next. He bought the rig all set up with the Terraplane sidecar. All of them were from Delaware, returning home from a trip to Tennessee, Gatlinburg, Dollywood, Tail of the Dragon, and the BRP. Grandpa's Gold Wing still had the forks with motorcycle tires and he was pulling a huge cargo trailer. He was very talkative, so I left him with Mary and went to the bathroom.
So we motored on toward Front Royal, the town at the northern entrance of the park. We met many motorcycles coming the other way, some of whom waved. We even got a peace sign from a car driver.
We were well over 200 miles for the day, so I directed my navigator to look for a place to stay. We picked Winchester as our destination and with the help of the GPS, found a Hampton Inn. Mary called for reservation and we were off for the 27-mile drive. We were on 81 heading north when it became clear to me that there was a pretty big storm up ahead. The sky was black and as we got closer, several lightning strikes could be seen. Soon large drops of rain made their presence, then all hell broke loose. I raised the windshield high enough that I could still see above it but directing most of the water above my head. I was wearing a short-sleeve shirt, jeans, and sneakers and so long as we were moving at this speed, I was in pretty good shape. Of course I knew I would be slowing down soon and wasn't really looking forward to that either. We were a couple of miles from the exit and it was still raining hard. I took the exit and luckily the hotel was in sight. Slowing down resulted in getting wetter. Luckily, I found cover under the awning of the front entrance. After checking in the sun came out, so we went to Shoney's to have dinner. They had seafood buffet, so I had liver and onions and a strawberry milkshake.
After dinner I went outside while Mary paid the check. A Harley couple walked over, wanting to look at the rig. After all questions were answered we drove back to the motel and quickly fell asleep.
We traveled 235 miles today.
06/28/2009
We watched tennis again until ten of eleven, then started our journey back to Donna and David's home. The rain the night before had pushed out most of the humidity, making riding enjoyable, even with my summer jacket. We soon tired of Route 81, so we opted for Route 11, which ran within sight of 81 for many miles and the two roads often merged. Route 11 turned out to be a very nice, slower-paced road we both enjoyed very much. It led us through small towns, whose female teenagers were all holding signs for car washes. The adult population was holding yard sales, so the traffic in front of us consisted mostly of people driving around, looking for bargains. When the time got to be noon time and the person in front of was doing twenty miles an hour slower than the speed limit, I finally yelled out: "It's noon! All the good stuff's been gone hours ago and all that's left is CRAP, CRAP, CRAP!"
Route 11 merged with Route 80 again and the miles were fast disappearing behind us. I was amazed that our mileage was still holding at 29, the highest for the trip. I guess the Grey Ghost's engine was now broken in. My hands were getting tired and I could use a gas stop. When I pulled into the gas station, a sense of déjà vous swept over me. We stopped here on our way down and were puzzled by a couple of locals trying to add gasoline to their car's gas tank from multiple soda bottles, while their family was trying to keep cool in the shade of the building. I filled up with gas and pulled into a parking space next to the building and waited for Mary. Before we finally left a good twenty minutes later we talked with a forty-something Harley rider with bad knees wanting to look into a sidecar. There was a skinny local man with a huge pot-belly, who's had a heart transplant and is on almost-daily kidney dialysis, vowing not to let anything slow him down. There was a comment a gas customer made about the tire size difference between our and his Councourse. Then there was the young man with a BMW GS wanting to mate it to a sidecar from Texas but had to sell the bike, so he could move. Several women commented on the comfort of the sidecar.
After leaving we took a nice road recommended by the pot-bellied local, weaving our way through sparsely populated areas, oftentimes lined with corn-fields and other greenery. When that road had finally ended we got on Route 81 for the last time around Carlisle, PA, heading toward the Pennsylvania Turnpike. In a matter of a couple of hours we were exiting the New Jersey Turnpike at Exit 4, when all of a sudden all I could see were brake lights. Vehicles were merging from three different directions, all creeping along at a snail's pace. Then I noticed an empty lane, which led us to the EZPass lanes. I couldn't believe how many people were waiting unnecessarily in line.
I was very happy to be pulling into the driveway after a 245-mile day. We had covered 2,892 miles during our trip.
I kept thinking about Al's offer to entertain me, so a quick phone call yielded his address and a short time later I was in front of his house. Al and I worked together in Cherry Hill for RCA in building 204. He was one of my cubicle-mates and we shared much time together during the work-days. We played tennis with Bob Carelli, Bob Schreiber and Ginny Davis and shared many hours fishing from the shores of multiple bodies of water. We both used spinning reels but he always held his rod in a way that pointed the reel in the unconventional up position. He drove a Honda Prelude which he kept in pristine condition. He always parked it at the farthest points of parking lots and kept it covered. I visited him once and met his best friend, Jim, a man in his seventies. They were so close to each other that Jim willed all his possessions, including the house Al lives in now, to Al. Al is black and Jim was white.
The two of us sat by the pool and talked of common experiences, having a great time reminiscing about a very dear period of time in my life. The twenty years in Cherry Hill were spent with the brightest and nicest colleagues of my career. I gave a thorough demo to Al and his girlfriend of my latest electronic toy, the iPod Touch. Al took a quick dip in the pool to cool off. He still looked as fit as the last time I saw him many years ago. He was genuinely happy for me when I told him that I haven't had a cigarette since 1996. Then he showed me the two Mercedeses he owns, both of which were, of course in the garage, under cover. We said goodbye, promising to get together soon.
Observations during the trip:
·

The most popular new car in the South is the Dodge Charger. We saw scores of examples, including many police cars.
·

Southerners don't care about conserving energy. More than half the vehicles on the road were SUVs or pickup trucks, many of them with dual wheels, all traveling at well over the speed limit.
·

Cars with tire and wheel combination, which cost more than the rest of the car, were commonplace.
·

The interstate roads in the South are littered with shredded tires.
·

The only place we saw cars with flat tires were in the southern states.
·

The vegetation of a few southern states we drove through has been taken over by a Japanese import called kudzu. In my opinion it is far worse than Spanish moss because when that parasite kills the tree it attaches itself to, it, too dies because it has no more food source. Kudzu, on the other hand, has the ability to spread. It can be seen traversing a roadway by climbing across telephone and electric wires. Thank God we don't have it in New York State.


---